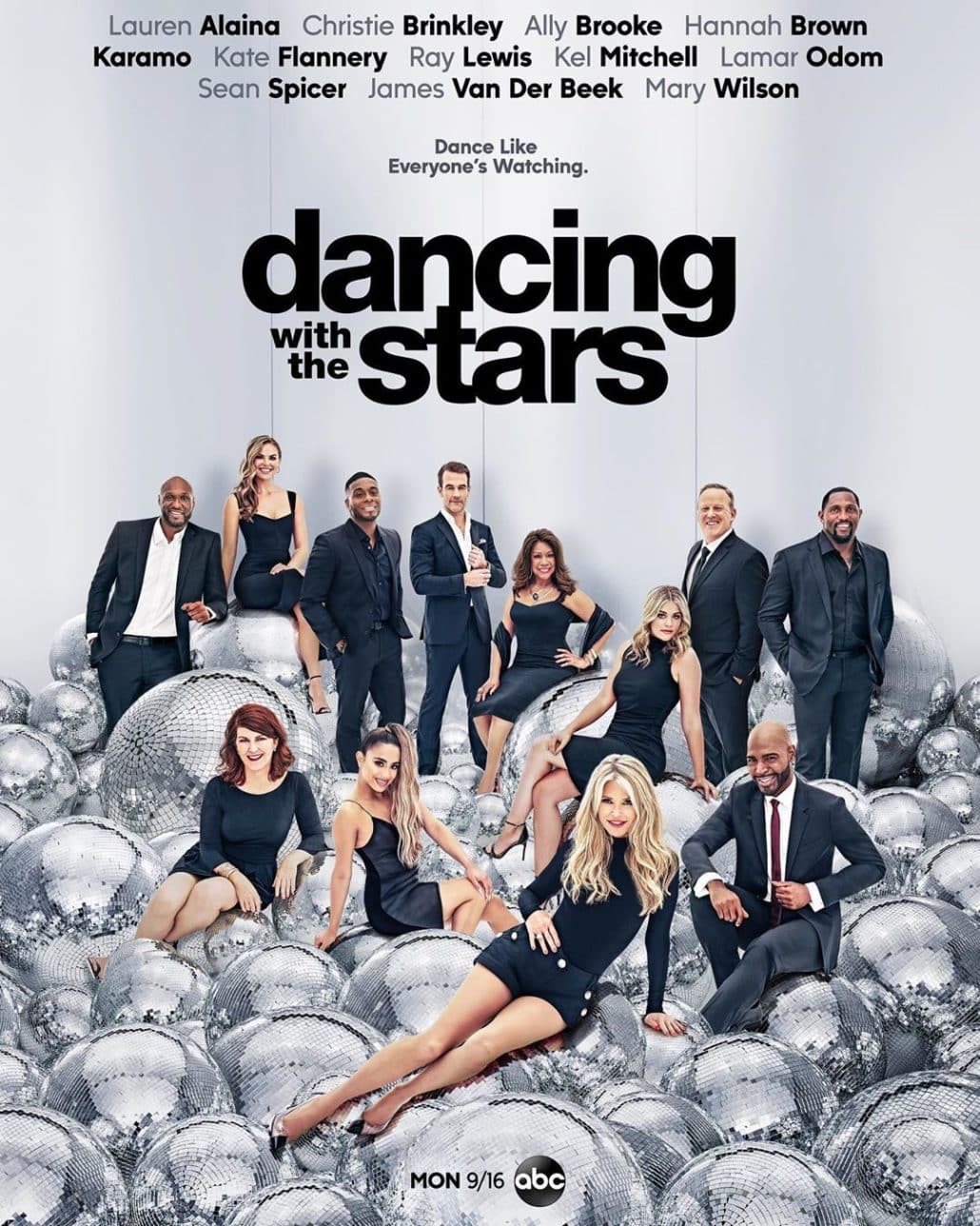 Hey All :)
It is "Movie Night" as Dancing with the Stars rolls on. Tonight, the remaining eleven couples will dance in new styles to tunes from the cinema. After all the dancing is complete, America's bottom two will be revealed and the judges will once again decide who stays and who goes.
Last week, Mary Wilson and her partner Brandon became the first couple to be eliminated. Ray Lewis and Cheryl joined them in the bottom. As Ray tries to stay out of jeopardy for the second week in a row, those couples nearing the bottom of the scoreboard will try and improve their scores. Some of our higher scoring teams will attempt to impress yet again.
The LIVE coast to coast vote starts right at the top of the show. Here is the information you need:
Remember- those of you not seeing the show live right now can still participate and vote for your favorite couples.
Voting commences at the top of the show as follows:
-You can head on over to ABC.COM or use the ABC App. A valid email is required and a limit of 10 votes per method.
-You can text the name of your choice to 21523. Example- text the word Sean to 21523 to place a vote for Sean. Again, a limit of 10 votes for this method.
We open with the pros dancing to the theme song from "Fame." Tom and Erin welcome us to the show. Tom notes Ray Lewis is out of the competition due to injury. Yikes, that's two stars off the show already. But voting commences for the rest of the crew and Tom says the actual bottom two will be revealed and the judges decide who goes home. So, it looks like even with Ray out, we will still have an elimination- unless they are playing us, which is entirely possible.
https://www.youtube.com/watch?v=dbC2_PTLuCs
Lauren & Gleb – Tango
Lauren is getting better with her core strength. Not so wobbly when she has to turn fast. That's a good and marked improvement. My biggest worry for her is Gleb honestly. He has never exactly been the most stellar choreographer and I hope he doesn't let Lauren down as the season progresses. This was a decent tango- nothing really super amazing but serviceable from start to finish. One of Lauren't best assets is the character she brings to the dance. She always give the routine an organic feel.
Len says it full of attack, drive, and purpose. A little bit of stop and start and her left arm could have been a little lower around Gleb. He loved the attitude though. Bruno is glad she went for it. He wants her to watch her transitions because she can get wobbly. Carrie Ann wants her to work on the musicality because at the beginning, she wasn't on beat. She doesn't want her to lean on Gleb so much. A little more resistance, Carrie Ann notes.
Carrie Ann- 6
Len- 7
Bruno- 7 for 20/30
https://www.youtube.com/watch?v=qKnWIRvfXkI
Hannah & Alan – Rumba
Very good. Hannah's strongest routine so far. Love the choreography here- simple rumba steps executed beautifully. Great hip action, lots of body contact between the two, and some really nice chemistry to boot. Hannah is excelling so far this season and this was another really strong number. Kudos to Alan for putting that together. It was memorable enough to earn votes but technical enough for the judges to be pleased.
Bruno loves how lyrical she is. He tells her she has to use the floor more. He feels it lacked a bit of Cuban motion. Carrie Ann agrees that her lines are great but she says there was no hip action. She felt it was more like a cheer leading dance. Len notes Hannah did a lot of ballet so the lyrical dances look good but she needs more going on down below. But he calls her a lovely dancer.
Carrie Ann- 7
Len- 7
Bruno- 7 for 21/30
https://www.youtube.com/watch?v=GLx6NPNKOiQ
Karamo & Jenna – Jive
Hmm. This is a tough one. I saw kicks and flicks done relatively well. It was fast. Karamo was in character and had decent musicality. But it didn't really come together? It was kind of messy, with some missed steps and Karamo in parts looked to be confused. It needed more polish. Perhaps a bit more rehearsal would have done wonders. The elements were all there but it just didn't really come together cohesively.
Carrie Ann says there was a lot of mistakes. She loved that he entertains but it wasn't good tonight. Len liked that there was no messing about. He liked the mix of steps. He says mistakes are like hickeys- you can try to cover it but it is noticeable. Bruno agrees and says jive is hard but Karamo has great potential.
Carrie Ann- 5
Len- 5
Bruno- 6 for 16/30
https://www.youtube.com/watch?v=xKN0IzjqueU
Ally & Sasha – Rumba
Gorgeous. I am a little afraid to give my comments because I thought Hannah's rumba was delightful and the judges saw no hip action. Again, I thought this was lovely with tons of hip action, great content, and lots of sizzling chemistry. For me, Ally's best dance of the competition. Sasha sure does love his fast turns huh? If you notice, he puts them in many dances. But for a rumba, it works. Elegance personified. I hope the judges agree.
Len loved that he could see a proper rumba. He calls it a great job. Bruno says she put all of her heart and soul into the dance. He loved the real rumba that was in it. Beautiful, he says. Carrie Ann calls her an emotional dancer. She says it was an unapologetic amazing rumba.
Carrie Ann- 8
Len- 8
Bruno- 8 for 24/30
https://www.youtube.com/watch?v=ULdQIbE2OoE
Time for a look at what happened to Ray Lewis and why he needs to drop out of the competition. He has a nagging injury from his football days having to do with his tendons. He needs surgery and the doctor informs him that he cannot keep dancing because it will rupture. And with that, Ray is out.
In the audience, Ray says he loved meeting new people and learning to dance but he needs to heal. So, Rashad Jennings (former winner and football star) is dancing with Cheryl just for this week to show off the dance that they would have done had Ray been able to stay in. Something tells him had Ray done this routine, it wouldn't have looked that good. But I wish Ray well in his recovery.
https://youtu.be/vmaa6yHt6cY
James & Emma – Rumba
So pretty. That song just does. me. in. Damn. The dance was good. I wonder if Carrie Ann will be the lift police here because I did see Emma's feet come off the ground- perhaps even twice. But I loved the execution of the dance. It was a bit mesmerizing to watch and I was fully invested. I think Ally's rumba from earlier was better technically but this was a damn good job.
Bruno says there was nothing shallow about that. (HAHA PUN). He says it is harder for the man in a rumba. And he says he made Emma look fantastic. Carrie Ann loved the poetry. She compliments Emma on the choreography. She watched both of them equally. Len says a little wide in the leg action which impeded the hip action. He found it a little on the passionate side for him.
Carrie Ann- 8
Len- 7
Bruno- 8 for 23/30
https://www.youtube.com/watch?v=H41bTwu6CxM
Kate & Pasha – Quickstep
You know, Kate is really the biggest surprise of the season so far. For someone I wrote off initially as just one of those contestants who will be funny but just okay at dancing, she keeps surprising me. This was a very good quickstep. She stayed in time, good hold and posture, and made no mistakes. I am pleasantly surprised and super impressed. And I think Pasha is doing everything correct as a choreographer and a partner for her. Kudos.
Carrie Ann says she is killing the game. She says she is working hard and it is paying off. Len loved the performance and choreography. Len calls it a big hit.
Carrie Ann- 8
Len- 8
Bruno- 8 for 24/30
https://www.youtube.com/watch?v=7dea1DQZdXE
Lamar & Peta – Cha-Cha-Cha
Yikes. The less said the better. Hey, improvement from last week, which is improvement over the week before. So that's great. But it is like we are starting at zero and slowly climbing to a two. A lot of mistakes and a lot of botched musicality but hey, a nice bit of content as well and Lamar, as usual, looked to be having a blast. That dance might just make him get some votes. Entertainment is key.
Len enjoyed the fun until the wheels fell off when he had to do some basic steps. Bruno says it was undressed for success. He says he couldn't manage it until the end. Carrie Ann saw more confidence. She says it was going so well until the wrong one step.
Carrie Ann- 4
Len- 4
Bruno- 4 for 12/30
https://www.youtube.com/watch?v=ecSOjBkYF0I
Sailor & Val – Tango
I could have done without having a gaggle of other dancers on the floor. Sailor is good enough where she doesn't need to be overshadowed. It was a solid tango but there was a lot of messing about, as Len would say. I would have appreciated more of a standard technical dance as opposed to trying to put on a show as if they were dancing a Broadway revival number. But that's on Val. Sailor did as she asked to do.
Bruno sees that Sailor is taking the judges comments to heart. He calls it a great feel good tango. Carrie Ann says the lifts were all legal. She notes it was a transformation for Sailor. Len says it was full of snap, crackle, and pop. He calls it a fantastic routine.
Carrie Ann- 7
Len- 8
Bruno- 8 for 23/30
https://www.youtube.com/watch?v=O0WZNE78jtE
Kel & Witney – Rumba
A heck of a lot of rumbas tonight. And once again, quite pretty and elegant. The smoke kills me. SO MUCH OF IT. But Kel was just as endearing as James when it comes to showing off his female partner. Maybe Kel's best overall dance since the season started. Just a nice and simple rumba with the right amount on the technical side.
Carrie Ann calls it really solid dancing. She says he is a little tight. She wants him to spread that energy out but otherwise, lovely. Len wanted more shaping in his hand. The feet- more toning. He calls it a good solid performance. He mentions too much fog. LOL. True. Bruno agrees that he needs to soften. The intensity takes away the fluidity.
Carrie Ann- 7
Len- 6
Bruno- 7 for 20/30
https://www.youtube.com/watch?v=jHUj4LgwtIg
Sean & Lindsay – Cha-Cha-Cha
Well, this is why you use extra dancers. Smart by Lindsay. Mask Sean's shortcomings by making it a show. In this instance, it works. Sean still lacks basic dancing skills. A whole lot of stomping around, even with very simple choreography. That was one of the easiest cha-cha routines we have ever seen and adding the disco moves killed time that Lindsay would have had to spend putting in more actual content. So again, much credit to her. Could have turned out way worse for Sean but didn't.
Len says he is very pigeon toed. But he walks fine. LOL. Bruno calls him a genius- he turned Saturday Night Fever into a disaster blockbuster. Carrie Ann says he is living his best life. She wants to see him loosen up a bit- a little robotic. Oh goodness, Carrie Ann tries to get him to loosen up right now- and it fails.
Carrie Ann- 5
Len- 5
Bruno- 5 for 15/30
https://www.youtube.com/watch?v=fUIA1a3EjTI
Final Judge Leader board For Week 3
Ally- 24
Kate- 24
James- 23
Sailor- 23
Hannah- 21
Lauren- 20
Kel- 20
Karamo- 16
Sean- 15
Lamar- 12
Time for results. The big question of course is whether they will eliminate anyone considering Ray's departure. We have quite a few that need to go, so I say do an elimination. And if they had a double boot planned for later this season, cancel it. Here we go…
The following couples are SAFE– Ally & Sasha, Sean & Lindsay, Hannah & Alan, Lauren & Gleb, Kate & Pasha, James & Emma, Sailor & Val, Karamo & Jenna
Bottom 2– Lamar & Peta and Kel & Witney
Len announces NO ONE IS GOING HOME. DUH. SHOCK. But not really. America's votes will carry over to next week. That was so obvious. Lamar got lucky. He was doomed. Let's see if that rallies his fans to vote hard next week. A bit surprised Kel ended up in the bottom. But that's how it goes.
I hope you guys enjoyed movie night this season. Next week, we do it all over again. POLLS from yours truly will go up either later or tomorrow. Thanks for watching y'all. Have a good week. :)