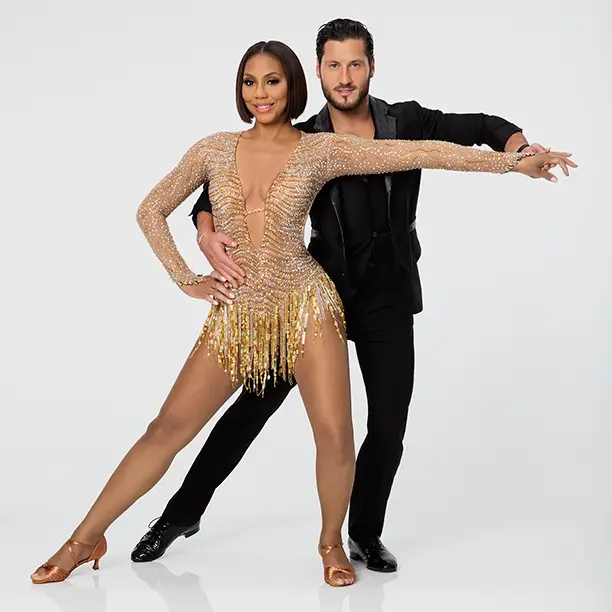 Overnight, Tamar Braxton posted the following update on her medical condition and status on Dancing with the Stars to her instagram account…
"With a Heavy heart I regret to inform you that my season of #dwts has to come to an end along with the rest of my tour dates with @musicbykem. After yesterday's final #dwts performance I went back to the hospital (after the doctors didn't want me to leave in the first place) only to find out that I don't have pneumonia but something way more serious and that is having several P.E.'s (blood clots in both sides of my lungs) As you all know I will be the first to always encourage anyone to push through any obstacle that comes along one's way. But in this case, my health is my current obstacle. .. And in TRUE #tamartian form I must go about this the exact same way as I would anything else. I woke up to a mirror and saw myself this morning and that makes me the winner because that almost wasn't the case. ?Take care of yourselves… I love you and thank you ALL for your support?? p.s. Big hugs and kisses to my boo @iamvalc for being beyond a friend, brother and the BEST partner EVER?????"
First, I want to send good wishes to Tamar on her recovery. Blood clots are nothing to take lightly. This is actually an even more serious medical issue than the pneumonia Tamar thought she had because without proper treatment, an embolism could turn fatal in minutes. You have got to limit certain activities and be monitored closely (more than likely with blood thinning medication). Cancelling her tour dates and leaving the competition is without a doubt, the correct decision. I wish her nothing but the best as she moves forward.
Now, how does this affect the competition, where the semi-finals air next Monday night? I see some on the web are calling for Alexa to come back. I understand the frustration. Had Tamar not returned to the show on Monday (after all, her doctors did NOT want her to), Alexa would still be around. And considering she had two perfect scores, she may have even won herself a place in the finale. But I'm not at all sure how the show could fairly bring her back. Once she was eliminated, her voting number was shut down, as well as the ability to cast votes for her and Mark on the ABC site. Even though I give Tamar all the credit in the world for returning to the show Monday night and powering through, it is a shame that it was basically for nothing and resulted in a healthier contestant being booted.
My best guess is that the show does NOT eliminate anyone on Monday and allows the four remaining stars (Bindi, Nick, Carlos, and Alek) to advance to the finale. They could also decide to go back to a three person finale as opposed to four, and eliminate someone this week anyway. Those are the two only viable options I see. The former option pretty much throws out all the voting everyone did this week unless the show combines the votes from weeks 9 and 10. The latter takes the votes into account but again, it leaves us with only three finalists and the show had always planned and scheduled the finale to be between four. We shall see what happens. I'm sure we will get our answer long before this coming Monday.
What do you guys think the show should do? Are you bummed Tamar is out? Do you think she should have stayed at the hospital Monday? Do you feel Alexa should be brought back despite the voting issue? Sound off in the comments and should any new information on this developing story come out, I will update this post.
Here's a report from today's Good Morning America
https://youtu.be/jLThu0ryEsU