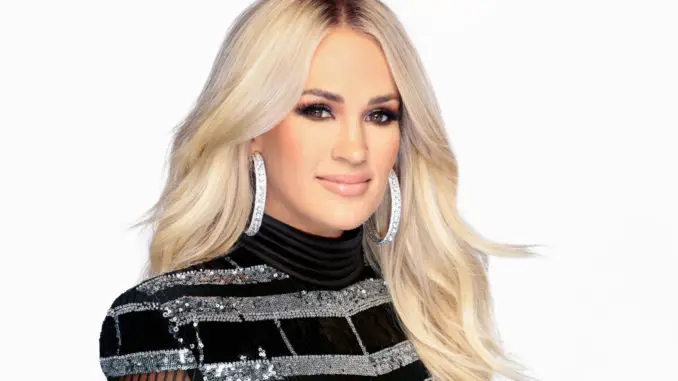 Carrie Underwood did a fun little thing for The Masked Singer, which unfortunately didn't make it to air. While Banana Split and Queen of Hearts waited on stage for results (Spoiler Alert: Fellow American Idol alum Katharine McPhee and her husband mega-producer David Foster were unmasked as Banana Split!) Judges Jenny McCarthy and Ken Jeong did a bit where he mocked Jenny's inability to sing. 
Jenny stood up, grabbed her bejeweled mic and belted out some amazing runs! OBVIOUSLY not Jenny. Yet that voice sounded AWFULLY FAMILIAR. It sounded exactly like Carrie Underwood. And indeed, it was her! Carrie returned Jenny's post that gushed, "This was SO INSANELY FUN!! Were you able to figure out whose voice this was? Here's a hint. She has the MOST beautiful voice with an epic amount of talent! Love her. If you guessed @carrieunderwood, you got it right! Love you Carrie! Thank you for letting me be you for a minute! Dream come true!"
 

 

 

View this post on Instagram

 

 
In this continuation clip, Ken snarks "I CAN SEE YOUR VOICE and it's not yours!" To prove it's her, Jenny lip syncs to Carrie's voice again, and sings, "My name's Jenny McCarthy and I'm singin' this!" Well no she's not! But it proves that Carrie was totally in on the joke.
The clip cuts to Katharine and David unmasked. Host Nick Cannon asks the panel if they recognized "the iconic legend" who lip synched for Jenny earlier. Robin Thicke is all "ooooo I know" guessing Christina Aguilera. "Oh no no," David wags his finger. Katharine's says "no" too. "This is my business (chuckling) so I'm going to say…Carrie Underwood." DING CORRECT. "Golden ear right there!" shouts Jenny.
"Of course the smart banana @davidfoster guessed @carrieunderwood correctly! Thanks again Carrie! And I'm happy to loan you my voice anytime you need it." Jenny posted alongside the second clip. Carrie reposted this one too, adding "Well done!"
It's the closest Masked Singer will ever get to having Carrie Underwood on the show. Heh.
 

 

 

View this post on Instagram