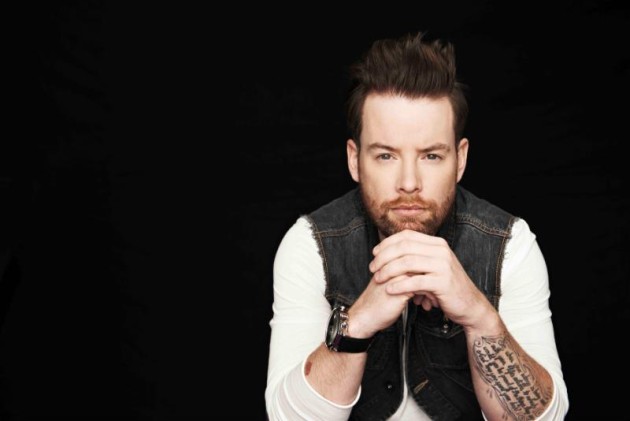 You can pre-order David Cook's forthcoming CD NOW at Pledgemusic! The American Idol season 7 winner is offering tons of fun perks and behind the scenes access for those who purchase an access pass. Everything from a digital download of the album, to signed CDs, Vinyl versions, signed album artwork, clothing, handwritten notes, are available. Some of the pricier perks include a golf day with Dave, a personal skype session, or how about a concert just for you for 50K? Click to Pre-order David Cook's Upcoming Album.  There's no title, tracklist or album artwork yet. But if you pre-order, you'll be the first to know.
Here's the official press release:
PledgeMusic is happy to announce its partnership with platinum selling recording artist and American Idol Season seven winner, David Cook, to release his 4th studio record and give fans a pre-order experience they will not soon forget.
David Cook rose to fame after claiming the Idol crown in 2008 and set Billboard records for debut entries by a male solo artist on the Hot 100 chart (with 11 titles), and for debut entries on the Hot Digital Songs chart (with 14 titles). His first post Idol album, David Cook, entered the Billboard charts at #3 and the Digital charts at #1 and has since been certified platinum by the RIAA. His second album This Loud Morning was released on June 28th, 2011 and was a Billboard Top 10 debut. Collectively David Cook has sold over 5 million tracks and ringtones worldwide, including two platinum and one gold-certified singles.
In 2012, David relocated to Nashville, TN and has said the creative environment has re-invigorated his passion for creating music. He submerged himself in the songwriting community, teamed up with Warner Chappell Music Group and most recently co-wrote the 2014 top 20 Country radio single "Kiss You Tonight" by David Nail.
All of this led the way to his latest studio project. "I am beyond excited to work with PledgeMusic to unveil my latest album. In the ever-changing landscape that is the music industry, I was intrigued by the opportunity that Pledge offers in bringing fans into the process and partnering with them to bring this record to life." Says Cook about the campaign.
Having been a musician and performer since he was a teenager, Cook first picked up a guitar at age 12 and formed his first band at 15. Prior to Idol he released an independent album entitled Analog Heart, thus making his latest project his 4th studio album.
Fans who pledge will have the chance to own exclusive items such as: A David Cook baseball jersey, personalized postcard with a message from David, just for you, signed set list, a disposable camera filled with one-of-a-kind pictures taken in the studio and on tour, your name in the liner notes, hand written lyric booklet and the new CD, an autographed video prop from "The Last Goodbye" video shoot, clothing worn by David on television performances and much more. All pre-orders come with the Access Pass, which will give fans access to exclusive behind the scenes videos, special updates on the record and his tour and more. To pledge to this campaign, visit: http://www.pledgemusic.com/projects/davidcook
And a Message from David:
Hey everyone,
Thank you all so much for checking out this new endeavor of mine! I've been hard at work putting the finishing touches on this new album, and the time has come to finally share it with you all! I wanted to attack this record a bit differently, and allow you all more access to this project, so I am going to be working with PledgeMusic to bring you an interactive and unique pre-order experience.
So let's go on this journey together! From this moment until the album is completed and in your ears, I'll be posting updates on a VIP (Very Important Pledger) area of the site. The only way to get into this area is with the Access Pass. I'll be posting video updates, sneak peeks of new music, photos from recent shows, and anything/everything else you could want to know about the album's progress! It'll be a chance for us to experience this record process in a collaborative, new way.
So scroll down and check out just some of the exclusives that we've made available for this campaign. We've got signed CDs and vinyl, one-of-a-kind memorabilia and experiences, VIP show opportunities, and more on the way!
Again, I can't say thank you enough for joining me on this new journey. I'm beyond excited to go through this process WITH you!
David