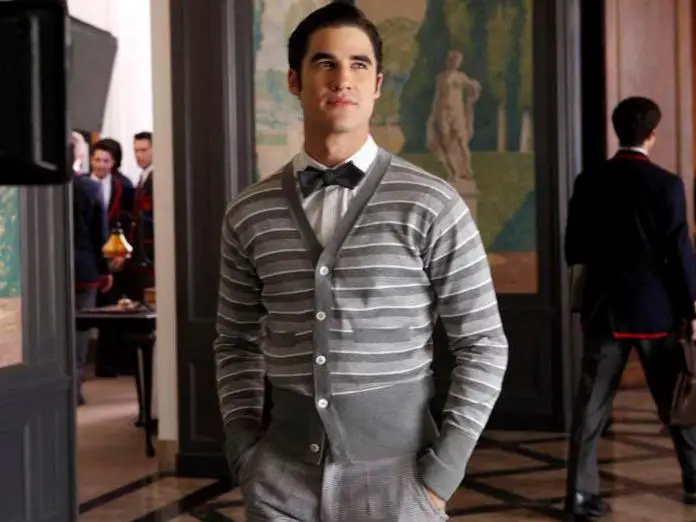 Holy Cheesus! Simon Cowell offered Glee star, Darren Criss, the X Factor hosting gig!
From EOnline
Darren Criss is a very wanted young man.
Not only is he one of the biggest stars to be hatched by Glee, but his last year included starring on Broadway in How to Succeed in Business Without Really Trying and filming a movie, Imogene, with Kristen Wiig and Annette Bening.
And now I can exclusively reveal he was recently offered the hosting job at The X Factor…
Mr. Criss politely declined the gig, according to a source.
I'm told Criss decided not to join Simon Cowell & Co. because of his busy schedule, plus he'd  rather spend his time singing and dancing than hosting. "They were after him," a show insider said. "But there's no way he could have done it with everything he has going on."
Both shows are on FOX. If it had been possible, he could have done both. But the Glee schedule is grueling. Those kids work 12 hour plus days–no way could he do both.   Plus, singing and dancing and romancing Chris Colfer is WAY more fun than hosting and having to stare at Simon Cowell's mug every week. Srsly.
I swear I would have cut a bitch (Simon) if he had been responsible for breaking up Klaine! Just kidding. Sort of. Heh.
This bit of news gives us an indication of what Simon is looking for in a host.  He wants candidates who are HOT, on the way UP like Darren–not somebody looking to revive a declining career.
But with the time commitment, X Factor would require, that's going to be tough.  And anyway, why would an up and coming talent take a job hosting a reality show? That would be crazy.  When all is said and done, Simon will  probably end up with some washed up teen idol in the position–somebody who isn't already otherwise engaged.