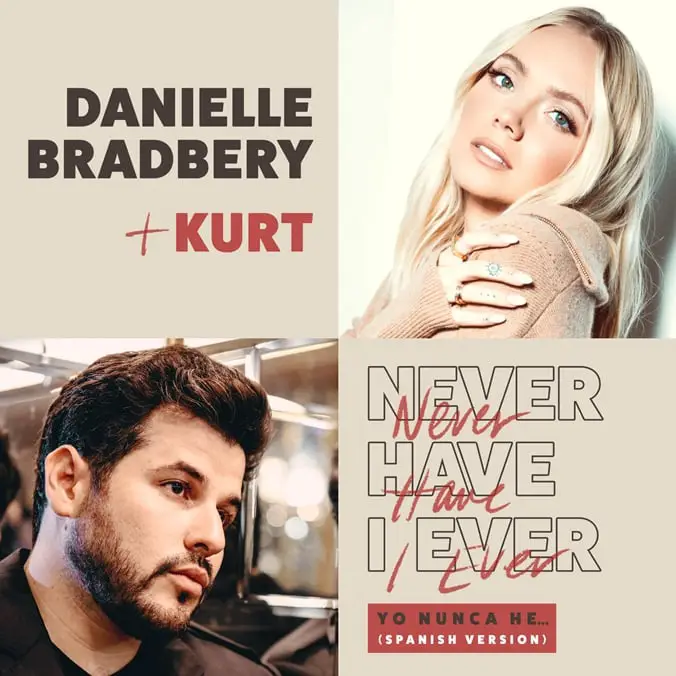 The Voice season 4 winner Danielle Bradbery broadens her  range and deepens her connection with her Mexican heritage by enlisting Latin  artist Kurt for a Spanish version of her latest single "Never Have I Ever" ("Yo Nunca He…") out today via Big Machine Records. Tapping into her Mexican influences, Danielle sings entirely in Spanish for the first time on the collaboration as a nod to her Latina culture.
Raised in Texas, Danielle was heavily influenced by her heritage through her maternal grandmother, Gloria Avila Redden who was born in Guanajuato, Mexico and began teaching her to sing in Spanish at an early age.
Danielle Bradbery Drops New Ballad "Girls in My Hometown"
Danielle Bradbery's Socially Distant 'Never Have I Ever' Music Video
"Growing up, I was always surrounded by Latin music; it's so beautiful and I've always dreamed of recording a song in Spanish. I'm not going to lie; this was one of the most challenging things I've done in my career, but after listening to the final mix–I couldn't be any prouder and I'm so grateful that my friend Kurt could be on it with me," shared Danielle. "I feel like I'm putting a piece of my heart out into the world, and I'm so excited for everyone to hear it. I hope that I made my Chita and my family proud."
Although she does not fluently speak the language, Danielle worked around the clock with renowned Latin producers Andres and Mauricio, known for their work on "Despacito," to put their spin on the track.
"It's been an incredible opportunity. Music has taken me to meet great artists and to think that now is taking me to new countries and languages is super exciting," Kurt said of the new collaboration. "Danielle has an amazing voice and talent, it's always a pleasure and honor to work with such talented artists and with songs that demand the best of me".
Watch the Danielle Bradbery/Kurt "Yo Nunca He…" Lyric Video below