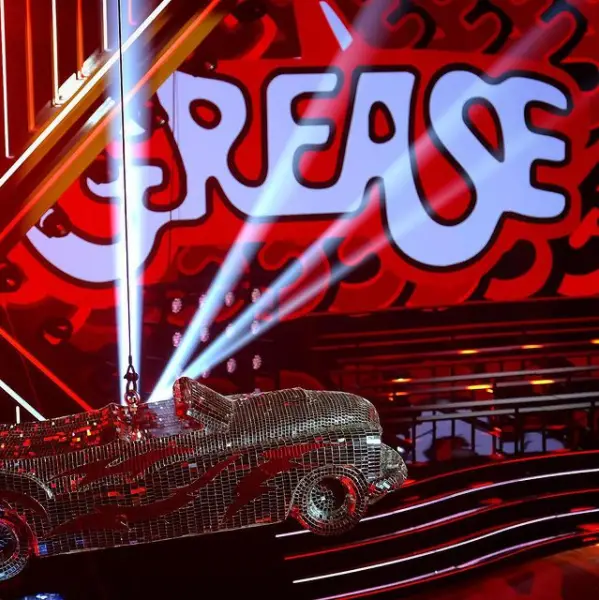 Whether you're hopelessly devoted to JoJo Siwa or The Miz is the one that you want, we're all in for a treat tonight on Dancing With The Stars! Whack out the poodle skirts and letterman jackets because it's GREASE NIGHT! And rumor has it there may just be some surprise guests…
Last week we had to watch two couples leave the ballroom. Interestingly enough, it was the two lowest scoring couples who were eliminated: Brian and Sharna and Matt and Lindsay. I was surprised to see Brian and Sharna go so soon, but not so surprised when Head Judge Len Goodman chose to save Kenya and Brandon over Matt and Lindsay.
Keep your favorite couples in the competition by voting throughout the show! Below is voting information for each contestant if you're voting by text, or you can vote at ABC.com.
Text AMANDA to 21523
Text CODY to 21523
Text IMAN to 21523
Text JIMMIE to 21523
Text JOJO to 21523
Text KENYA to 21523
Text MELANIE to 21523
Text MELORA to 21523
Text MIZ to 21523
Text OLIVIA to 21523
Text SUNI to 21523
The show kicks off with a freakishly accurate cartoon of Derek (and the other judges) then cuts to the troupe and eliminated pros performing an opening number to the song "Grease." And I think Tyra ruined Rydell High for me forever…
Olivia Newton-John appears via video to wish the stars luck tonight!
Tyra announces all of the songs will be in order of the movie tonight! How cool!
Olivia Jade & Val – Foxtrot
Honestly, for Val, that wasn't very well-choreographed. I've seen so much better from him. Olivia also has an awful habit of offering who hand to Val before he's ready to take it. Their outfits were absolutely adorable though!
Len says if Sandy and Danny were to dance a Foxtrot, it would look a lot like this. Derek imitates John Travolta saying, "Sandy!?" then says it was a great way to open the show. Bruno says she captured the sweet innocent of Sandy and that Olivia Newton-John would be proud. Carrie Ann says their body contact was beautiful. 
Carrie Ann- 9, Len- 9, Derek- 9, Bruno- 9 = 36/40
Why does this dude in the audience have Rick Astley on his shirt… lol
Melora Hardin & Artem – Viennese Waltz
That was underwhelming… Melora's dancing was a bit too flail-y for a Viennese. The choreo was okay. Melora is great at the theatrics though which is why I knew she would perform this so well. (I think I'm being hard on everyone because this is such great music to live up to…)
Derek says Melora is the gift that keeps on giving but critiques her hold. Bruno says Melora's got the part and she put some bump 'n grind into the Viennese Waltz. Carrie Ann says every time Melora dances, it makes everyone else want to do the dance with her. Len says she danced and acted it well and he feels better for seeing it.
Carrie Ann- 9, Len- 9, Derek- 9, Bruno- 9 = 36/40
Iman Shumpert & Daniella – Viennese Waltz
10's for cuteness, but… Iman has a lot of trouble with his footwork. He also definitely messed up the moment he spun Daniella around on the floor. Daniella is a great choreographer though, and that makes the whole performance not look so bad.
Bruno tells Iman not to dance down so much (and gets boos?? Why??). Carrie Ann says his knees are where Daniella's hip is (LOL) but that she loves their chemistry. Len says it had a gentleness but his technique isn't great, and that Iman tries so hard that he finds it difficult to criticize him. Derek says it was great.
Carrie Ann- 7, Len- 7, Derek- 7, Bruno- 7 = 28/40
The Miz & Witney – Jive
The Miz definitely brings the energy to the Jive! Love that real-life Greased Lightning! The Miz's wig is perfect. Witney's costume is amazing. The Miz's dancing was eh but the performance was fun! P.S. Happy Birthday, Witney!
Carrie Ann says, "Go Miz Lightning!" Len says he's not sure about hydromatic because some of the steps were problematic. Derek says the steps lost a little bit of the clarity but it was still so much fun. Bruno says a bunch of gibberish and then, "What a performance!"
Carrie Ann- 8, Len- 8, Derek- 8, Bruno- 8 =32/40
Amanda Kloots & Alan – Viennese Waltz
Frankie freakin' Avalon appears to perform "Beauty School Dropout" live while they dance! Look at Alan looking like the cutest Teen Angel and Amanda being the perfect Frenchy! I know that had the added factor of Frankie freakin' Avalon, but that was stunning!!
Len says Amanda won't be a DWTS dropout and the icing on the cake was one of his teenage icons, Frankie Avalon. Derek says "there's this moment" that makes him unable to give them a 10. Bruno says he feels like Amanda stepped out of a dream. Carrie Ann says Grease is the word for her and Grease is the night for her!
Carrie Ann- 10, Len- 10, Derek- 9, Bruno- 10 = 39/40
*Fun fact, I saw Frankie freakin' Avalon perform "Beauty School Dropout" live just a couple weeks ago and he was just as amazing then as he was tonight!
Suni Lee and Sasha – Charleston 
Oh my goodness, look at Danny and Cha Cha go!! But also… look at Suni and Sasha go!! FINALLY, Suni breaks out into a character and breaks out her confidence!! That Hand Jive!! That song is so hard to keep up with but Suni nailed it! Also kudos to Sasha for all of that choreo! I don't know why Sasha got a pie in the face but why not!
Derek says it's a confusing dance because it was a CHARLESTON to "Born To Hand JIVE" as the character CHA CHA (lol) but he loved it. Bruno says it felt like we were all having the most fun ever! Carrie Ann says she wants to keep pushing Suni, but it was fantastic. Len says he smiled the whole way through!
Carrie Ann- 9, Len- 9, Derek- 9, Bruno- 9 = 36/40
Jimmie Allen & Emma – Foxtrot
I feel so bad Jimmie slipped because he did so well otherwise!! He's really getting better and better each week and has a great teacher to thank for it. Jimmie has really great frame. And the use of cars tonight is fun!
Bruno congratulates Jimmie on the birth of his daughter, then blames confetti for Jimmie's slip and Derek blames Sasha's whipped cream (lol). Carrie Ann says he made his daughter proud and there's needs to be a balance between in hold and out of hold. Len says it wasn't confetti, it might have been GREASE (buh dum tss), then says the technique isn't great but he comes out with enthusiasm. Derek says it was the complete package.
Carrie Ann- 8, Len- 8, Derek- 9, Bruno- 9 = 34/40
Kenya & Brandon – Rumba
It seems so hard to turn "There Are Worse Things I Could Do" into a Rumba but Brandon nailed it! Kenya is getting better and better and her chemistry with Brandon is the cherry on top here.
Carrie Ann says she's so glad Kenya is still here so she could perform this dance tonight. Len says there wasn't much worse they could have done in that Rumba! Derek compliments basically every move. Bruno says Kenya translated emotion through motion. 
Carrie- 9, Len- 9, Derek- 9, Bruno- 9 = 36/40
JoJo Siwa & Jenna – Foxtrot
That was so beautiful!! JoJo's acting, her gorgeous turns, the way she led Jenna around that ballroom! They were so in sync and looked exactly like Sandy and Frenchy.
Len stands and says they affected his brain by the technique and affected his heart with the artistry. Derek says he loves this partnership and JoJo's opening turn was stellar. Bruno says he's still shivering and that was a great interpretation of the power of friendship. Carrie Ann she has nothing to say except it was perfection.
Carrie Ann- 10, Len- 10, Derek- 10, Bruno- 10 = 40/40
I don't know what's worse: Rydell High cheerleader Tyra or Bad Tyra…
Melanie C & Gleb – Quickstep
Is breaking in the middle of a Quickstep still forbidden, because I think it should be forgiven here. They made the perfect Danny and Bad Sandy. Watching a female follower perform a Quickstep not wearing a skirt was different, but Melanie did great. And Gleb crawling down the steps was hilarious!
Derek says she was phenomenal, aside from a "teeny little moment." Bruno says it takes guts to do a Quickstep in leggings because all the attention is on the legs. Carrie Ann says she started a little nervous but halfway through she started having fun. Len says it was her best dance. 
Carrie Ann- 9, Len- 9, Derek- 9, Bruno- 9 = 36/40
Cody Rigsby & Cheryl – Quickstep
I love how they kept the same exact set for this one! Great choreo, just not a great performance of it from Cody. He's much better out of hold than in hold. Technique aside, it was a fun way to end the night!
Bruno says he needs to work on the hold and footwork. Carrie Ann says to close the gap in the hold from now on. Len says they needed a stronger frame but he loved the energy. Derek says his frame improved from last week.
Carrie Ann- 8, Len- 8, Derek- 8, Bruno- 8 = 32/40
The first couple dancing next week is… Kenya and Brandon. Also safe are Jimmie and Emma, Melora and Artem, Cody and Cheryl, Suni and Sasha, JoJo and Jenna, The Miz and Witney, Amanda and Alan and Iman and Daniella.
The bottom two are Olivia and Val and Melanie and Gleb.
Derek saves Olivia and Val. Carrie Ann saves Melanie and Gleb. Bruno saves Melanie and Gleb.
Len has the final vote and saves… Olivia and Val.
Melanie and Gleb are eliminated.
Judges' Scores
JoJo- 40
–
Amanda- 39
–
Kenya- 36
Melanie- 36
Melora- 36
Olivia- 36
Suni- 36
–
Jimmie- 34
–
Cody- 32
The Miz- 32
–
Iman- 28
I'm sorry, but I don't know how Iman survived another week… Melanie wasn't the best dancer, but she was improving. Sad to see her go.
Thanks for joining me for such a fun night! Come back next Monday for some frightful dances when DWTS celebrates Halloween!