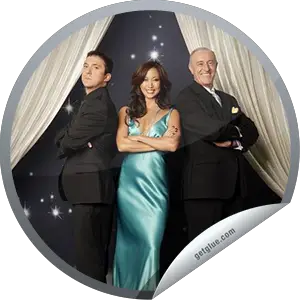 Welcome to Week 2 of season sixteen of Dancing with the Stars. After last week's premiere, all twelve couples are back to try and secure higher scores and more audience votes to prevent being the first to have their dancing shoes burned. It was an interesting start to the show with highs like Zendaya, Aly, Kellie, and Dorothy and some lows via D.L. and Andy. Is this a competition where the girls are going to roll over the guys? Is that a trend on most reality-competition shows this television season?
Let's take a quick look at the leader board from Week 1:
Zendaya And Val – 24/30
Aly And Mark- 21/30
Dorothy And Tristan- 21/30
Kellie And Derek- 21/30
Ingo And Kym- 20/30
Jacoby And Karina- 20/30
Sean And Peta- 19/30
Lisa And Gleb- 18/30
Victor And Lindsay- 18/30
Wynonna And Tony- 18/30
Andy And Sharna- 17/30
D.L. And Cheryl- 12/30
Tonight, the couples are tasked to perform either the Jive, Quickstep, or Jazz.
Jazz is one of the newer additions to the DWTS roster of routines and tonight, Kellie & Derek, Andy & Sharna, and Jacoby & Karina will attempt to master it. The rest will have to get in touch with their fun side to bring out the joy in the Jive and the intricate footwork of the quickstep. It should be interesting to say the least.
All the scores from tonight (both judges and audience votes) will be added to last week's results and tomorrow night, we will have our first results show of the season. Can D.L. do anything to survive? Will the couples in the middle of the pack move up? And will the leading ladies be able to keep their spots? Let's get to the dancing and find out. :D
Ingo Rademacher (Soap opera actor) & Kym Johnson – (Quickstep)
Kym lets Ingo know that with contemporary out of the way, it is time to show people that he can dance. This is a nice quickstep in terms of the choreography and tone but Ingo's frame is a bit off. He sometimes loses it and it causes the dance to look a little awkward. Ingo is keeping up with Kym and smiling but the dance needs some polish. I did appreciate how well Ingo kept up with the tough footwork here.
Len is happy that Ingo danced. He complimented his frame but said his footwork was hit and miss. Bruno called it a bonanza of steps. At times though, Ingo messed up. But Bruno was impressed. Carrie Ann disagreed with Len and said the frame was weak.
Carrie Ann- 6 Len- 7 Bruno- 7 for a total of 20/30
To vote for Ingo & Kym, call 1800-868-3403. You can also text "VOTE" to 3403. Finally, register at ABC.COM to vote online.
Dorothy Hamill (Olympic gold medal figure skater) & Tristan MacManus – (Jive)
Dorothy had an injury this week. She is suffering from a cyst and so, she is worried about the jive. Oh boy. This is a mess. Damn. Dorothy and Tristan are off sync and she is struggling here. I can't even count how many errors with timing and footwork are going down here. At one point, Dorothy almost falls going through Tristan's legs. I know she has had a tough but it definitely showed here. A big step down from last week.
Bruno said it was very brave. He said the footing was lost so many times and it was obvious. Carrie Ann compliments her natural ability but said fear was the problem. Len said it had promise but didn't deliver. He went on to mention the many mistakes during the dance.
Carrie Ann- 5 Len- 5 Bruno- 5 for a total of 15/30
To vote for Dorothy & Tristan, call 1800-868-3409. You can also text "VOTE" to 3409. Finally, register at ABC.COM to vote online.
Jacoby Jones (NFL wide receiver) & Karina Smirnoff – (Jazz)
Jacoby is a a bit of a joker during rehearsals. Karina brings in children to help. Wow, this is so energetic. Karina has really poured everything into this routine. It is like a Broadway mash-up mixed with a few other styles. Jacoby is keeping up wonderfully. A few wobbly moves here and there which would have been perfected with some more practice but all in all, this is strong. This is definitely the type of dance Jacoby can do well with because of his personality and all. Fun!
Carrie Ann begins to talk about what she is looking for in a jazz routine. Carrie Ann called the routine rocking. She said it was really fantastic. Len said it was fun and he was entertained. But he mentioned that this type of dance suits him but he wants to see that same attitude when Jacoby does the classical dances. Bruno said it was stylistically spot on and calls Jacoby a performer.
Carrie Ann- 8 Len- 7 Bruno- 8 for a total of 23/30
To vote for Jacoby & Karina, call 1800-868-3412. You can also text "VOTE" to 3412. Finally, register at ABC.COM to vote online.
Victor Ortiz (Professional boxer) & Lindsay Arnold – (Jive)
Victor has a bit of an attitude with Lindsay in rehearsal because he is frustrated over not getting the steps. Aw, Victor. I am impressed by how much personality and charm he is bringing to the routine but the dancing is weak. The footwork is not what it should be for a jive and some obvious mistakes are evident. At one point, the duo miss hands and Victor is clearly having trouble keeping up with Lindsay. This is ambitious but not very good.
Len said it had energy and fun but it didn't knock his socks off. It could have been sharper and cleaner. Bruno says Victor goes for it like a runaway train but because of it, the stylistically points go out the window. He goes on to mention a load of things that were Victor did wrong. Carrie Ann wants to give bonus points for Victor working the room but she can't because of the dancing.
Carrie Ann- 6 Len- 6 Bruno- 6 for a total of 18/30
To vote for Victor & Lindsay, call 1800-868-3402. You can also text "VOTE" to 3402. Finally, register at ABC.COM to vote online.
Wynonna Judd (Country music singer) & Tony Dovolani – (Quickstep)
Wynonna is surprised at how much fun she had last week. But she doesn't want to pee her pants. Wynonna cries in rehearsal and is very critical of herself. I am very proud of Wynonna's frame here. She is keeping up with Tony but here is the problem. This is more like a "slowstep" instead of a quickstep. Wynonna and Tony are not exactly gliding through the ballroom. She is definitely having fun and the routine is nice to watch but when you see a fast moving quickstep, you can clearly see the difference.
Bruno enjoyed the idea of the routine. He said it ended up as a casual stroll toward the end. Carrie Ann said that Wynonna is on the right track and compliments her frame but she is playing it very safe. Len said the engine was running but never got out of first gear. He does say it was entertaining.
Carrie Ann- 6 Len- 6 Bruno- 6 for a total of 18/30
To vote for Wynonna & Tony, call 1800-868-3410. You can also text "VOTE" to 3410. Finally, register at ABC.COM to vote online.
Zendaya Coleman (Dinsey Channel star) & Valentin Chmerkovskiy – (Jive)
Zendaya doesn't want to let the top of the leader board go. In rehearsals, she is having difficulty with the heels. Well, no difficulty in heels during the routine. Damn. This is the best jive of the night thus far. It has everything. The fast footwork, the lines, the fun, the tone, everything firing on all cylinders. This is fabulous and the only critique I would give is that Zendaya is going to have a hard time keeping up with herself week by week. But great job!
Carrie Ann calls Zendaya the whole "she-bang." She compliments everything. Len says Zendaya is for sure back next week. Bruno says that a star is born big time. He compliments everything as well but tells Zendaya that she is setting a very high standard.
Carrie Ann- 9 Len- 8 Bruno- 9 for a total of 26/30
To vote for Zendaya & Val, call 1800-868-3406. You can also text "VOTE" to 3406. Finally, register at ABC.COM to vote online.
Andy Dick (Comedian and actor) & Sharna Burgess – (Jazz)
Andy feels very proud that he went through such a stressful experience last week and remained sober. He is even adding some of his own choreography to the routine this week. This is hysterical. Andy Dick has become Lady Gaga. This is so over the top yet extremely entertaining. If you are looking for a laugh and to smile from beginning to end, this is the routine for you. Of course, I would be a bad blogger if I didn't mention that the dancing wasn't exactly great and we have seen a better jazz routine tonight but no denying the entertainment value here. I think Andy will be absolutely safe and has arguably become the "hysterical but meh dancer" of the season. Think of Cloris Leachman and Carson Kressley.
Len doesn't know what to say. He called it a lark. It was fun. He says Andy isn't the best dancer but it was fun. Bruno called it outlandish and crackers. He loved it. Carrie Ann says that Andy is lucky jazz was his routine tonight because it allowed him to be wacky.
Carrie Ann- 7 Len- 6 Bruno- 7 for a total of 20/30
To vote for Andy & Sharna, call 1800-868-3411. You can also text "VOTE" to 3411. Finally, register at ABC.COM to vote online.
Sean Lowe (Reality television star) & Peta Murgatroyd (Jive)
Peta says Sean is struggling with the speed and remembering what comes next. Sean has improved from last night for sure. This is a fun jive and he is actually doing an admirable job keeping up with Peta. The kicks and flicks are decent but nothing spectacular. The issue with Sean for me, as it was last week, is that he comes off a bit awkward at dancing on a whole. It isn't that he is bad or doing a ton of things wrong but he just needs to work on refining everything. He looks like a million bucks so if he could only match the dancing to that, he could be a contender in this competition. Unfortunately, I am not sure how much better he can get. But I will give him credit for an improvement over last week.
Bruno wants to be saved by Sean. He says that Sean has charm and charisma but said it was a bit lindy-hop and jitterbug instead of jive. Carrie Ann called it solid but tells him to practice when he is not in hold with Peta because he loses the music. Len didn't like it at all. He thought it was too much spectacle and not enough jive dancing. Len is far from impressed.
Carrie Ann- 7 Len- 6 Bruno- 7 for a total of 20/30
To vote for Sean & Peta, call 1800-868-3407. You can also text "VOTE" to 3407. Finally, register at ABC.COM to vote online.
Aly Raisman (Olympic gold medal gymnast) & Mark Ballas – (Quickstep)
Mark is concerned by Aly's emotions during the routine. He says that she needs to step that up. And she does. Aly has a big smile on her face is definitely keeping up with the tone of the routine. Of course, Mark just HAS to chew up some scenery and make little moments of the dance about himself. But back to Aly. She is doing a very good quickstep and everything is pretty much on point. Good footwork and nice frame here. I felt a little disconnected to the dance personally and I'm not sure why. I felt a bit of it last week when she danced as well. Perhaps with time (because let's be honest, she is here to stay), I will feel more for Aly and her dancing. Technically though, this was very good.
Carrie Ann calls it the best quickstep of the night. She compliments the details of the dance. Len explains some of the things you need in a quickstep and says Aly was terrific- even if her head was too much to the left. Bruno loved the grace, elegance, and personality. He does mention that Aly needs to watch her top line.
Carrie Ann- 8 Len- 8 Bruno- 8 for a total of 24/30
To vote for Aly & Mark, call 1800-868-3408. You can also text "VOTE" to 3408. Finally, register at ABC.COM to vote online.
Lisa Vanderpump (Reality television star) & Gleb Savchenko (Jive)
Gleb plans on being a little Russian dictator this week because he believes Lisa can be much better. I need to be honest. It is difficult to watch Lisa because Gleb is very handsome and quite good. But okay, back to Lisa. I feel like dance needed a lot more practice. Lisa isn't horrible but she isn't too good either. The kicks and flicks are lacking a bit and at times, it just looks like Gleb is basically throwing Lisa around. She needs to do more on her own and not depend so much on her partner. I also think she needs to work on being more free on the floor. It seems like her body (or mind) is holding her back from reaching full potential.
Len said Lisa tried to fly but never took off. He called it wooden. He does say it neat and precise. Bruno makes a joke that Lisa isn't used to commercial flight. He tells Lisa that she has to contain her movement. Carrie Ann is being the lift police again and scolds Gleb. She tells Lisa to let go and watch her arms because they become a bit Barbie Doll-ish.
Carrie Ann- 6 Len- 6 Bruno- 6 for a total of 18/30
To vote for Lisa & Gleb, call 1800-868-3404. You can also text "VOTE" to 3404. Finally, register at ABC.COM to vote online.
D.L. Hughley (Comedian and actor) & Cheryl Burke – (Quickstep)
D.L. jokes about how bad he was last week. He doesn't want to be humiliated this week. D.L. has an attitude with Cheryl during rehearsal. Cheryl walks out of the room. They make up the next day, of course. D.L. needs to learn two things pronto. The first is to stop sticking his bum out so much. It is distracting and wrong for the quickstep. The second is to watch his frame and how he works in-hold with Cheryl. This is better than last week but D.L. still needs to work on so much. This might be another case where I think the celebrity might have reached a plateau on just how good they are going to get. Plus, I can't help but be a bit put off by his attitude. Cheryl doesn't deserve that. If anything, she deserves extra credit for having to teach the weakest dancer of the season.
Bruno sees how hard D.L. worked. He mentions a few off things but says he did a good job. Carrie Ann says the show is very hard but she is impressed by the work. A long way to go but the right track. Len says the secret of the show is to improve week to week and D.L. did this week.
Carrie Ann- 5 Len- 5 Bruno- 6 for a total of 16/30
To vote for D.L. & Cheryl, call 1800-868-3405. You can also text "VOTE" to 3405. Finally, register at ABC.COM to vote online.
Kellie Pickler (Country music singer) & Derek Hough – (Jazz)
Kellie thought it would be more Broadway but Derek tells her that it is more of a contemporary jazz. Kellie doesn't know what the hell is going on in Derek's head. She is too funny. Derek is unsure if the judges will love it or not get it. Wow. This is amazing. The best jazz routine of the night. Amazing choreography (as usual) from Derek and Kellie is working it. I am impressed by everything- from the hands, feet, and extensions. They definitely saved the best for last with this routine. If you missed it, try your best to catch it in full!
Carrie Ann is on her feet. She calls it amazing. She compliments everything. Len says dancing is about much more than steps and says Kellie has a spark. Bruno says it was modern jazz perfection. He calls it technically superb.
Carrie Ann- 9 Len- 8 Bruno- 9 for a total of 26/30
To vote for Kellie & Derek, call 1800-868-3401. You can also text "VOTE" to 3401. Finally, register at ABC.COM to vote online.
Final Judges Leaderboard (with added in scores from last week):
Zendaya And Val – 50/60
Kellie And Derek- 47/60
Aly And Mark- 45/60
Jacoby And Karina- 43/60
Ingo And Kym- 40/60
Sean And Peta- 39/60
Andy And Sharna- 37/60
Lisa And Gleb- 36/60
Victor And Lindsay- 36/60
Dorothy And Tristan- 36/60
Wynonna And Tony- 36/60
D.L. And Cheryl- 28/60
Please check out a new post soon with two polls. One for your favorite performance from tonight, and the other, who you think will be exiting the show tomorrow night. I hope you all enjoyed this evening. :D