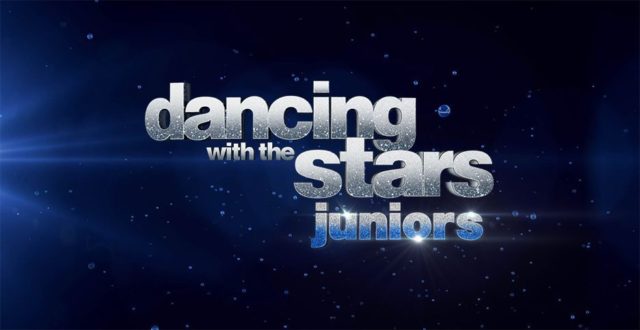 Hey All :)
Welcome to week eight of Dancing with the Stars Juniors. Tonight, the remaining four pairs return to the dance floor to perform in new styles in the hopes of earning high scores from the judges and votes from the audience. There will be no elimination tonight, and scores will carry over to next week's season finale.
In this eighth week of competition, the contestants are tasked to perform an unlearned routine and a team dance as part of "Semi-Finals" night. The final four are set and one of these kid couples are just a week away from becoming the first ever Juniors champions.
As a reminder, please keep SPOILERS out of the discussion for those who want to enjoy the program without knowing any results. Let's go…
Mackenzie & Sage (Mentor- Gleb) – Paso Doble
Really good dance. Mack's best in quite a while. The paso suits her. And that cape work from both was great. I think Gleb knew he had to do a technical dance and hope Mack could match it with some intensity and she did. A really big change up from last week.
Mandy felts like Mack was in control the entire time. She felt like Mack gave more. Adam says there was something completely different about Mack this time. He screams for her. Val is very proud and says Mack set the tone. He calls it incredible.
Val- 10
Mandy- 10
Adam- 10
Sky & JT (Mentor- Alan) – Argentine Tango
Sky's facial expressions are absolutely killer. She's so into every dance. I am impressed by the seamless transitions in and out of the lifts here. Good job to both of them. A very intense and well put together argentine tango with good musicality to boot. Good stuff.
Adam says Sky and JT have the best chemistry out of everyone competing. He is impressed and says she killed it tonight. Val says the routine was tough but calls it awesome. Mandy feels they dive one hundred percent into whatever style they were given. She gives Alan props but says Sky still needs some work on her biscuits (her feet).
Val- 10
Mandy- 9
Adam- 10
Miles & Rylee (Mentor- Lindsay) – Cha-Cha-Cha
Nice. A bit frantic but I'm going to chalk that up to how limited Miles' rehearsal time was due to his tv show. With a bit more practice, I'm sure all that would have been refined. But he had some great cha-cha-cha steps in there and he kept up with a very game Rylee who was really in her element with this dance.
Val says Miles looked like James Brown. He calls it electrifying. He wanted a bit more connection in the partnership. Mandy says it looks like Miles loves to dance. She finds it contagious. Adam feels Miles brings an energy to every performance.
Val- 9
Mandy- 10
Adam- 9
Ariana & Artyon (Mentor- Brandon) – Foxtrot
Sweet. For me, it needed a bit more body contact when in hold and for the first time ever, I saw a bit of uncertainty on Ariana's face. She found this dance quite difficult and it showed a little. She was able tp pull it off but between the excess use of troupe and a little awkwardness, this wasn't my favorite Ariana performance.
Mandy found it controlled with class and elegance and she thought it was gorgeous. Adam feels Ariana blew it out of the water. Val wishes his middle school was like that. He found it awesome and thought she did a great job with what she was given.
Val- 9
Mandy- 9
Adam- 10
Miles & Rylee AND Mackenzie & Sage – Fusion Samba/Jazz
You know what? Color me very impressed. The fact that Miles never even rehearsed with the others made me think this was going to perhaps be on the messy side. But the four were actually quite outstanding together. They meshed samba and jazz so well and it was a cohesive and fun dance. Wow.
Mandy loved that it was just clean, amazing, wonderful dancing. She has nothing to say except for thank you. Adam says Mack is having one heck of a night and tells Miles that he carried the most power. It was Adam's favorite routine of the season. Val agrees and adds it was the best performance of the season.
Val- 10
Mandy- 10
Adam- 10
Sky & JT AND Ariana & Artyon – Fusion Jive/Foxtrot
I am really eager to see how the judges score this. Why? It was good but not as good as the previous pairing. There was obvious sync issues. You could see both couples have trouble staying with one another and some of those transitions were sloppy. However, the dance was fun and high spirited and perhaps the judges are going to just give them tens as well and call it a draw.
Adam says that dance was all about teamwork. Val hopes Disney is watching because they are a hit in the making. He found the level of difficulty very high. He calls it out of this world. Mandy says it had a lot of wow moments. She does say that the timing was a little off at times.
Val- 10
Mandy- 9
Adam- 9
There's literally a minute left in the show as the audience votes in the studio. It is so obvious we are not having an elimination this week. They wouldn't do that to the kids one week before the finale. Like, come on now.
Yeah, the eliminated couple is NO ONE. Ha. All the kids are screaming, crying, and overjoyed. Next week, they will perform freestyles and they will dance with their mentors for the first time. All scores will be combined as all of this year's cast returns for an action packing one-hour season finale leading up the crowning of the champions. Don't miss it next Sunday. Have a great week y'all. :)