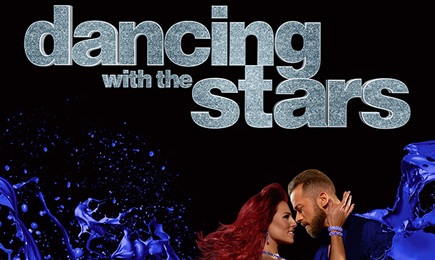 Happy Tuesday!
Welcome to the third result show of season twenty-three of Dancing with the Stars. Tonight, we go from eleven couples to nine. That's right, there's a double elimination happening and the stakes could mot be higher after last night's Cirque du Soleil inspired performance show.
We saw our first perfect score of the season last night, courtesy of Laurie & Val. Now while I do believe Laurie is so clearly the one to beat, she does have competition. We haven't reached the mid-point in the season yet, but James and Calvin and to a lesser extent, Marilu and Jana/Terra are all hot on Laurie's heels. Yes, I believe the rest of the stars are basically fodder at this point, just waiting for their time to be up.
You can place them in any order you like, but Maureen, Amber, Ryan, Babyface, and Vailla Ice are pretty much on borrowed time. It would take something really special from one of them to break through at this point. I can't imagine anyone but two of those five leaving this evening. But that's just me. Let's see where you guys stand with some poll results.
As of this writing (about 7:15PM Eastern), 42% of you picked Laurie & Val as your favorite partnership. James & Sharna have 19%. All other couples are in single digits. For favorite routine of the night, 50% of you loved Laurie & Val and their Jazz routine. 19% went with James & Sharna and their quickstep. 10% picked the charleston, courtesy of Calvin & Lindsay. On the opposite end of the spectrum, 47% were not feeling Babyface & Allison's tango. 16% picked Amber & Maks and their sexy argentine tango.
In terms of last night's episode, 50% of you thought it was an above average episode. The other 50% was pretty evenly split between amazing and average. Finally, you guys think Babyface & Allison are out with 53% of the vote. 15% went to Amber & Maks, and 9% to Ryan & Cheryl. Those are definitely the three in the most danger and I would add in Maureen & Artem as a possibility. For the sake of giving a prediction, I'll go with Babyface & Allison and Ryan & Cheryl as the two boots, which would make four consecutive male eliminations.
I'm glad we only have a one-hour result show tonight, as the dancing and results should come fast without much in the way of filler. You guys ready? Here we go…
Tom and Erin welcome us to the show. Out to perform, DNCE, singing their new song, "Body Moves." The troupe are out to dance. For those unaware, this is Joe Jonas' group, responsible for the very popular song "Cake By The Ocean." They make catchy tunes.
We get a quick look at the scoreboard and then see highlights from last night's performances from Marilu & Calvin. Even though both did relatively well, they were hard on themselves last night. Time for the first result of the night.
The first couple SAFE is… Marilu & Derek.
Calvin & Lindsay… are also SAFE.
Aww. Emma & Sasha welcome us back with a quick contemporary routine. They kiss at the end (yes, they are a real couple). OMG. OMG. SASHA IS PROPOSING TO EMMA. SHE SAYS YES. WOW. Emma is in tears. Aww, this is amazing. The entire cast comes out to celebrate. Okay, so I might be a little teary right now. This is so cool because you can tell it was so unexpected.
Now a bit of filler as the cast talks about the rituals they have before the competition starts. Funny little rituals. Tom and Erin are still emotional about the proposal. Time for a number featuring the male pros. This is a hot little number, incorporating paso doble and argentine tango steps. Mandy Moore choreographed that. She did so because no other choreographers exist. LOL.
And now, back to last night's recap with a look at Amber, Babyface, and Maureen. Ugh. More ridiculousness about the Amber/Julianne situation. We see just how wrong Babyface's footwork went last night. Maureen was so thrilled last night. More results…
The next couple SAFE is… Amber & Maks.
OH. The first elimination right now. One of these two are safe. The other is out of the competition.
The first elimination of the evening is… Babyface & Allison.
Erin is shocked. I don't know why. Babyface is happy he got the chance to dance for his mom. He lists the dances he was able to do. And he had an amazing time. He says that the experience was amazing and the family on the show was amazing. They head to the center of the stage.
An interesting note- with both Amber and Maureen now safe, we are pretty much left with the higher scoring couples and Ryan Lochte. I think we all know where this is going.
Ready for filler? The pros talk about how hard the season is and what they need to do for their partners in order to stay in the competition. Now, time for an epic Derek Hough performance. He is playing the drums, he helped with the music, and he choreographed this. He is also dancing. If that's not enough, he is also doing this live blog. Yep, Franky is not here. This is Derek. Okay. LAME JOKE. :) Anyways, this is really cool. A great way to show off Derek's talents and I wouldn't be surprised if this lands him another well deserved Emmy nomination.
Back to clips from last night. Time to see highlights from Laurie, James, and Terra. James was frustrated at his little error, despite the very high scores. Time for results…
The next SAFE couple is… Laurie & Val.
Terra & Sasha… SAFE.
James & Sharna… IN JEOPARDY.
Yeah, I'm in no way believing that James is actually in jeopardy. You tried, show. But… nah.
Witney, Alan, Hayley, and Brit dance as Zara Larsson is on hand to perform. No clue who she is but she sounds nice. Backstage, the remaining couples are talking to Erin. Ryan is really nervous and doesn't want to go home. Vanilla Ice says he had to put deodorant on. LOL. Time to look back at Ryan, Jana, and Vanilla's routines last night.
And here come more results…
The next couple who is SAFE is… Ryan & Cheryl. WOW from me. Again.
Vanilla Ice & Witney…IN JEOPARDY.
Jana & Gleb… IN JEOPARDY.
Tom mentions again about Sasha and Emma getting engaged. Bruno comments that he is a mess over it. He compliments the talent of the dancers.
James & Sharna are…SAFE
No shock there.
But we are about to lose our second couple of the night. Will the trend continue of all males being eliminated so far? Or are we about to lose Jana, who doesn't deserve the boot in this fourth week. Well, the time for talking is done.
The second couple ELIMINATED tonight is… Vanilla Ice & Witney.
Aww, that sucks. A bit of a surprise too. That's four consecutive male dancers eliminated in a row (Jake, Rick, Babyface, and Vanilla Ice).
Vanilla Ice calls it a magical experience. He is honored to have been here and he appreciates Witbey more than anything. Witney calls him so hard working. He has taught her so much. They go for a final bow as Tom and Erin sign off.
Next week, it is Most Memorable Year, so get those tissues ready because it will be very emotional. And that's all she wrote folks. See you on Monday night. :D