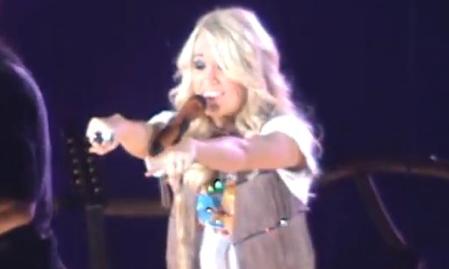 It was an event-filled night for Carrie Underwood fans. The country star and American Idol winner performed in Atlantic City, NJ last night, donating all the proceeds of her concert to Hurricane Sandy relief.
As if that were not special enough, a couple got engaged in the middle of Carrie's "Do You Think About Me" performance. At one point, Carrie points to the audience and says, "Everyone look right there!" She breaks out into a big smile and shouts "Say yes! Say yes." And by the looks of the happy couple hugging with their friends in the spotlight, it's obvious she did! Carrie is so moved, she has a tough time finishing the song, as she wipes away tears.
After the concert, Carrie tweeted, "Thank you beautiful Atlantic City! You all made my year! You have been through so much and still rocked the house! I leave in awe! Thanks!"
The proposal begins at about the 2:29 mark.