The American Idol judges convened in Oklahoma City yesterday to audition Idol hopefuls! And since everyone is still alive, I'm assuming Nicki Minaj and Mariah Carey got along, more or less. Or maybe fellow judges, Randy Jackson and Keith Urban kept them apart. Heh.
There was an Idol judges reunion of sorts, Thursday night, when Randy Jackson and Ryan Seacrest joined Steven Tyler on stage in Oklahome City for "Come Together". Randy tweeted, "Randy tweeted this photo, "Great rocking out with my dude @IamStevenT and @RyanSeacrest tonight! #MFAD""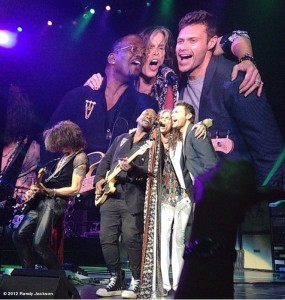 Nicki tells FOX 23 that hopefuls should just be themselves. Randy Jackson, ever articulate, says a potential contestant needs to have that "star thing".
Which judge are the auditioners most afraid of? Nicki Minaj. And one country hopeful is afraid he doesn't stand a chance with her.
"They shouldn't be nervous," says Nicki, "We're rooting for them." She adds, "Think of us as your friends!"
On twitter, Nicki reacts to the kids who believe she doesn't get country. "hey really think I don't know country?… lol, ppl have so much to learn… I love and listen to all types of music…have no fear"