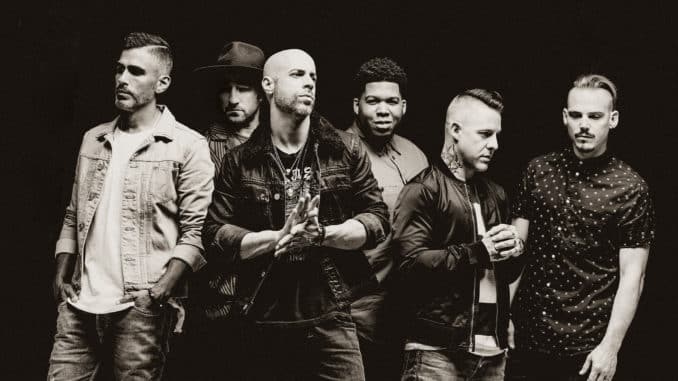 Happy Halloween! Before you know it, the Christmas decorations will be out! But turkey time comes first. Nevertheless,  our favorite reality show alums are still out there performing for their fans. Check out the concert schedule for Thursday Oct. 28 through Wednesday Nov. 3.
Chris Daughtry and his eponymous band kick off their "Dearly Beloved" tour with Sevendust. Adam Lambert's penultimate concert for his Las Vegas residency will be live streamed. Harry Styles heads back to Madison Square Garden.
See where your favorites are playing this week, below.
Thursday October 28
Jimmie Allen – Piere's – Fort Wayne IN
Alejandro Aranda w X Ambassadors – Big Night Live – Boston MA
Will Breman – Marisol at the Cliffs – Pismo Beach CA
Sara Collins – Ole Red – Gatlinburg TN
Sawyer Fredericks – City Winery – Washington DC
Laine Hardy – The Vogue – Indianapolis IN
Mandisa w Newsboys – Petersen Events Center – Pittsburgh PA
Matt McAndrew & Rain City – Cathouse – Glasgow SCOTLAND
Scotty McCreery – Long Center for the Performing Arts – Lafayette IN
Harry Styles – State Farm Arena – Atlanta GA
Texas Hill (Craig Wayne Boyd, Casey James, Adam Wakefield) – Kimpton Aertson Hotel – Nashville TN
Jake Worthington – The Box Garden at Legacy Hall – Plano TX
Friday October 29
Jimmie Allen – 8 Seconds Saloon – Indianapolis IN
Alejandro Aranda w X Ambassadors – Theatre of Living Arts – Philadelphia PA
Clark Beckham – The Rendezvous – Seattle WA
Will Breman – High Roller TIki Lounge
Billy Gilman – Centre Bridge Inn – New Hope PA
Laine Hardy – Thirsty Cowboys – Medina OH
Adam Lambert – The Venetian – Las Vegas NV (This concert will also be livestreamed Click for Info)
Mandisa w Newsboys – East Kentucky Expo Center – Pikeville KY
Kameron Marlowe – Silverados – Black Mountain NC
Matt McAndrew & Rain City – Rebellion – Manchester UK
Scotty McCreery – Blue Gate Music Hall – Shipshewana IN
Taryn Papa – Ole Red – Nashville TN
Kat Robichaud – Hales Ales Palladium – Seattle WA
Texas Hill (Craig Wayne Boyd, Casey James, Adam Wakefield) – Madlife Stage – Woodstock GA
Saturday October 30
Alejandro Aranda w X Ambassadors – Lincoln Theatre – Washington DC
Clark Beckham – JazzVox House Concert – Seattle Hill WA
Will Breman – Island Brew Co. – Carpinteria CA
James Durbin – Crystal Bay Farm – Watsonville CA
Sawyer Fredericks – The Evening Muse – Charlotte NC
Laine Hardy – Elevation @ the Intersection – Grand Rapids MI
Jake Hoot – Opry Plaza Party – Nashville TN
Adam Lambert – The Venetian – Las Vegas NV
Mandisa w Newsboys – Ovens Auditorium – Charlotte NC
Kameron Marlowe – QDR Howl-O-Ween – Lincoln Theatre – Raleigh NC
Matt McAndrew & Rain City – The Key Club – Bristol UK
Scotty McCreery – Rhythm City Casino Resort – Davenport IA
Kat Robichaud – Hales Ales Palladium – Seattle WA
Harry Styles – Madison Square Garden – New York NY
Jake Worthington – Schoepf's BBQ – Belton TX
Sunday October 31
Alejandro Aranda – Outside Lands Music Festival – San Francisco CA
Will Breman – Broken Earth Winery – Paso Robles CA
Koryn Hawthorne – Greensboro Coliseum Complex – Greensboro NC
Mandisa w Newsboys – Chesapeake Employers Insurance Arena – Baltimore MD
Matt McAndrew & Rain City – The Exchange – Bristol UK
Harry Styles – Madison Square Garden – New York NY
Monday November 1
Alejandro Aranda w X Ambassadors – Danforth Music Hall – Toronto CANADA
Clark Beckham – McMenamins White Eagle Saloon – Portland OR
Sara Collins – Ole Red – Gatlinburg TN
Tuesday November 2
Alejandro Aranda w X Ambassadors – Saint Andrews Hall – Detroit MI
Clark Beckham – Lost Church – Santa Rosa CA
Daughtry w Sevendust – Andrew J. Brady ICON Music Center – Cincinnati OH
Paul McDonald – Eddie's Attic – Decatur GA
Texas Hill (Craig Wayne Boyd, Casey James, Adam Wakefield) – Cheyenne Civic Center – Cheyenne WY
Wednesday November 3
Daughtry w Sevendust – Ryman Auditorium – Nashville TN
Nick Fradiani – Eddie's Attic – Decatur GA
Sawyer Fredericks – City Winery – Nashville TN
Kameron Marlowe – 440 Foundry Pavilion – Athens GA
Emily Ann Roberts – Graceland Gospel Music Festival – Memphis TN
Harry Styles – Fiserv Forum – Milwaukee WI