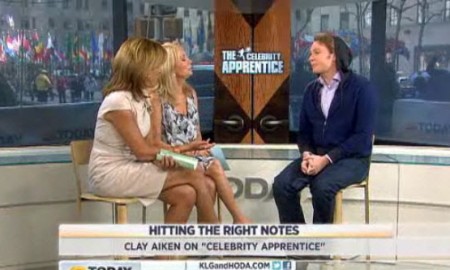 Clay Aiken won his challenge on Celebrity Apprentice last night by throwing a beach party for Crystal Light. He claims that working for The Donald is 20 times harder than Idol. "It's stuff you don't know how to do," says Clay.
On his friction with Penn Jilette, he says that he doesn't like to admit it, but it's probably because they are too much alike. He's a threat and it makes Clay do some things he might not ordinarily do.
Clay's new album, Steadfast, which is a compilation of old stuff, and a new tune is out today, available on iTunes and Amazon
.
And if you were wondering about Clay's hoodie–it's a silent statement in support of Treyvon Martin who was killed under questionable circumstances.
Visit msnbc.com for breaking news, world news, and news about the economy
BONUS: Clay Aiken and Aubrey O'Day sing The National Anthem the Honda Indy race yesterday.