Clash of the Cover Bands – Platinum Icons – Grand Finale Winner Revealed
It's the FINALE of Clash of the Cover Bands First, Platinum Icons battle it out as Elton John and Lady  tribute artists take the stage. After the winner of the battle is revealed, the panel will choose ONE act from the 10 weekly winners to take it all and perform on The Tonight Show starring Jimmy Fallon.  tWitch hosts the series. Adam Lambert, Ester Dean and Meghan Trainor sit on the judges panel.
Adam describes Platinum Artists as able to go global. It's important for potential platinum icons to choose songs that are universal, he adds.
Elton John is "alright for fighting"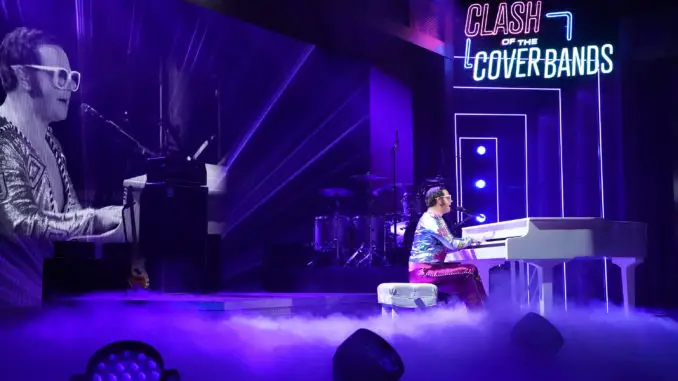 First up is an Elton John tribute. Rus Anderson from Scotland is a 41 year old dad to a 5 year old. His dad was also a musician. He moved to America at 23, and met his wife at a karaoke bar. Rus began the tribute in 2009 after people noticed his resemblance to Elton. The new act was popular right away. Oh look at Rus fixing a gap in his teeth. Great attention to detail.
Most of these tributes don't match the high energy of the original. I'd say that's true here. Rus performs "Saturday Night's Alright for Fighting" and vocally, he's soft and lacks Elton's grit and bluesy soul. Maybe he's a little nervous? I'm a huge Elton John fan, and I wouldn't watch something like this for free. Sorry! 
Ester raves that Rus captures Elton sound and look. "You is Elton," says Meghan. Adam compliments his "strong" singing. But he wants a darker sound. The show is sending him to the Clash Vocal Expert. Good call. Rus does an excellent, detailed job with the look and movements. But vocally he needs work. 
Lady Gaga wants to "Just Dance"
Erika Moul grew up on a farm in Michigan. The 31 year old pays tribute to Lady Gaga. She grew up very shy. She started singing at 7 years old. In college, she discovered Gaga, and it changed her life. She started the tribute 10 years ago at a restaurant where she worked. The success of the act led to Vegas reaching out. And now she performs the act in Las Vegas, while working odd jobs during the day. 
She sings "Just Dance." She doesn't sound OR look like Gaga. I wonder if tributes go over better live, where they are not being emblazoned in close up on high definition television? Adam calls Erika a great performer. He's really impressed. He says, "great job." Meghan compliments Erika's ability to dance and sing. "You left your heart on that stage." Ester gives her advice: Don't sing so hard. Gaga doesn't sing so many runs, she says. "You're running out of breath." Erika will also go to the Clash Vocal Expert. Adam adds, "Just own it, trust it, don't work so hard."
Elton John and Lady Gaga Meet the Experts 
Rus is first to work with Vocal Expert Kuk Harell, who agrees with Adam that the tribute needs to work on approximating Elton's darker tone. Kuk has him sing the first line. It's soft and mushy. Kuk sings it back, but adds heft and grit to the vocal. He describes the sound as almost country. No, it's country's close cousin blues. When Elton takes the stage, he's forceful as well as soulful. Kuk does a pretty mean Elton. He mimics perfectly the way Elton pronounces the words. Kuk adds that Rus doesn't have to pronounce everything perfectly, because Elton does not. They work specifically on his "grit." 
Erika admits that she thought too much during her performance. Kuk picks out the parts in Erika's tone that sounds just like Lady Gaga. The advice is very specific. He suggests that she sing without vibrato. "Sing it real choppy."  At the end of the session, they are both satisfied. Kuk believes they both singers chose hard artists to tribute.
Time for battle
Here the artists take the stage, and trade off bits of their tribute's biggest hits. Elton starts off with "Your Song." Lady Gaga follows with "Bad Romance." And then Elton sings "Rocket Man." Jeez he really DOES NOT SOUND LIKE ELTON. And Lady Gaga still seems unsure. Next, she sings "Shallow." Elton John follows with "I'm Still Standing." And the battle ends with Lady Gaga's "Born this Way." She finishes on TOP of Elton's piano. That's a move. 
"You crushed it!" says Meghan. Ester thanks them both for appreciating great artists. Adam compares himself to Rus. Adam fronts Queen, but he's not performing a Freddie Mercury tribute.  He brilliantly walks a fine line between paying homage to Freddie Mercury, while delivering an original interpretation of the songs. But that's why he admires Rus because he's injecting the songs with his own ideas and style. Pretty sure that's NOT what the audience who pays money to see a tribute artist is looking for. Rus's job is to look and sound like Elton. He is simply unable to imitate Elton.
The panel chooses a winner
Ester says the decision was "really really hard." You guys "did 100 percent." And the winner of tonight's matchup is Erika Moul as Lady Gaga. It's hard to imitate great, iconic and charismatic artists. The both had their plus and minuses. 
And the GRAND FINALE WINNER is.
Erika joins NINE other Clash of the Cover Band winners. The panel will choose an overall champ who will perform on The Tonight Show with Jimmy Fallon. First, it's a recap of the entire season of winners: Bono, Tina Turner, Tim McGraw, Jennifer Lopez, Foo Fighters, Celine Dion, Depeche Mode, Dolly Parton, Bon Jovi and Lady Gaga. Adam thinks it's important that the tribute captures the spirit of the person. 
The finalists aren't in the studio, but Zoomed in to hear the results. And the winner of Clash of the Cover Bands is…Karen Hester as Dolly Parton! "Do I have to pinch myself? This just feels like a dream!" Next, Jimmy Fallon zooms in to congratulate her. "Bring your voice, and bring your wig! Next time I see you will be on the Tonight Show."
And then Adam announces another prize….an additional $25,000. "Now you can buy all the wigs that you want!