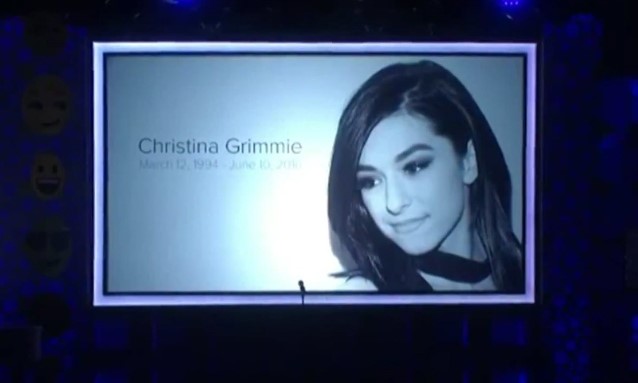 The Streamy Awards paid tribute to late singer Christina Grimmie on Tuesday night (10/4).
Christina, a contestant on The Voice 6 was also an active and beloved member of the YouTube community. In June, the singer was killed by a deranged fan during a post concert meet and greet in Orlando.
The tribute began with an emotional speech from fellow YouTube creator Shane Dawson, who reminisced about when he first met the singer. He remembers Christina sharing that she didn't begin posting videos to YouTube "because of money or fame, she started because she wanted people to connect through music."
"Her music will forever continue to make people feel accepted and not judged and not alone," said Shane.
Next, singer Sam Tsui and musician Kurt Hugo Schneider performed a medley that included renditions of Christina's "I Bet You Don't Curse God," Nelly's "Just a Dream" and more. And if that didn't get the audience crying, the segment-ending video of Christina singing her original song "With Love" surely did it.
Shane Dawson's Tearful Introduction
Sam Tsui and musician Kurt Hugo Schneider perform