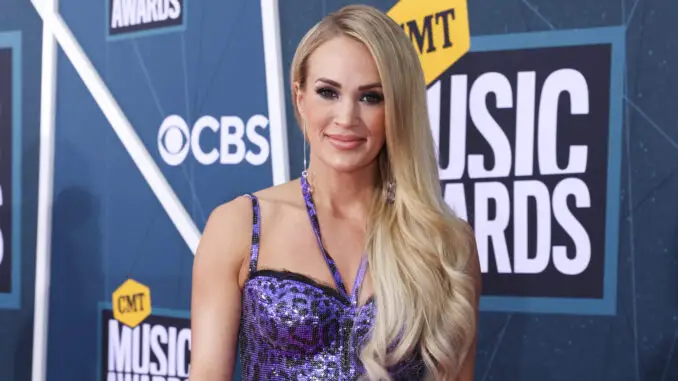 Carrie Underwood Reflection Las Vegas Residency Returns
On the one-year anniversary (Dec 1) of the debut of Carrie Underwood's hit production, REFLECTION: The Las Vegas Residency at Resorts World Theatre, the American Idol season 4 winner has announced that her residency will begin again on June 21, 2023.
Tickets for 18 new show dates for the exclusive Las Vegas production, produced by Concerts West/ AEG Presents, will go on sale to the public beginning Friday, Dec 9, at 10 a.m. PT.
Watch Carrie Underwood Fly on the AMAs, Tour Ends for the Year
The first artist to grace the Resorts World Theatre stage, Carrie opened the doors of the 5,000-capacity, world-class theatre with a sold-out premiere on Dec. 1, 2021.  The country singer sold out all runs in 2022 – a total of 18 shows.
In May 2022, Carrie announced a brief hiatus from Las Vegas while she embarked on her "Denim & Rhinestone Tour" across 43 U.S. cities. The singer kicked off her arena tour in October, which will continue through March 2023.
"I'm thrilled to be returning to Resorts World Las Vegas next summer," Carrie said in a press statement.  "REFLECTION is a show I'm so proud of and have so much fun performing.  I love being out on the road with "The Denim & Rhinestones Tour" and look forward to returning to Vegas once that wraps, as it has become our home away from home where we get to play to audiences from all over the world."
Carrie Underwood REFLECTION: Las Vegas Residency show dates going on sale Friday, Dec 9 at 10 a.m. PT are:
June 2023: 21, 23, 24, 28, 30
July 2023:   1
Sept. 2023: 20, 22, 23, 27, 29, 30
Nov. 2023:  29
Dec. 2023: 1, 2, 6, 8, 9
Tickets and a limited number of VIP packages will go on sale to the public beginning Friday, Dec 9 at 10 a.m. PT at rwlasvegas.com/entertainment/carrie-underwood and AXS.com/carrieinvegas.
As part of her ongoing partnership, $1 from each ticket sold for Carrie Underwood REFLECTION: The Las Vegas Residency is donated to Make-A-Wish Foundation of America (https://wish.org), which grants life-changing wishes for children with critical illnesses. Carrie has been involved with the organization for more than 15 years, granting wishes since the beginning of her recording career.
Carrie recently released her new single, "Hate My Heart," from her Denim & Rhinestones album.
"It's gonna be super fun."
"Reflection is just kind of all about…obviously we want to get there. We want to do our hits. We want to reflect upon all the things that we've been so blessed to be able to have accomplished over the past few years and that I've been lucky enough to do this, and then obviously when you think about a staging standpoint, Reflection is, you can do a lot with that visually.
So, it just seemed like a great concept as far as what we could do with it on stage and also having that kind of personal reflection being able to look back on all of the things that we've been able to do. We're just looking forward to playing, getting to be there. We're looking forward to the crowds. We love to be on stage, so I think that's what we always look forward to most whenever we are ever getting to play. It's gonna be super fun."