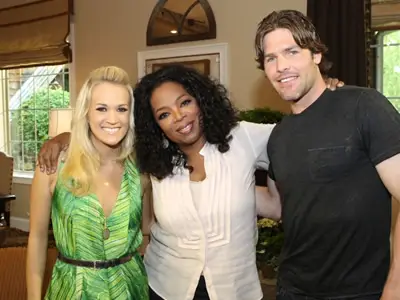 Carrie Underwood sat down with her husband, Nashville Predators center Mike Fisher, and Oprah Winfrey for a great in-depth interview on Oprah's Next Chapter on OWN, followed by a short but sweet Dateline NBC interview with Hoda Kotb on life since Carrie won American Idol in 2005. Check out video after the jump!

Carrie & Mike invited Oprah Winfrey to their cabin retreat outside of Nashville for their 1st television interview together. Oprah first sat down to talk with Carrie about what that cabin means to her, how she has adjusted to the scrutiny that came with winning American Idol, how she separates her persona as a performer from her regular self, how she is adjusting to married life, and what else she is aiming for in life. Mike joins Carrie & Oprah to talk about marriage, family plans, and the role of religion in his relationship with Carrie. There's also an adorable segment in which Mike and Carrie take the ice at the Bridgestone Arena! But that's not all, they also take Oprah to the land where they will one day build their dream home. The interview closes with all of them singing together. It's a great interview with more than the usual character insight into Carrie.
http://www.youtube.com/watch?feature=player_embedded&v=aOJDwTW5ZjI
Via blitzer50
The MSNBC interview covers Carrie's growth in confidence since winning Idol but the highlights from the interview involve Carrie singing karaoke (including the Flo Rida song "Low"), Carrie helping hoist Hoda Kotb onto a mechanical bull, and Carrie riding a mechanical bull herself.
http://www.youtube.com/watch?v=GYRGd-c6h6k
Via roxygirly12 courtesy blitzer50.
Bonus web clip from Dateline:

Visit msnbc.com for breaking news, world news, and news about the economy