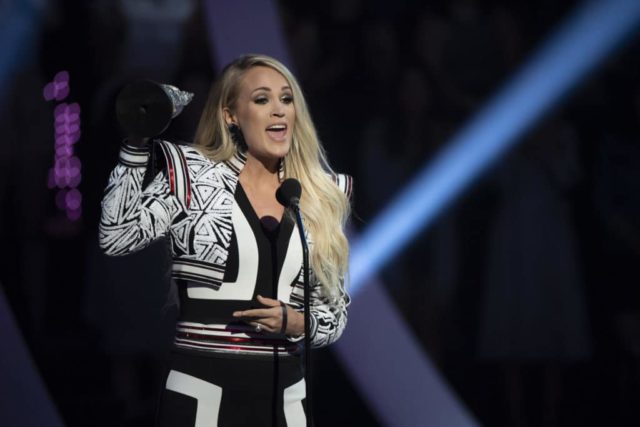 American Idol season 4 winner Carrie Underwood received the Hero Award at the 2018 Radio Disney Music Awards, which aired across Disney platforms on Saturday (June 23). The country superstar was presented the award by an old friend–former American Idol judge Randy Jackson.
Randy complimented Carrie on her "immense heart" and humility, which has remained intact throughout her success.  "She has never ever changed, and I love that," Randy said, adding that Carrie never forgot where she came from. A list of Carrie's many charitable endeavors include: Developing and supporting education initiatives, arts programs, and animal shelters in her hometown of Checotah, Oklahoma. That's in addition to contributing time, talent and money to the Make a Wish Foundation, Red Cross, ACM Lifting Lives, St. Jude Children's Hospital, Save the Children, The Dicks Sporting Goods Foundation, and more.
American Idol's Maddie Poppe Sings "Going Going Gone" 2018 RDMA (VIDEO)
Kelly Clarkson Performs Accepts RDMA Award from Maddie Poppe, Brynn Cartelli (VIDEO)
"We've all been blessed with gifts that we can use to make the world a better place," said Carrie during her acceptance speech. "Growing up in a small town I certainly never imagined that anybody, anywhere would be giving me any kind of hero award. I would definitely not consider myself a hero." Carrie added, "But I just want to use the gift that God gave me to help others whenever I can." Carrie continued, "That's the thing about gifts–God will not give them to you without giving you opportunities to use them. You just got to keep your eyes open." She finished with a few wise words, "May we all use our gifts to help each other, because that's what champions do."
Carrie also performed her hit song "The Champion" for the first time live on stage with rapper Ludacris. They were joined on stage by the West Los Angeles Children's Choir. Watch Carrie's performance and speech below.
Photo Gallery