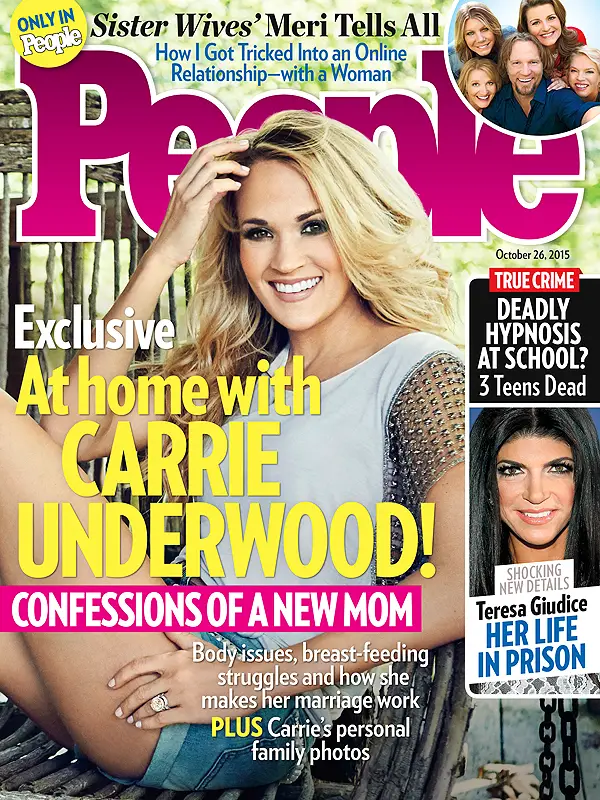 Carrie Underwood graces this week's cover of People Magazine. The American Idol season 4 winner is promoting her Storyteller album, due out on October 23.
Carrie opens up about body issues, breast-feeding struggles, and how she makes her marriage with husband of 5 years, NHL player, Mike Fisher, work. She also shares about her life as a new mom of 7 month old son Isaiah Michael.
"You feel guilty about every single thing, every decision you make, everything you do," she confessed. When it comes to breast-feeding Isaiah, she said she plans to keep it up for "as long as I can take it. It's hard. My supply is pretty nil. We have to supplement with formula. I'm doing the best that I can, you know?"
"I never dreamt of my wedding day and the perfect guy," she said. "Then I met Mike, and I was like, 'Wow, so now I know what I was missing.' And the same with my son. I was never like, 'I want kids so bad.' And now that I have Isaiah in my life, I'm like, 'What did I do before?' "
As far as her new album is concerned, Carrie revealed that the subject matter continues to be varied. "I feel like everybody expected me to have an album full of 13 mommy-and-me tracks," she said. "Like, everything would be sentimental and mushy. I'm still me, and this is just another layer."
The album, Storyteller, has "a fresh twang." She added, "There's a lot of country, traditional, staple instruments, and obviously storytelling is something country music has always done really well. I feel like we occupy those elements, but it's very cool and very now and very fresh."
For more from Carrie, check out these video interviews: Carrie Underwood on Her Past Weight Loss: I Didn't Always Do It the Best Way, 'I Was Never Waiting On a Man', Carrie Underwood on Why Her New Album Storyteller Is Not 13 'Mommy-and-Me' Tracks.
Also, Carrie talks about staying in shape post-baby in a cover story for Shape magazine. Click to read.