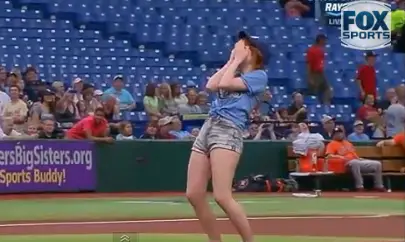 Carly Rae Jepsen threw out the first pitch at the Tampa Bay Rays vs. Houston Astros game over the weekend, and it might be one of the worst first pitches ever. She was embarrassed, but she took it in stride, posting a photoset on instagram later, HERE.
"A before and after," she posted. "Me taking the mound. Me knocking the camera out of the photographers hands with the baseball. And me getting a sympathy hug from the catcher. Omg."
Watch her terrible first pitch below.
VIA TV Guide