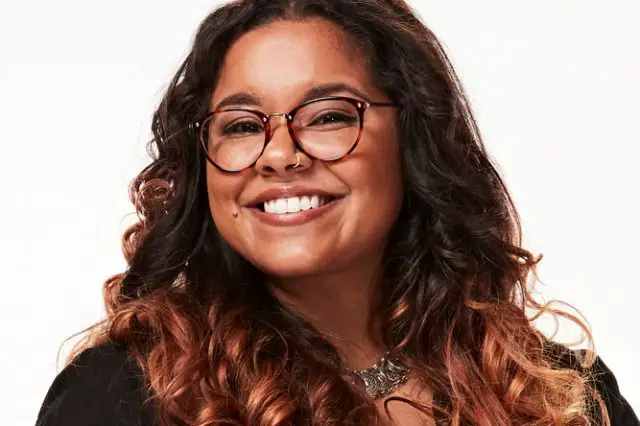 The Voice Season 13 Contestant Spotlight: Brooke Simpson
Watch The Voice Season 13 singer Brooke Simpson show closing performance of Demi Lovato's "Stone Cold." The performance earned her a four chair turn. Eventually Brooke chose Miley Cyrus. "Our spirits are very similar," said Brooke explaining why she chose Team Miley. The coaches enthusiastic style and commitment won Brooke over.
https://www.youtube.com/watch?v=VydNuWgigQg
Twenty-five year old Brooke Simpson is grew up in an American Indian community in North Carolina. On her Facebook account she describes herself as "just a happy girl writing sad songs." Posting covers of her singing on Youtube for over 9 years, she is no stranger to performing for an audience. Brooke lists her influences among others as Beyonce, James Arthur, Cher, and Miley Cyrus.
Brooke is married to Ray Simpson. The two often perform under the name Youth In Revolt, and Brooke's Instagram is full of pictures of them together. On her Youtube channel, Ray is often seen backing her up with his guitar or piano playing. Together the two have produced covers of artists ranging from Demi Lovato, to James Brown. Faith in God is a strong factor in Ray and Brooke's life, and it is what keeps them grounded as they go about their lives. The two often mention how important their faith is in their social media posts.
Brooke's social media fanbase is most prominent on her Instagram account, where she has amassed over 2,000 followers. On Youtube she has reached 450 subscribers, but over 40,000 views. Brooke will bring to this season of The Voice her bubbly personality, incredibly strong voice, and current sound.
Instruments Brooke Plays: Unknown
Links:
Twitter: https://twitter.com/brookesimpson
Instagram: https://www.instagram.com/brookesimpsonofficial/
Facebook: https://www.facebook.com/brookesimpsonofficial/
Youtube: https://www.youtube.com/user/brookerebekah
Overall Thoughts: Holy crap, Brooke is really freaking talent! I didn't expect to like her this much, but her covers are just incredibly impressive. I love that she is a very current artist, and with the right songs I see her doing really well this season. While there is a part of me worried about people not voting for her, I can't deny her talent. My suggestion to Brooke is to always stick to current songs, and find ways to get creative with her performances. If she plays an instrument, I think she should definitely bring it out. Brooke is one of my personal favorites, and someone I'm rooting for.
Song Suggestions:
1- Creep, by Radiohead
2- Symphony, by Clean Bandit
3- Latch, by Sam Smith (Acoustic Cover)
Thanks for checking out this contestant spotlight. If you want to check out my other work, I currently am managing two other blogs of my own, one of which covers TV shows.
Personal Blog: adamssoapbox.blog
TV Blog: adamstvblog