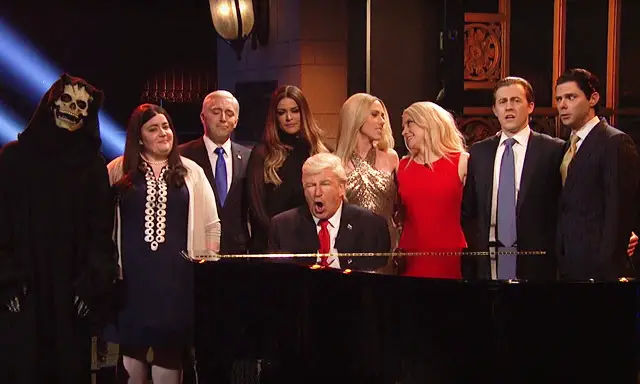 Saturday Night Live's ratings-busting season comes to a close this week with an episode hosted by actor and former wrestler, Dwayne "The Rock" Johnson. Future American Idol judge, Katy Perry served as musical guest.
With the season ending, Alec Baldwin returned once more as Donald Trump. There were also nifty cameos from Tom Hanks and Scarlett Johansson. It was last shows for veterans Bobby Moynihan and Vanessa Bayer. Until September SNL. A short stint of prime time Weekend Update in the summer will have to do until then. Here are the shows best skits:
Cold Open – Hallelujah
On the SNL after Hillary Clinton lost the presidential election to Donald Trump, Kate McKinnon took to the piano to sing "Hallelujah." Then, it was a poignant ode to shock, sadness and lost opportunity. Now, with the FBI and special prosecutor investigating the highest reaches of the Trump administration for evidence of collusion with the Russians, 45 and his clan crooning the tune is played for laughs and delicious irony. Who knows what the fall will bring when SNL returns to the airwaves.
Donald Trump (Alec Baldwin), Kellyanne Conway (Kate McKinnon), Mike Pence (Beck Bennett), Eric Trump (Alex Moffat), Donald Trump Jr. (Mikey Day), Sarah Huckabee Sanders (Aidy Bryant), Melania Trump (Cecily Strong) and Ivanka Trump (Scarlett Johansson) perform "Hallelujah." The only thing missing is a Melissa McCarthy cameo as Spicey!
https://youtu.be/70i8gTb3fZQ
Dwayne Johnson Five-Timers Monologue
Tom Hanks and Alec Baldwin induct host Dwayne Johnson into the SNL five timers club. Bonus: It's the Johnson/Hanks presidential ticket for 2020! Anything sounds good at this point.
Rap Song
How many features can a rapper fit into a joint? "A WHOLE LOTTA PEOPLE." Heh. Awesome cameo: David S. Pimpkins!
Big Chris' (Kenan Thompson) new track gets taken over by Prinsexxxy (Leslie Jones), Sno'Cone (Mikey Day), King Keef (Dwayne Johnson), Lil' Nitwit (Alex Moffat), Skiffle (Bobby Moynihan), Katy Perry, David S. Pimpkins (Tom Hanks) and more.
Enhancement Drug
Threaten your doctor or ask your ketamine guy about Xentrex today, to cure even the most extreme case of erectile dysfunction.
Veterans Bobby Moynihan and Vanessa Bayer) are leaving SNL at the end of this season. Last skits from the the talented duo.
Drunk Uncle on President Trump
https://youtu.be/Wb1AapVST_E
Dawn Lazarus on Memorial Day Weekend