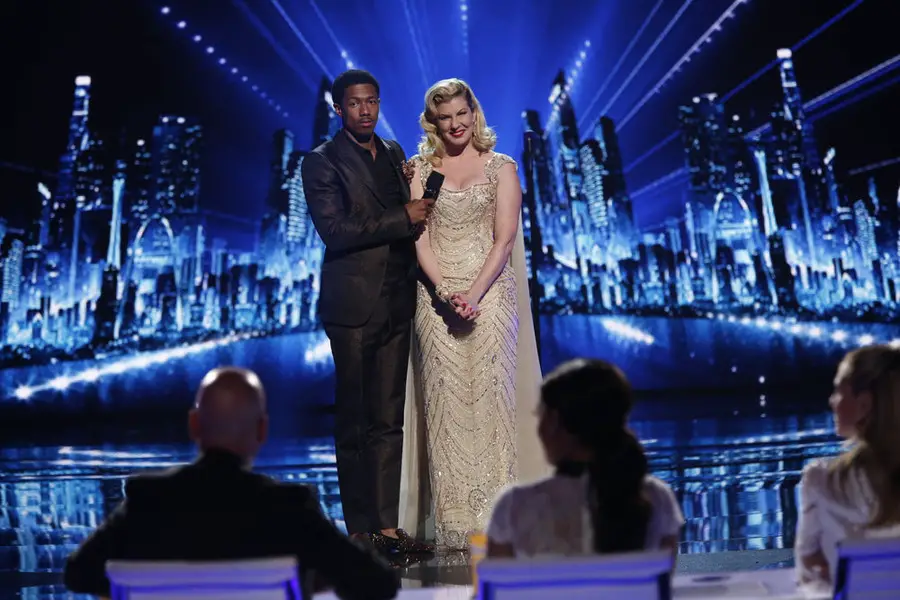 Ok guys, it may be super late as I'm writing this (2:00 in the morning), but, as soon as I got off my work the first thing I did was catch up on tonights AGT. So even though my roommates are snoring loudly in the next room and I should be sleeping, lets talk about how I think the acts did and who I think will be advancing/going home. As always, feel free to add your thoughts below and you can always follow me @adamhsamuel on Twitter.
I'd eat my computer if they don't advance tomorrow:
1 – Emily West – Emily may be my favorite in the competition, but WOW I was not expecting this performance. Also, I wasn't expecting how much I'd love it! On paper, when I heard she was doing this, I was expecting a train wreck as Chandelier is an incredibly hard song to perform live; However, despite everything, Emily sang the pants off this Sia song and if she doesn't advance tomorrow….. well the category I put her in says it all. Emily is officially my favorite of the season so far.
2 – Miguel Dakota – Okay, I didn't love his performance nearly as much as Emily's, but he was singing my all time favorite Beatles song and he did enough with it to make his demographic drown him in votes. The band behind him were really into it and kinda outshone him, but Miguel isn't going anywhere anytime soon (unless that Jaycob kid has anything to say about it, but more on that another time) and along with Emily should easily advance to the next round. Side note: does anyone else think he looks a ton like Harry Styles, but feels music like Phillip Phillips? I guess if you combine the two you get Miguel.
Likely going to advance:
1 – Dan Naturman – I predicted Dan had the potential to be either a huge train wreck, or a home run. For me, I think he hit it out of the park. I thought he got a little nervous in the middle and began talking really quickly, but besides for that, I laughed at every joke. I'm not ready to put him on the "advance or I'll eat my computer list," because you never know how the demographic is gonna swing, but I'd be pretty disappointed if he didn't make it.
2 – Baila Conmigo – I'd love to put them in definitely going through, and while I'm pretty positive they will move on, you never know with these shows. The opening few seconds with the two dancers was pretty epic and the precision the act had when everyone was dancing together was really impressive. As I said, I'm pretty sure we will be seeing them advance tomorrow night.
Heading home on the bus of shame home tomorrow:
1 – The Willis Clan – Meh, this was just okay. There were much better musical acts tonight, and I quickly forgot about them in favor of other acts. I'm pretty sure we will be saying goodbye to the clan tomorrow. Also, The Power of Love should NEVER again be countrified, like it was almost on the level of Kristy Lee Cook making 8 Days a Week country……. and now I'm thinking that Kristy would fit perfectly in the clan.
2 – Sean and Luke – I just don't think they are nearly as talented as Baila Conmigo. Not only that, but a forgettable performance and appearing first on the show all adds up to seats on the bus for them heading home tomorrow.
3 – Jasmine Flower – I feel like these girl have dug themselves a hole they can't find their way out of. I had high expectation for this group. The first time I saw them, I was blown away. The second time, I was like yeah, they are pretty good. Now I find myself going meh, when is Emily West or Baila Conmigo going to perform again? I think they are kinda screwed and it sadly isn't their fault, they just showed us everything they can do too early and now it isn't as impressive.
Could go either way:
1- Julia Goodwin – I actually enjoyed her performance. I did feel like she was holding back a little and not hitting her sweet spot as much as she could have, but I'd attribute that more to just her nerves. The judges bussing her does hurt her chance severely, but I have a feeling she will make it to sixth place and face the judges with the fifth placer. I feel at this point, she is likely to go home, but if she does face the judges she could have a shot of advancing. I'm just really torn on Julia and really not sure where she will fall tomorrow! I did think she looked incredibly beautiful in her red dress though!
2 – JD Anderson– I didn't like this "strongman" act at all. If he performed early in the lineup I would have quickly predicted he was going home. However, since he went so late in the show and got praise from the judges, I'm not 100% ready to say he is straight going home. I don't expect him to advance, but a nagging feeling inside me is saying he will go through. We will have to see.
3 – David and Leeman– They managed to pull off a cool magic trick, and while the end result was really cool, the whole thing took way too long and I felt myself actually getting bored. The thing is, they are still super talented and funny and I don't know wether or not America will give them enough votes to send them through. This act could really go either way.
4 – Flight Crew Jump Rope – Wow…. these guys are really talented. I really hope they advance tomorrow, but at the moment, I'm just not sure. In the past, America hasn't really gotten behind acts like this, but I hope that these guys break the chain and advance.
5 – Valo and Bobby– I'm usually not a fan of danger acts but wow these two were good! Still, at this point I feel there are just too many good acts and I fear they could get lost in the shuffle. I don't know with them honestly, we will just have to find out tomorrow.
My Official Predictions to Advance:
1- Emily West
2- Miguel Dakota
3- Baila Conmigo
4- Dan Naturman
5- Flight Crew Jump Rope
What are your predictions? Sound off in the comments!  The America's Got Talent results show airs tonight on NBC at 9/8c pm.