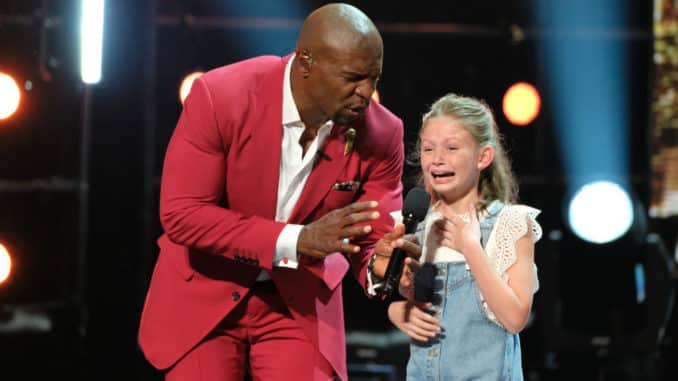 America's Got Talent LIVE Quarterfinals  1 RESULTS will be revealed tonight. Last night, twelve contestants performed in front of judges Howie Mandel, Gabrielle Union, Julianne Hough and Simon Cowell for YOUR votes.  Terry Crews hosts.
Your Poll results and Prediction: Your Top 5 favorite acts: 1. Kodi Lee 2. Voices of Service 3. Luke Islam 4. Greg Morton 5. Bir Khalsa. Five acts you PREDICT will go home: GFORCE, Ansley Burns, Carmen Carter, Emerald Belles, Messoudi Brothers.
America's Got Talent Quarterfinals 1 – Vote in the Polls
America's Got Talent 2019 Recap Live Quarterfinals 1 Performance VIDEOS
By the end of the night, FIVE contestants will be eliminated. SEVEN will advance to the Semifinal round. The sixth, seventh and 8th place acts will vie for the fan voted "Dunkin Save." The judges panel will also save a contestant. Uh oh. There was a "technical issue" in last night's vote, Terry tells the audience. There will be NO judges save this week. The Top 6 acts will advance via viewer votes. The acts in 7th 8th and 9th place will vie for the Dunkin Save. 
Performing tonight are reigning America's Got Talent winner Shin Lim, season 1 winner Bianca Ryan, season 13 violinist Brian King Joseph and season 11 contortionist aerialist Sofie Dossi.
Kicking off results as always, a recap of last night's show. EARLY SNACK BREAK. We've got some hats in the house (Howie and Gabrielle).
Terry announces the three acts competing for the Dunkin Save. And those acts are: Ansley Burns, Emerald Belles and Sophie Pecora. Oh wow. Sophie! That's a shock. Where are her gazillion Youtube followers at?  Terry asks a dazed Simon what he thinks about the results. Terry has to ask him twice. When he finally snapped to attention, Simon simply said "it's nuts."
The vote begins, and it is really close!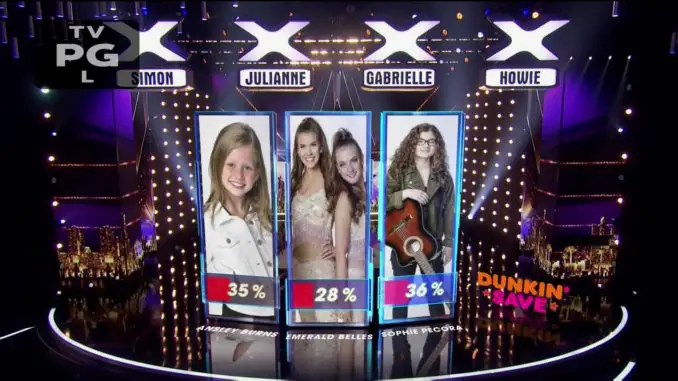 Next, Bianca Ryan, season 13 violinist Brian King Joseph and season 11 contortionist/aerialist Sofie Dossi all perform together. Bianca sings Linda Ronstadt's "You're No Good" while Brian accompanies her on electric violin. Apropos of nothing, Sofie dangles from the sky on a hoop. 
https://www.youtube.com/watch?v=7Jjsa_M16Es
Carmen Carter and Alex Dowis are first to learn their fates. The first act going into the semifinals is…Alex Dowis. Carmen Carter is ELIMINATED. Luke Islam and GFORCE are next.  Julianne's Golden Ticket, Luke Islam, is through. Kid Girl group GFORCE are eliminated. 
Next, America's Got Talent double champion (AGT and AGT Champions) Shin Lim takes the stage to do some incredible card magic. He gets the entire audience involved, along with the judges. Last week's guest judge Jay Leno joins him on stage to assist.  Shin is entertaining as always. 
More results! Kodi Lee and Voices of Service take the stage.  The next act going into the semi finals is…BOTH OF COURSE. I saw that one coming.  Simon calls Terry very "naughty" as if he didn't know that would happen (right). Kodi feels "AMAZING." 
Next, it's the Massoudi Brothers, Bir Khalsa and Greg Morton.  Massoudi Brothers are going through to the next round. Wow. I'm surprised.  Julianne advises the trio to amp up the danger. Terry tells the remaining two to stay where they are. America has spoken. The next act going into the semi finals is…Greg Morton! Howie is thrilled for him. He advises him not to be afraid to reach out to others for great material. 
OK. Which act won the Dunkin Save? Is it Ansley Burns, Emerald Belles or Sophie Pecora? And the winning act is…Ansley Burns. Really? SERIOUSLY? She's crying again. Sigh.
The real surprise of the night? The elimination of popular Youtube personality, Sophie Pecora. She's got a ton of followers! Also, she was guest judge Brad Paisley's Golden Buzzer. Plus you'd think a young relatable singer/songwriter would advance. I guess the pageanty cuteness of Ansley Burns was too hard for some folks to resist. But judging by the early voting percentages (shown above) the vote was really close.
RESULTS! 
Top 7
Alex Dowis – Blacklight Artist
Luke Islam – Young Singer (Julianne's Golden Buzzer)
Voices of Service – Singing group
Kodi Lee – Singer/pianist (Gabrielle's Golden Buzzer)
Massoudi Brothers – Hand balancers
Greg Morton – Comedian
Ansley Burns – Young singer
Eliminated
Carmen Carter – Singer
GFORCE – Girl Group
Bir Khalsa – Danger act
Sophie Pecora – Singer/songwriter (Guest Judge Brad Paisley's Golden Buzzer)
Emerald Belles – High kick dance group.