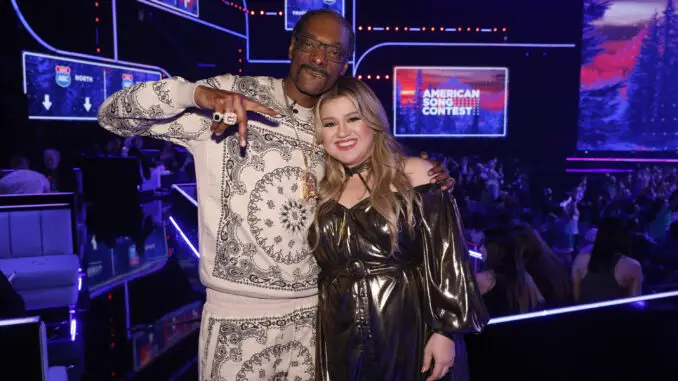 American Song Contest – Qualifiers 5 – Meet the Artists
The remaining eleven more songs debut on American Song Contest Qualifiers 5 airing on NBC Monday April 18.  Fifty-six artists, representing the 50 states, five U.S. territories and our nation's compete to win the country's vote for the best hit song.
Hosted by Kelly Clarkson and Snoop Dogg, American Song Contest comes from the producers of the long running Eurovision Song Contest and The Voice. 
American Song Contest: Format and Voting Explainer
Check out a list of week 5 artists, including song names and photos. The video below introduces each act, including Sisqó the "Thong Song" guy representing Maryland. The novelty song became a hit in 2000. It's worth noting that Brett Seper was originally set to represent Missouri, but now it's Halie, who won Songland after Martina McBride chose to record her song "Girls Like Me."
Check out sneak peek clips from dress rehearsal 
American Song Contest Week 5 Qualifiers Contestants and Songs
Sisqó – Maryland – It's Up – Sisqó, the Maryland born singer and front man for Dru Hill, is one of the most influential and successful solo artists of the last 25 years after shooting to superstardom with his 2000 smash hit "The Thong Song." – Learn More
Sweet Taboo – California – Keys to the Kingdom – – Sweet Taboo is  a group  that represents the style, sound and attitude of California, taking inspiration from their Latin roots and mixing it with R&B, hip-hop & pop, whose videos have millions of views on Tik Tok. – Learn More
Khalisol – New Mexico – Drop – Zachary Chicoine's career launched as a ghostwriter and producer for other artists. Now under the name Khalisol, his original songs push soul, hip-hop and rap to the frontier of the New Mexico music scene. – Learn More
Ada Leann – Michigan – Natalie – With her emotional songs and relatable lyrics, 15 year old Ada LeAnn is not only a representative for her home state of Michigan, she also wants to be a voice for teens like herself to show them they're not alone. – Learn More
John Morgan – North Carolina – Right in the Middle – From the Great Smoky Mountains of North Carolina, Grammy-nominated John Morgan grew up immersed in bluegrass, touring at festivals with his family band every summer. He brings blue-collar toughness to country music. – Learn More
Josh Panda – Vermont – Rollercoaster – Josh Panda is a musician known for his booming four-octave vocal range. He found his sound in Vermont, experimenting with a wide range of musical styles, and now performs everything from pop to Americana to disco. – Learn More
Tenelle – American Samoa – Full Circle – Tenelle has been described as a breath of fresh air whose love for singing and carefree attitude reflect her magical home of SEMO, and is a grammy-nominated and billboard-charting artist – Learn More
Jason J – Guam – Midnight – Jason J. is a songwriter and father of two from the island of Guam. Known for his distinct vocals and blend of island reggae and alternative music, he has toured extensively and is a Billboard chart-topping artist. – Learn More
Halie – Missouri – Better Things – HALIE proved herself as a songwriter after winning NBC's Songland, but she is also a powerful vocalist and performer. Born and raised on Country music, she is proud to represent her small Missouri hometown – Learn More
Andrew Sheppard – Idaho – Steady Machine – Andrew Sheppard is a songwriter from Idaho whose sound is as authentic as the state he represents. Described as "heartland rock," his music is a straight shot of life., and his latest album was released in 2018. – Learn More
Justin Jesso – Illinois – Lifeline  Justin Jesso's musical roots run deep in the stage of Illinois and he has become a celebrated artist and songwriter. With over a billion streams on his collaborations with pop greats, he just released his debut EP. – Learn More
 Photo credit: (Chris Haston/NBC) Click for Gallery