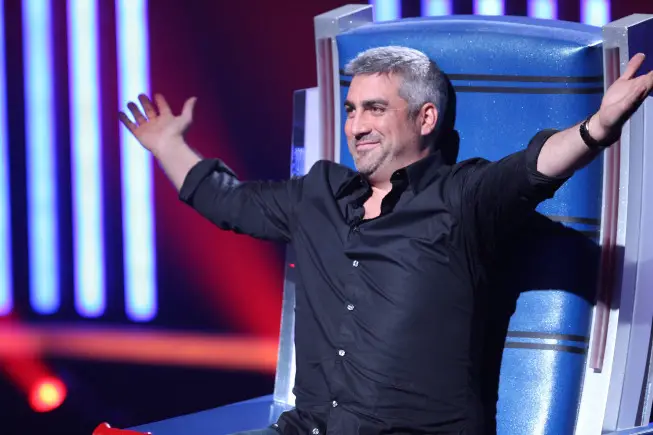 I suffered through The Choice, tonight, y'all. so YOU wouldn't have to! Season 5 Idol winner, Taylor Hicks was one of 4 bachelors on this FOX "dating" show, along with Jersey Shore's The Situation, NFL Football player, Warren Sapp and TV chef, Rocco DiSpirito.
The Choice is The Voice, with dating. The contestants listen to pitches from single women/men (yes, there will be a few episodes with female contestants) with their backs turned to them. It doesn't really matter, because they're all "hot" girls. What would have made the show more interesting and crueler, would have been to throw in a few sexy sounding girls who didn't meet the typical Hollywood beauty standard. Yes, that would have been too mean, but otherwise? I don't see the point of the guys initially listening without looking.
Anyway. I seriously lost a few IQ points watching this show, so I hope you all are happy! Ha. The women are mostly over-endowed, under-dressed and annoyingly effusive.  The guys aren't taking things seriously, which helps, but still doesn't make the show much fun to watch, as the double entendre filled banter gets old really quick. There really is no end to the face palming and second hand embarrassment.
If more than 1 guy turns around, the girl picks the guy she wants. Once a contestant's team is filled, they turn into observers. Taylor was the last to fill his 3 member team.  At that point, Taylor chose between two girls who were brought out to woo him.
Except, Taylor kinda went off script here, which host Cat Deeley (Yes. Our wonderful Cat. TOTALLY SLUMMING) handled brilliantly. Check it out. It was the only truly funny moment of the episode.  (YES. The videos are reversed. I'm trying to avoid the Video Takedown Police.)
Once the teams were filled, the guys and gals engaged in getting-to-know-you  lightning rounds.  In order to differentiate the girls, they wore Miss America sashes with their man's name emblazoned on it. Ew.  After, the contestants eliminated one of their 3 team members. Taylor ditched the girl he made the big fuss over with Cat. Go figure. Then, after more Q and As, the contestants choose their date. Taylor's choice was Sonya, a pretty brunette news reporter from Palm Springs who likes karaoke! She was significantly less over the top than most of the other girls. Here he is, making his final choice.
I can understand why an entertainer would agree to appear on a show like this. It's not like anybody has killed a puppy. It's a payday and a little exposure. No harm, no foul. But OMG. . Stereotypes galore abound, and at times, I would have sworn the 60s and 70s never happened. I'm so glad I don't ever have to watch The Choice again