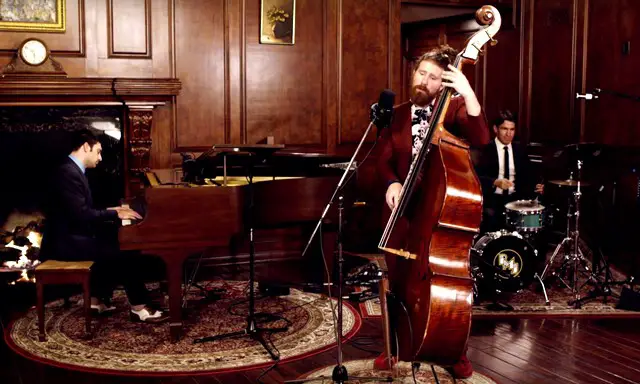 American Idol season 11 alum Casey Abrams has announced the release of a new album. Put a Spell on You is scheduled to drop on March 16.  Chesky Records will release the album, which is a mixture of originals and fan favorite covers.
From the official press release.
Acclaimed bassist/vocalist Casey Abrams will release a new album, Put A Spell On You, on MaCrch 16, 2018 on Chesky Records. The album showcases both Abrams frenetic energy, as well as the unique nature of his creativity as a songwriter and performer. Songs include the originals "Let's Make Out," "Robot Lovers," and "Cougartown" as well as his compelling takes on a few classics such as "I Put a Spell on You," "Georgia on My Mind," and "Nature Boy."
"I wanted to put a spell on the audience with the new record," says Casey in a statement. "I'm mixing a lot of covers that fans have heard live with originals that they've never heard before. It's been fun to write songs about the new and cover things that are old. No matter what though, everything should put you in that kind of wonderful trance."
Last fall Casey retreated to a decommissioned church in Brooklyn (The Hirsch Center) to track Put A Spell On You. During a two-day marathon session, he was joined by the members of his trio—Jacob Scesney [saxophone, cajón] and Taylor Tesler [guitar, vocals]—David Chesky in the producer's chair, and a "mannequin microphone." Put A Spell On You is a part of the Chesky Binaural + Series, all recorded with a single microphone. The new music showcases the spacious, lush and multi-dimensional recording.
"The church was amazing," Casey adds. "There was a natural reverb that you can't get digitally. We recorded using this mannequin with microphones in it. You're singing to this thing like an audience member and getting real stereoscopic sound. As time progressed, my sound has gotten more live and dirty. It's more like you're sitting in my living room now. It's very spontaneous and rugged. That's the beauty of this."
Casey Abrams, has built a strong following through the years with two album releases (Casey Abrams and Tales From the Gingerbread House). The singer and musician spent the last year touring internationally as part of the renowned collective Scott Bradlee's Postmodern Jukebox between launching his own nine-piece "funk orchestra" via select FunkHaus gigs. Casey will play more of these special shows this month in Los Angeles at Hotel Cafe in Los Angeles with the last date on January 26th.
Put A Spell On You Tracklist:
Robot Lovers
Meet the Flintstones
Cougartown
I Put A Spell On You
Lost and Looking
Let's Make Out
Nature Boy
Never Knew
Georgia on My Mind
High Drunk Love You
Have You Ever Seen the Rain
Moon Song
Take The A Train