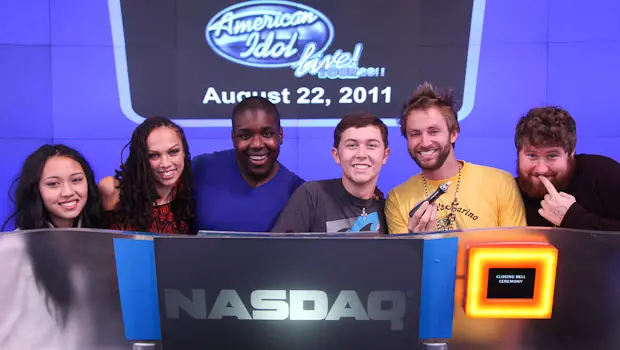 Thia Megia, Naima Adedpo, Jacob Lusk, Scotty McCreery, Paul McDonald and Casey Abrams represented the Top 11 American Idols at the closing bell of the Nasdaq today.
It's a yearly Idol tradition, and as in past years,   the video of the event is as random and full of lulz as ever!  The dude who introduced them was practically giddy! He's a fan.
He introduced each of the Idols, who got to say a few words.  Scotty took the lead, thanking the appropriate peeps. Thia wished her mommy a happy birthday. Jacob thanked all of America! Even though we can't look at ourselves in the mirror. Just kidding.  Paul says he can't wait to get back home to make music for us. "I love live and I love music!" said Casey, enigmatically.   Naima blew kisses to her family.
Prior to the closing, a slew of children joined the Idols on the platform. Who were they? Maybe children of Nasdaq employees? Could be.
The music swelled, the bell rang and people clapped. Hooray. Another wacky Idol bell closing. Until next year!
More photos below: