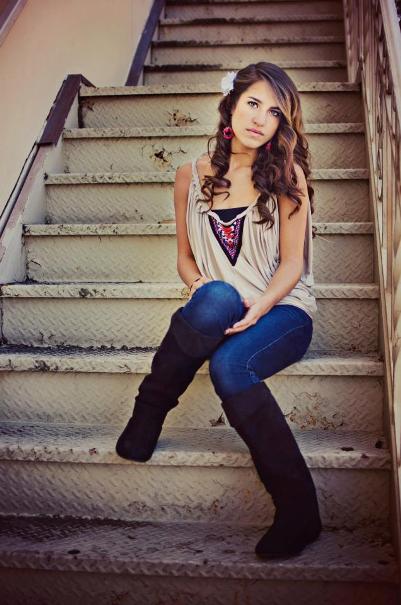 I'll be posting several American Idol Top 31 contestants previews every day in the run up to the American Idol XIII premiere on January 15.
Click for the FULL list of the American Idol XIII Top 31
In her Facebook bio, Emily Piriz describes herself as an "up an coming young artist from the Orlando area" and a "musician/singer/songwriter who's passion is music."
The 17 year old performs around the Orlando area, and as a prize for winning the 2nd Annual East Orlando's Got Talent back in 2011, she won a photo shoot with a professional photographer.
"She was an absolute natural in front of the camera and I would be lying if I didn't say that this is one of my favorite sets of images since I started this business," writes the photographer, "Thank you Emily and Mary for exploring downtown Orlando with me and for being so incredibly easy to work with. Wishing you lots of luck in the bright future you have ahead of you!"
American Idol isn't Emily's only stab at competition show greatness. The singer also won a fast pass to an X Factor audition in 2012, revealed here in an interview with a local TV station.
You can follow Emily on Twitter and listen to a few performances on her Youtube Channel, where she has posted covers by Sara Bareilles, Regina Spektor, Lorde, Grace Potter, Miley Cyrus and more. She has an unfinished website and is listed with a local management agency. Which, according to Idol rules, she would have to give up to compete.
Check out  a few of Emily's performances below. She accompanies herself on keyboards on many of the covers. There are a couple of original songs on her Youtube channel, but not written by her.
Wrecking Ball by Miley Cyrus
Stars by Grace Potter
Pumped up Kicks by Foster the People
Emily Piriz – American Idol XIII – Atlanta Audition
Emily Piriz – American Idol XIII – Road to Hollywood