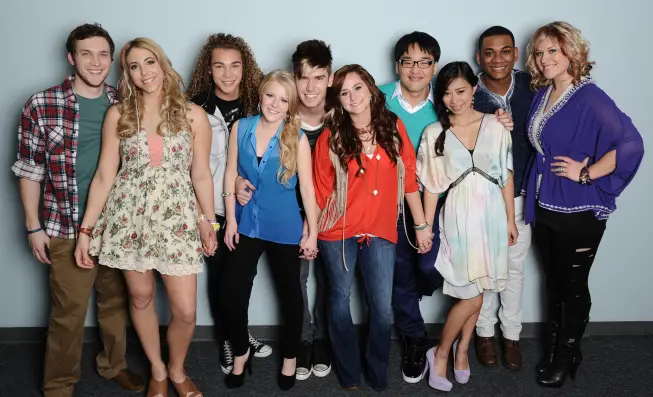 Oy. Next week the Top 10 sing the songs of Billy Joel. Really? Really?? Nigel, I'm begging you, clear songs for these kids to sing that aren't covered in dust!
In other news: Season 10 alum, Haley Reinhart will sing her single "Free", essentially wiping the floor with Lana Del Rey who will appear via tape to sing her single "Video Games". Lana taped her performance after tonight's results show.
Read the press release below
Shannon Magrane was eliminated tonight on American Idol after she received the fewest votes among the finalists. On Wednesday's dramatic performance show, in which contestants sang songs from the year they were born, it was revealed that Jermaine Jones was disqualified. On tonight's results show, Demi Lovato sang her latest hit "Give Your Heart A Break" and Daughtry returned to the IDOL stage and performed their megahit "Outta My Head."
Next week, on Wednesday, March 21 (8:00-10:00 PM ET live/PT tape-delayed), the Top 10 – DeAndre Brackensick, Hollie Cavanagh, Colton Dixon, Heejun Han, Skylar Laine, Joshua Ledet, Phillip Phillips, Jessica Sanchez, Elise Testone and Erika Van Pelt – will take to the IDOL stage to perform songs of Billy Joel for America's votes!
Tune in the following night, Thursday, March 22 (8:00-9:00 PM ET live/PT tape-delayed) to the live results show to find out which Top 10 finalist is sent home. In addition, Lana Del Ray will take the stage and perform her latest hit "Video Games" and Season 10 IDOL finalist, Haley Reinhart will return to perform her new single "Free."