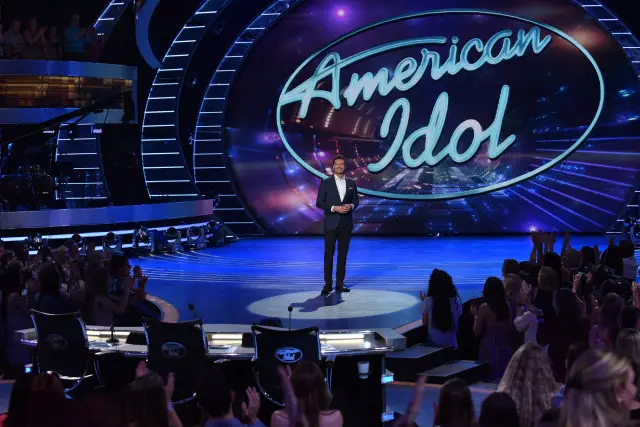 With American Idol returning to TV on ABC, the rumor mill will be churn churn churning away. The latest, according to a new report from The Hollywood Reporter, Freemantle nixed a deal with FOX, because they still felt burned after the network cancelled the show:
So when word of early talks between Fremantle and NBC leaked in February (conspicuously timed to The Voice contract negotiations), troubled Fox jumped in. For Fremantle execs still burned by the cancellation, however, Fox was not considered a desirable option. "They got divorced," notes an insider. "You don't get remarried one year later."
Next, it's time to roll out the talent. THR reports there could be announcements as early as next week's advertiser upfronts in New York City.
The big wild card now is talent. Former Idol host Ryan Seacrest is considered likely to return despite having taken a full-time gig in New York as Kelly Ripa's co-host on (Disney-owned) Live! But will he get the $15 million he made on Fox? Likely not. Pricey past judges Simon Cowell and Jennifer Lopez, both on NBC now, are said to be out. Agencies are pitching fresh judge talent, with sources saying that ABC hopeful it can reveal a shiny new roster as soon as its May 16 Lincoln Center presentation to ad buyers.
Interesting that Ryan would be willing to return to host Idol, even with a pay cut. Well, it's not as if he needs the money. But it's not as if he has a ton of free time, either. Simon Cowell was always a no go–not unless producers were willing to give him a big cut of the action. I never thought Jlo and her huge salary would be back either. Not that the show needs her. Hopefully, the rumors about Kelly Clarkson joining the judges panel are credible.
Also, according to THR sources, FremantleMedia CEO Cecile Frot-Coutaz was doggedly determined not to let Idol die. "Six months ago, no one wanted it," noted one agent. "If there was one person who made this happen, it's Cecile. She was determined to get Idol back on TV."
Can ya'll believe it's 2017 and we're speculating about the American Idol judges panel? Let the good times roll. Heh.