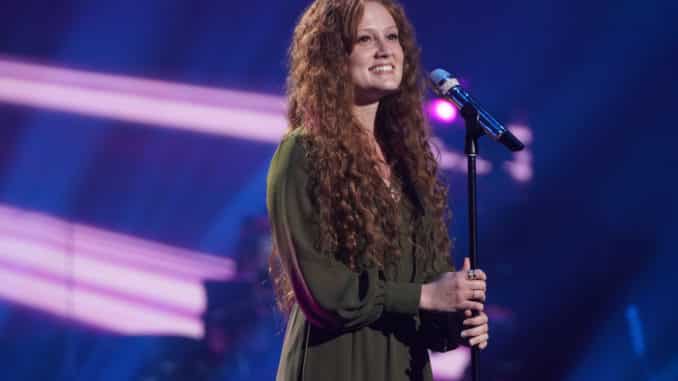 American Idol 2021 Recap Top 24 Solos/All Star Duets Part 1 Live Blog
American Idol 2021 Top 24 solos and All-Star Duets begin tonight. The remaining 24 contestants sing for the first time for YOUR VOTES. Twelve singers perform tonight, the remaining 12 Monday night. Each contestant will sing a solo of their chooseing and a duet with a celebrity partner. The Top 16 will be revealed on Sunday April 11.
VOTING BEGINS AT 8 PM EST VOTE NOW
How Do I Vote for American Idol 2021 Contestants? Find Out Here
Alanis Sophia – Text 1 to 21523
Cassandra Coleman – Text 2 to 21523
Alyssa Wray – Text 3 to 21523
Wyatt Pike – Text 4 to 21523
Alana – Text 5 to 21523
Anilee List – Text 6 to 21523 
Deshawn Goncalves – Text 7 to 21523
Graham DeFranco – Text 8 to 21523
Andrea Valles – Text 9 to 21523
Cecil Ray – Text 10 to 21523
Willie Spence – Text 11 to 21523
Grace Kinstler – Text 12 to 21523
Judges Lionel Richie, Katy Perry and Luke Bryan return, along with host Ryan Seacrest. Due to the COVID-19 pandemic, social distancing is the rule in the house! HOWEVER, for the first time since the pandemic started last year, a limited LIVE AUDIENCE will be in the house to cheer the singers on!
American Idol 2021 Spoilers: Top 24 Celebrity Duet Pairings and Song Choices
American Idol 2021: Full Season 19 Schedule 
I MISS THE ORIGINAL AMERICAN IDOL THEME. I really do.
Ryan Seacrest's shows the limited audience sitting in their individual pods, all masked up. That clapping is real! 
Alanis Sophia – Alive by Sia – Alanis hasn't had a ton of attention so far. But she shines on pop songs that require a big range. It never feels like she's reaching for notes. Give her all the big pop songs. 
Alanis Sophia & Jimmie Allen – Shallow by Lady Gaga & Bradley Cooper – Jimmie was an American Idol content back in season 10! He got cut before the Top 24. Jimmie being  a country artist makes this an interesting matchup. The arrangement only has a tinge of country. The harmonies are very pretty. Alanis, a very professional singer, feels a bit reserved in this duet.  Katy feels her solo performance exhibited a lot of control. Katy things Jimmie overwhelmed her, however. Luke and Lionel both think she has to work on stage experience. They feel her nerves maybe got the best of her. The duet did feel subdued.
Cassandra Coleman – Find Me by Sigma ft Birdy – Her song choices are so offbeat. But I like it. She has a big problem with stage fright. She always seems just on the edge. But it works for her. Cassandra is one of my favorites right now. This solo is absolutely gorgeous. She brings so much emotion and vulnerability to every one of her performances. 
Cassandra Coleman & Ryan Tedder – Apologize by Ryan Tedder & OneRepublic – Ryan gives her some advice on dealing with her stage fright. He tells her to tap into a character when she takes the stage. She auditioned with this song, and she wasn't happy with the result. This is kind of a second chance. The background vocals are a little overwhelming! But with Ryan's assist, Cassandra seems pretty confident. Lionel notes that a singer should never appear to be "thinking" on stage. Fake it if needed, he says. Luke also warns to watch the nerves. Katy calls her voice a spiritual experience and that the performance gave her "full body chills." She also drops the tidbit that she doesn't shave her lets anymore. TMI! Overall, however, the judges loved the performance.
Alyssa Wray – Something in the Water by Carrie Underwood – Alyssa goes contemporary Christian on Easter. It's a heartfelt performance. She's feeling this. There is joy in the performance. Some nice big notes. But also she displays quiet moments. Very nice. Great control tonight.
Alyssa Wray & Katharine McPhee – I'm Your Baby Tonight by Whitney Houston – Alyssa remembers watching Kat on American Idol as a kid. Also, she didn't know that song, which made Kat feel old. Again, Alyssa's presence is just pure joy. She seems so happy to be up there. Also, she sings the song like she's known it forever. She's got Swag. The fast talking section is perfectly in sync. Big props to Kat for being a great duet partner. Lionel felt the two complimented each other. "Loved this," he says. Katy says she's the first to hold her own with the celeb. "Star sparkle" says Luke. 
Wyatt Pike – rubberband by Tate McRae – Hey he lost the hat and has somewhat crazy hair this time. I'm not sold on this song choice. These solos are so short, the songs need to be more. I liked his original better than his covers.
Wyatt Pike & Ben Rector – Brand New by Ben Rector – Wyatt is very excited about his duet partner! He's a fan. Also, Wyatt is putting down the guitar for the first time. This is a much better song choice. It's got verve. I wish Wyatt was singing this solo. His parts are passionate and full of energy. BOPPING ALONG WITH THIS I AM. The judges are on their feet! Katy says it looks like he rolled out of bed…and stepped into his stardom. She thinks he fits in right now. Luke is all verklempt. "I was emotional the whole time," he says. Lionel declares that Wyatt owned the moment.
Alana – Blow Your Mind by Dua Lipa – Alana has a lot of catching up to do. She's had barely any screen time. To succeed, she needs to deliver a mind blowing performance (so to speak!) and this is not it, unfortunately. 
Alana & Brian McKnight – Back at One by Brian McKnight – Brian has never performed this song as a duet. During stage rehearsal, Alana struggled with the lyrics. Oof. A bad producer edit on top of no screen time. She's toast. Alana has an interesting, husky tone. It's kind of sexy, actually. With the right songs, she'd be great. Brian is incredible, and is drawing all my attention. Alana is…fine. But it's not enough. Luke liked her energy on the solo. He thought she came in to her own in the duet. Lionel thinks she has the stage presence and the energy but now she needs to bring the attitude,  Katy thinks she lit the stage up. But, now, she needs to be risky with the notes.
Anilee List – My Future by Billie Eilish – Anilee was a last minute replacement for Benson Boone in the Top 24. Having said that, I'm not a big fan of this yelly arrangement. Not for this song, which requires some tenderness. She's got a strong voice. Just just needs to dial it back a little. 
Anilee List & Joss Stone – Tell Me Something Good by Rufus & Chaka Khan – Anilee felt she lost herself in Hollywood. Joss says she once sang the song with John Legend, and came in on the wrong key. Yikes. Anilee's big vocals are a MUCH BETTER FIT on this Rufus song. She and Joss are playing off each other well, and the shouty stuff is perfect here. Lionel advises Anilee not to think about what she's singing. Joss is a good example. Katy says, "You took us all to church." She wanted more adlibs. Luke says she's close to next level greatness.
Deshawn Goncalves – Forever Young by Bob Dylan – He starts off acapella. That's risky. And he changes up the melody quite a bit. Also risky! Dylan purists are gonna hate that. I find the arrangement interesting–He turns the song into a reverent gospel tune. 
Deshawn Goncalves & Ryan Tedder – I Lived by OneRepublic – Ryan has tamed Deshawn a little. Having said that, I like Deshawn's trembly vibrato and sweet tone. But he seemed a little cowed during the duet. Katy thinks his voice is Top 3. But she thinks he's stiff on stage. Luke also loves his tone. But advises that Shawn  "shake this thing out….be the star…enjoy it." Especially in the duet, Deshawn was holding back. 
Graham DeFranco – Raye by John Splithoff – Graham doesn't have great stage presence. And while he's displaying some skill at R&B phrasing, his presentation lacks excitement.
Graham DeFranco & Ben Rector – Love Like This by Ben Rector – Graham met Ben backstage at a show once. Ben acknowledges that the song they're singing is hard, even for him. The two are similar singers. But Graham lacks dynamics and energy. He's TOO laid back. Ben is showing him how to do it. Luke calls his voice listenable. "Great job," he says. "I heard your range go to another level." Lionel thinks he has a great storytelling voice. Katy had no connection to his first song, but felt he did better on his duet. Ben lifted Graham up on that duet. 
Andrea Valles – Lo Vas A Olvidar – Billie Eilish & Rosalia – A Spanish language song is a big risk! And is she going to explain the eye patch she's wearing at some point? She's competed on Spanish language singing shows, so the song choice makes sense. The performance she delivers is subtle and sensitive. I hope America gets this beautiful, low-key performance.
Andrea Valles & Brian McKnight – Careless Whisper by Wham (George Michael) -She had eye retina detachment surgery. OUCH. Savannah Guthrie from TODAY had that, and she described laying in one place for days. Hope she's doing OK. Andrea's vibe is slinky, sexy and compelling. A few words about Brian McKnight: WOW WOW WOW. Great version. He's overpowering her a bit, however. Lionel believes their voices complimented beautifully. Katy jokes, "You're the only one singing with one eye today…and you're making it look very fashionable." She loves loves that Andrea has so many tricks up her sleeve. Luke thinks this performance got her "back on the map." Now, she made a mark tonight. Not sure if it's enough for her, though.
Cecil Ray – Paint Me a Birmingham by Tracy Lawrence – This performance is super nasally and very very pitchy. Cecil has displayed raw talent along the way, but he's not ready for the big time, really. I MEAN HE'S SO DANG NASALLY AND FLAT. It's written all over Luke Bryan's face. 
Cecil Ray & Jimmie Allen – Freedom Was a Highway by Jimmie Allen & Brad Paisley – Cecil admits that he's broke. I hope that changes for him somehow. Jimmie gives Cecil his number and urges him to use it when he gets back home. Damn, that's cool. With Jimmie's assist, Cecil is better in this performance. He's staying on pitch more or less. But he's still too nasally. Jimmie is basically carrying him across the finish line. Katy calls Cecil the underdog. "You got to start taking that turn." She called the solo performance "okay." Everyone wants to root for you, but you've got to root for yourself, she says. Luke notes the pitch problems. "It's gonna get harder every round," he warns. Ya think? Lionel adds that they need more attitude from Cecil.
Willie Spence – Wind Beneath My Wings by Bette Midler – There are definitely shades of Ruben Studdard going on here. I like the gospelized arrangement. The song takes on a spiritual tone in Willie's hands. Simple and moving.
Willie Spence & Katharine McPhee – The Prayer by Celine Dion and Andrea Bocelli – Willie loves the song so much. His mother sang it in church. Willie wants to dedicate it to his grandfather, who recently passed away. Kat mentions losing her father three years ago (shots of them from American Idol so many years ago!). She's going to dedicate her performance to him.  Kat and Willie harmonizing is the highlight of this duet. SOARING. That was a beautifully rendered duet. The judges are on their feet. "You do no wrong in my eyes," Luke gushes. Lionel loves his style, "It's just mesmerizing to watch you." Katy called the duet "goosebumps central." 
Grace Kinstler – Queen by Jessie J – Grace taps into her own insecurity to deliver a self-love anthem from Jessie J. It starts off a little tentatively, but when she tears the mic away from the stand and paces the stage, she OWNS IT TOTALLY. It's an electric performance. 
Grace Kinstler & Joss Stone – Midnight Train to Georgia by Gladys Knight & the Pips – Joss advises her to hold the runs back until the end. "Leave some for later." She wants to help Grace "tell the story." It's a sweet soulful version of this Motown classic. GREAT advice from Joss to save all the big stuff for the end. Joss is so generous. Lionel calls Grace the "winning package." Katy calls the duet "timeless." Luke is so excited to watch Grace grow as an artist.