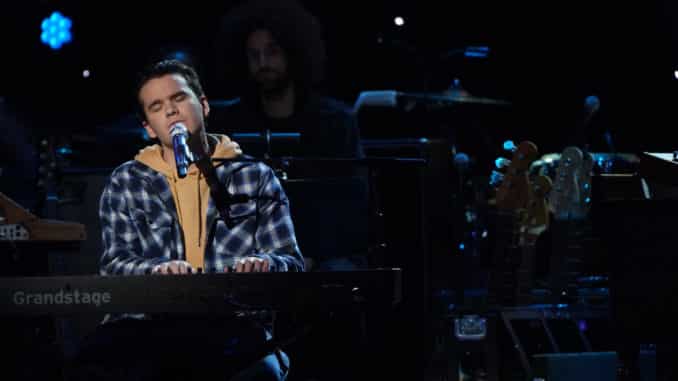 American Idol 2020 Hollywood Rounds conclude TONIGHT on ABC at 8 pm ET/PT. The FINAL Hollywood episode will feature the contestants singing a final solo for the judges backed by the Idol band. By the end of the episode THE TOP 40 WILL BE REVEALED. Featured on the panel are veteran R&B master, Lionel Richie, pop star Katy Perry and country singer Luke Bryan. Ryan Seacrest returns to host.
We've got a TON of Spoiler posts linked below. NO SPOILER DISCUSSION ON THE LIVE BLOG. Keep talk under the spoilers posts. Giving stuff away will result in an instant banning.
Full American Idol Season 18 Schedule
American Idol 2020 Spoilers: Top 20 Contestant List
American Idol 2020 Spoilers: Top 40 Showcase Round/Song Choices
American Idol 2020 Hollywood Spoilers: American Idol Season 18 Top 70 Contestant List
American Idol 2020 Hollywood Week Solo Song Spoilers!
On solo night, American Idol 17 runner-up Alejandro Aranda stops by to visit the remaining contestants. Ryan mentions that Alejandro captured America with an original song during this round. Several singer songwriters say they are here because of him.
Kimmy Gabriela – I'm Here from the musical The Color Purple  – Kimmy felt she didn't give her best performance in the duets. She plans to step it up. By the end of the number, Katy is on her feet. Kimmy feels totally redeemed. Katy thinks she's Top 10.
https://www.youtube.com/watch?v=NP77GsrF784
Genavieve Linkowski – In My Blood by Shawn Mendes  – This is the round where Genevieve was cut last time. She picked the song because, "giving up is not in my blood."  Genevieve gives everything she's got, like she understands the stakes involved. Katy on her feet again. "I love watching her grow in real time," she says.
https://www.youtube.com/watch?v=E9xTBiyvEyU
Jovin Webb – Parachute by Chris Stapleton – One of my favorite contestants, continues to be a favorite with a gritty, bold rendition of Parachute. Yay. Jovin LOVED performing with the full band. 
Perrin York – Good as Hell by Lizzo –  "The calibre of the band is SO high," she says. Where has Idol been hiding this girl? She's got an unfettered style, yet sings with control. Luke felt it was a risky song choice.
Faith Becnel – Cry Baby by Janis Joplin – Luke compares her to a "dugum Dolly Parton with her hands." What?
Jeb Vonderbruegge – Rocket Man by Elton John – Hm…. He gets a standing ovation from the judges, but I didn't love that.
Arthur Gunn – Have You Ever Seen the Rain by Creedence Clearwater Revival – He's repeating his audition song. Why? Sure, he'll be playing with the band. Still. "This is quite a risk," he says as he works up the arrangement with the band. He felt his rehearsal could have been better. So he's ditching the band? What he does: Plays it acoustically, but completely changes the melody. Like, it's a brand new melody. Hm. Not sure I'm digging this. However, Arthur is happy.
https://www.youtube.com/watch?v=drQlHxI6pUM
Katy warns contestants about singing original songs. "Not all of you are Alejandro," she warns. Several singers are gonna do it anyway. Robert Taylor is up first.  The judges are not impressed with the song. Amelia is next. The judges STILL NOT IMPRESSED. Julia Gargano, couldn't remember the name of her original song. Oops. Nerves. The judges continue to be unhappy. James Levy, his song is just BAD. The judges think so too. 
Lauren Mascetti – God Made a Woman (Original) – Bet she wrote it with her world famous country music songwriter fiance. That's a nice perk. Lauren's inspiration for the song is her Nana. Nice wig, grandma. Heh. She's right there in the audience, cheering her granddaughter on. And finally, the judges love an original song. "She has so much potential," says Katy. 
https://www.youtube.com/watch?v=ij1ah5Oa5f0
Sophia Wackerman – Somewhere from West Side Story – Sophia's friend, Sarah  is also a Hollywood contestant. They know each other from school. Unfortunately, they totally whiffed their duet and are back for redemption. Sophia tackles a big Broadway song. The performance has its moments, but the song seems too big for her. Sophia even acknowledges the performance wasn't perfect.
Sarah Isen – Leave the Light On – Sarah fairs much better with her performance, I think. 
https://www.youtube.com/watch?v=3vOrcy3GkG8
Kat Luna – Always Remember Us This Way by Lady Gaga – Her boyfriend was eliminated after their duet.  She's still in it, as he watches from the audience. Great tone, but too many runs! 
Franklin Boone– River by Leon Bridges – He feels pressure to be less low key and laid back. But he remembers that Alejandro was always himself. "Be comfortable in your own skin," says Alejandro. "Never change." Franklin is a better vocalist than Alejandro. His quiet intensity is impressive. 
https://www.youtube.com/watch?v=C28ub71DHlY
Just Sam – I'm Here from the musical The Color Purple – Sam has some pain in her voice. She's hoarse. But once she's on stage, she turns the song into a gospel rave. Her upper register is a bit sandy. But this is great. She could be on Broadway. The judges are already on their feet. After, Sam is happy with her performance. Luke says, "She's special." 
https://www.youtube.com/watch?v=uSuXKDoHmcc
Next, it's a montage of really terrible, off key singing. Marcus Tinsley stops the song after the first few notes. "I just learned this song last night." WRONG MOVE. His voice is very breathy. This is not impressive. He completely blows it. He stops again. "Keep going!" urges Lionel. If these contestants would just fake their way through, they'd be OK. Sheniel Maisonet's performance of How Do You Sleep is very off key. And now even more off key singing from Talin Everett. Nick Merico sings Heaven by Bryan Adams, and it is not good. You can tell he knows it. "Everybody is falling apart," says Katy. Aria Saage takes the stage. WHAT IS HAPPENING. The screaming cats have arrived. 
Kat goes backstage to lecture. She tells them to hold back on high notes they can't sing. "Just be good!" Returning to her seat, she tells Luke and Lionel, "I just told them to calm down."
Makayla Brownlee – Rainbow by Kacey Musgraves – She suddenly stops singing, before hobbling off stage. She's hyperventilating. She's on the floor with her legs up on a trashcan. It turns out she has a heart condition that causes her to react to stress differently than other people. She can have a seizure. The producers take her out of the audition to get medical help. What WOULD Hollywood week be without singers falling ill or a sudden medical emergency? Stay tuned for Makayla's return.
Cameron Leigh Smith – Always Remember Us This Way by Lady Gaga – Katy gives Cameron a standing ovation.
Devon Alexander – Up to the Mountain by Patty Griffin – He's a very soulful singer who reminds me a little of season 14 singer, Clark Beckham. He was worried that he'd mess up.
Lauren Spencer-Smith – The Joke by Brandi Carlile. – Wow she saw the song on the list, but didn't know it? Nevertheless, she belts it right out as if she's known it forever.  
Makayla Brownlee – She's back to finish her performance of Rainbow. This time, the stress does not trigger her condition. The judges give her an ovation. Katy has a worried look on her face before tearing up. (Watch Makayla's entire saga below.) 
Dillon James – Original – Katy looks mesmerized. The song has a retro Americana thing going. I want to hear more. 
Louis Knight – Hold Me While You Wait by Lewis Capaldi – Still struggling with his friend's suicide, the solo rounds  take place on his late friend's birthday. Bobby advises him not to feel sorry for his emotions. "Use him as your inspiration," he advises. Aw. Mom in the audience is crying. Louis really knows how to deliver an emotional song. NOW DAD IS CRYING TOO. Luke says his vocal wasn't perfect, but it didn't matter.
https://www.youtube.com/watch?v=heajzpk6utE
Cynia Elise, Olivia Ximines, Geena and YZTHASINGER all sing  I Wanna Dance with Somebody by Whitney Houston in very different styles.
Makayla Phillips – Cause I love You by Lizzo – She decides to go with a "playful" song rather than a ballad. It still allows her to show off her huge vocals, although, she really forces the highest notes. "That was the worst song she ever picked," says Katy. Afterward, Makayla does not feel good about her song choice. 
https://www.youtube.com/watch?v=EB66d_ZiQfo
Jonny West – Moment (Original song)  – Jonny loves this particular original, because it tells his story. His self-penned songs are impressive.
Margie Mays – Lost Without You by Freya Ridings – She realizes at this point, she needs to think about herself. Her performance is a little shouty, but she pours emotion into it. Margie feels weird, because the judges didn't really react. Well, she ended the song very abruptly. 
https://www.youtube.com/watch?v=gvZ4sc-6BcY
Those are all tonight's performances! Now the judges "deliberate" to choose the Top 40
In the time honored American Idol tradition, the contestants have been divided into 3 rooms. Margie and Jonny are in different rooms, of course. Room 1 is through. Margie is in Room 2. She looked around. She knows. Room 2 is eliminated. Room 3 is through
Top 40 Reveal Part 1
Top 40 Reveal Part 2