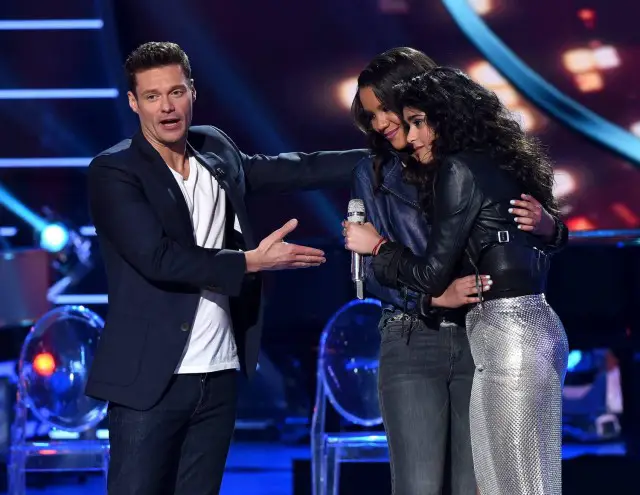 American Idol 2016 Recap Top 5 Sing & Results VIDEOS
Tonight's show is FULL of performances! Adam Lambert will open the show with his showstopping Idol performance "Mad World." The Top 6 contestants will perform one song each. Host Ryan Seacrest will call the bottom TWO singers will be called to the stage. The judges–Keith Urban, Jennifer Lopez and Harry Connick Jr. will save ONE singer. The final five will go on to sing their second song choice.
American Idol Top 5 Song Spoilers. See the List!
Also performing are Jussie Smollett and Yaz from the FOX show Empire. Jussie will sing a group number with the Top 6.
NEXT WEEK it's the theme is the Sia Songbook. Sia will also be on hand to mentor the contestants! Plus the legendary Steven Van Zandt from the E Street Band will  mentor CLASSIC ROCK SONGS.
April 7 2009. Adam Lambert performed his show stopping version of "Mad World." The show ran overtime before Adam closed the night. AND EVERYONE'S DVRS CUT OFF GOOD TIMES. After a taste of the original, 2016 Adam takes the stage to an updated version of the song. And it's as beautiful as ever!
Ryan Seacrest says it's the LAST JUDGES SAVE OF THE SEASON. It better be.
Here come the judges. Jlo is covered up this week. The girls are safely put away.  The songs tonight were chosen by YOU via twitter. American Idol has been asking all season for fan requests. Here come the Top 6! The first person safe is….
Aw. Look. The video packages feature hometown folk sharing stories about the contestants. This is going to be super emotional for the contestants.
Trent Harmon – Counting Stars by Onerepublic – Really kids? You requested THIS song? It's OK, but it's not a song I would have chosen. Trent sounds…fine. But the song isn't showcasing that gorgeous falsetto or his ability to sing soulful runs.  This is a throwaway tune. Hopefully the next song turns out to be a better choice.  Keith wasn't pulled into the song (neither was I). Jlo felt he did everything he could with the song. "Not a Trent song," she says. Harry said it felt like a hoe down with the clapping. But he agrees, the phrases were too clipped. "I give you a pass on that," says Harry, knowing that Trent is much better than that.  Why would Trent sing a super-fast pop song that offers no opportunity to stretch his vocal? – Text 10 to 21523 – 1866-436-5710 – Click to Watch Trent's Performance VIDEO
Ryan tells the audience that "the power is truly in your hands"  HA HA HA.
Dalton Rapattoni – Numb by Linkin Park –  There were moments in this song that I really liked, especially the last chorus, where he seemed to really be feeling the lyrics. I agree with the judges, the arrangement was boring. Dalton should have either slowed it way down, or gone full on headbanging rock. Jlo felt he took a little bit of the "oomph" out of it. She didn't like the arrangement–no excitement. Harry felt he poured his gut into the lyric. He liked it. He was a little ahead of the beat on his guitar. Watch that, says Harry. Keith would have stripped it down more and done a completely different version. – Text 5 to 21523 – 1866-436-5705 – Click to Watch Dalton's Performance VIDEO
La'Porsha Renae – Ready For Love by India Arie – What in the world does she have on her head? That headband and the hair is super distracting. Having said that, what more can be said about La'Porsha as a vocalist? Her phrasing and dynamics just draw the listener right into her world. I even stopped thinking about that headband after a few seconds. Yet another exquisite vocal from La'Porsha. Harry felt she read the lyrics, just the way they called for. "Phenomenal," he says. Keith was captivated by the moment. Jlo feels her total earth mother vibes, "A complete performance in every way." – Text 8 to 21523 – 1866-436-5708 – Click to Watch LaPorsha's Performance VIDEO
FORD COMMERCIAL WITH THE CONTESTANTS YAY YAY YAY.  The Idols do YOGA. And it's so silly and funny. The yoga instructor is in the audience. She says they ALL have a good downward facing dog.
Next, it's Yaz and Jussie Smollett from Empire. The hit series is returning to FOX on March 30. They are here to perform a brand new song, "Never Let it Die."  The Top 6 come out to perform the second half of the song, wearing black leather, ya'll.
The remaining four contestants are on stage. Who is safe? And of course…MacKenzie is safe. Welp. We know who's going home! Ya'll can shut your televisions off now.
MacKenzie Bourg – Wild World by Cat Stevens –  Hm. I'm not loving this smooth jazz by way of Brooklyn arrangement of "Wild World."  It loses all of the tenderness and empathy of the original. MacKenzie, did you happen to read the lyrics before you arranged this song?  Jlo thoroughly enjoyed every second of that. Keith compared him to cake batter. "Even when you aren't' fully cooked you're still good." What? I think it's Keith who is half baked. Harry liked the tempo and felt it was a good song for him, although he should have stuck to the melody. Huh.The judges loved that. The vocal was fine, but that breezy arrangement? MacKenzie could have been singing the alphabet. Too cool for school isn't working here. – Text 7 to 21523 – 1 866-436-5707 – Click to Watch MacKenzie's Performance VIDEO
The bottom two pick which song to sing in order to save themselves.
Tristan McIntosh – Independence Day by Martina McBride – SMART of Tristan to prepare one song suitable for Save Me. She's at the piano singing a ballad.  She's best singing ballads. She always has pitch and control problems, but she really loosens up when she sits still and sings. The crowd goes NUTS.  Harry thinks she's best singing songs that come from a place of pain. Harry notes that time is the only thing that will help her improve her gift. NO KIDDING WE ALL SAW THAT FROM THE START. Keith felt maybe she needed to strip the song down more, or sing it full on. I'm surprised they didn't praise that more. It wasn't any worse than past performances they loved. It's like they suddenly turned on her. – Click to Watch Tristan's Performance VIDEO
Sonika Vaid – Let it Go – We got the smoke and the wind machine working overtime. Sonika doesn't have the vocal chops for this. There are pitchy moments and once again, other than the last note, she really doesn't bring any pizzazz to her performance. Harry thought it was a smart song choice. A strong performance, but she needs to work on singing big songs. She gets a little lost. Keith feels her performances are really starting to come alive. Jlo calls her "fierce." OH WOW. Would they actually save Sonika again this week? – Text 9 to 21523 – 1 866-436-5709 – Click to Watch Sonika's Performance VIDEO
WOW THE JUDGES ARE SAVING SONIKA VAID! I was NOT expecting that!!!! Is Scott in a corner somewhere weeping? It's probably a good thing we didn't see Tristan cover Bon Jovi. That was a trainwreck waiting to happen. (In case you didn't know, her second song was "It's My Life.") – Click to Watch the Final Save of the Season VIDEO
Dalton Rapattoni – Sound of Silence by Simon and Garfunkel –  The first video package runs by mistake. Idol sorts it out in a few seconds and…this is all about Dalton being diagnosed with bipolar disorder at 9 years of age. It's heartbreaking. The performance is marred by pitch problems, and Dalton puts on a theatrical performance, that pushes into OTT territory. He ends the song, collapsing on stage in a fit of angst.  The theatrics were too big for TV, although I appreciate him going balls-to-the-walls emotionally. Dalton has the potential to be an amazing live performer. But he's got to keep working on those vocals.  "We were getting a piece of your soul there," says Jlo.  Harry compares his performance to art. He needs to sing songs he can pour his soul into, he says. – Click to Watch Dalton's Performance VIDEO
Adam Lambert takes the stage to sing his brand new song "Welcome to the Show" with co-writer and featured singer, Laleh. The are both terrific. Adam let's loose with some amazing runs, and it is glorious. After the fierce performance, Adam praises Lalah's songwriting abilities. "We just wrote a banger!" he gushes.
Mentor Scott Borchetta is on stage. Thousands of songs were requested by fans via twitter, he says. On the performances he says, "We've got to make sure there's a consistency to the songs they choose."
MacKenzie Bourg – Billie Jean by Michael Jackson – He played basketball until he contracted a virus that caused congestive heart failure. He recovered fully, but the aftermath of nearly losing his life– he could never play sports again. He used music to heal. Being close to death helped him find his true path. It was the best thing that happened to him.  MacKenzie performs a stripped down version of the song, simple and straightforward on his guitar. There is an immediacy here that was missing from his first performance. It's a lovely vocal, beautifully phrased. It could have used more intensity, but there were moments of real emotion in that performance. I wouldn't compare this performance to any other version. He made the song his own, deserving of being judged on its own merits. Jlo felt he showed everybody why he's still here. She says it's the best version of that song on Idol ever. OH YES SHE DID. You really had to go there, huh Jlo.  Harry called it a "terrific job." Keith just compared himself to a gerbil. WHAT? WHAT IS WRONG WITH YOU KEITH. – Click to Watch MacKenzie's Performance VIDEO
Trent Harmon – Simple Man by Lynyrd Skynyrd – Now, we've got Trent talking about buying a guitar for a good friend, ready to give it to him…and he learns that he's passed away. These stories are so sad. His death was so difficult, says Trent, but it energized him to follow his dreams. THE HAT IS BACK.  Jlo will be happy. And this song choice is more like it. Trent gets to show off those incredible bluesy runs. Woah. He hits a big note on the second verse that I was not expecting. RANGE! He really digs into the meat of the song, laying his heart bare to tell us his life story. Dang, Trent can sang. Harry wants to hear a duet between Trent and Adam Lambert. Heh. Harry loves his southern essence. He feels his experience when he sings the lyrics. Keith felt the song was perfect for him. Jlo STARTS CRYING. She calls it the perfect song and the perfect singer. And it makes her realize how much she's going to miss Idol. Trent is crying too. OMG. "I felt every single word of it." she says. "Thanks Miss Jennifer," says Trent, red faced and teary. NEVER MIND THAT'S JUST A BUG IN MY EYE.  – Click to Watch Trent's Performance VIDEO
Sonika Vaid – Clarity by Zedd – Sonika's emotional package…she's shy sometimes and has a hard time coming out of her shell. Either Sonika has led a charmed life, or she was unwilling to reveal heartbreak and sadness. Either way, it's a clue to why she has such a hard time connecting to deep emotions. Why does Sonika insist on singing songs that are too big for her? She's gorgeous on tender ballads, where she can show off her delicate phrasing. Performing the big songs, she either comes off as a pageant bot or completely overwhelmed. Keith felt it was a great song choice. Just let go even more he says. Jlo thinks it wasn't the right song. It was too big. Harry felt it was pretty good. Harry said he liked her talk with Ryan while she was standing on the seal, even more than the song. He seems to be saying that he learns nothing about her from her performances. – Click to Watch Sonika's Performance VIDEO
La'Porsha Renae – No More Drama by Mary J. Blige – She met a charming guy at 18 who turned out to be very abusive, both emotionally and physically. She lost all her hopes and dreams. "I didn't feel like a woman any more," Porsha shares, crying. "I felt dead." Her daughter was born, "a borrowed angel." It gave her courage to move into the shelter and start over. OH MY GOD. This performance. La'Porsha GETS UGLY in the best sense of that word. Fierce, intense and emotional but without ever losing control. She still manages to bring that perfect phrasing and a variety of colors to her performance, while literally handing her soul over to the audience. La'Porsha breaks down afterward. Jlo is crying again. She's got tears running down her face. "It takes a lot to get over those things…it was powerful thank you for that moment." Keith adds, "So inspiring." – Click to Watch La'Porsha's Performance VIDEO
And we're done. DROP THAT MIC LA'PORSHA.