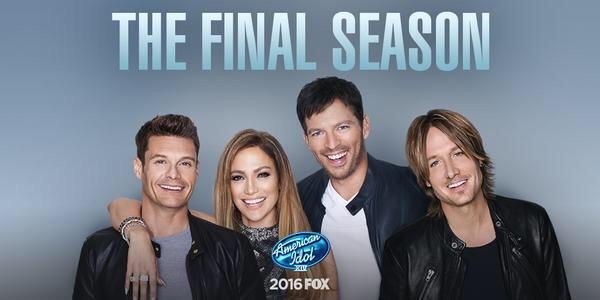 FOX Announced its winter schedule, including premiere dates for the 15th and final season of American Idol, and the winter premiere of Empire.
American Idol four hour premiere airs Wednesday January 6 and Thursday January 7 (8-10 pm ET/PT). The following week, the Wednesday show cuts back to 1 hour (8-9 pm ET/PT) for the debut of Second Chance, until Rosewood takes it's place on March 30. Empire will return to the schedule on the 30th, which means no ratings bump from FOX's highest rated show.  Can't blame the network for pairing Empire with the promising Rosewood instead.
American Idol will remain on Thursdays (8-10 pm) thereafter.  From the press release:
 A season-long celebratory event, AMERICAN IDOL will feature host Ryan Seacrest and judges Jennifer Lopez, Keith Urban and Harry Connick, Jr., as they discover an IDOL one last time, and pay tribute to the past 14 seasons of amazingly talented contestants and the millions of fans who phoned, tweeted, texted and championed their favorites.
A couple of interesting notes:
Sleepy Hollow moves to Fridays in the spring, which is surely the death knell of that once promising show.
The X Files reboot premieres January 24!!! Part one will air at the same time across all time zones after the NFC Championship game.
Grease Live airs Sunday January 17 7-10 pm ET/PT
Sunday, Jan. 3:
8:00-8:30 PM THE SIMPSONS (Winter Return)
8:30-9:00 PM COOPER BARRETT'S GUIDE TO SURVIVING LIFE (Series Premiere)
9:00-9:30 PM FAMILY GUY (Winter Return)
9:30-10:00 PM BORDERTOWN (Series Premiere)
Monday, Jan. 4
8:00-10:00 PM SUPERHUMAN (Two-Hour Special)
Tuesdays, beginning Jan. 5:
8:00-8:30 PM NEW GIRL (Season Premiere)
8:30-9:00 PM GRANDFATHERED (Time Period Premiere)
9:00-9:30 PM BROOKLYN NINE-NINE (Time Period Premiere)
9:30-10:00 PM THE GRINDER (Time Period Premiere)
Wednesday, Jan. 6:
8:00-10:00 PM AMERICAN IDOL (Season Premiere, Part One)
Thursdays, beginning Jan. 7:
8:00-10:00 PM AMERICAN IDOL (Season Premiere, Part Two)
Friday, Jan. 8:
8:00-10:00 PM MASTERCHEF JUNIOR (Winter Return/Special Two-Hour Episode)
Sundays, beginning Jan. 10:
7:30-8:00 PM BOB'S BURGERS (Winter Return)
8:00-8:30 PM THE SIMPSONS
8:30-9:00 PM COOPER BARRETT'S GUIDE TO SURVIVING LIFE
9:00-9:30 PM FAMILY GUY
9:30-10:00 PM BORDERTOWN
Wednesdays, beginning Jan. 13:
8:00-9:00 PM AMERICAN IDOL (Time Period Premiere)
9:00-10:00 PM SECOND CHANCE (Series Premiere)
Fridays, beginning Jan. 15:
8:00-9:00 PM MASTERCHEF JUNIOR
9:00-10:00 PM HELL'S KITCHEN (Season Premiere)
Sunday, Jan. 24
10:00-11:00 PM ET/ THE X-FILES (Season Premiere, Part One)
7:00-8:00 PM PT
Mondays, beginning Jan. 25
8:00-9:00 PM THE X-FILES (Season Premiere, Part Two)
9:00-10:00 PM LUCIFER (Series Premiere)
Sunday, Jan. 31
7:00-10:00 ET Live/ GREASE: LIVE
PT tape-delayed
Fridays, beginning Feb. 5
8:00-9:00 PM SLEEPY HOLLOW (Time Period / Spring Premiere)
9:00-10:00 PM HELL'S KITCHEN
Mondays, beginning Feb. 29
8:00-9:00 PM GOTHAM: RISE OF THE VILLAINS (Spring Premiere)
9:00-10:00 PM LUCIFER
Wednesdays, beginning March 2
8:00-9:00 PM ROSEWOOD (Spring Premiere)
9:00-10:00 PM SECOND CHANCE
Wednesdays, beginning March 30
8:00-9:00 PM ROSEWOOD
9:00-10:00 PM EMPIRE (Spring Premiere)