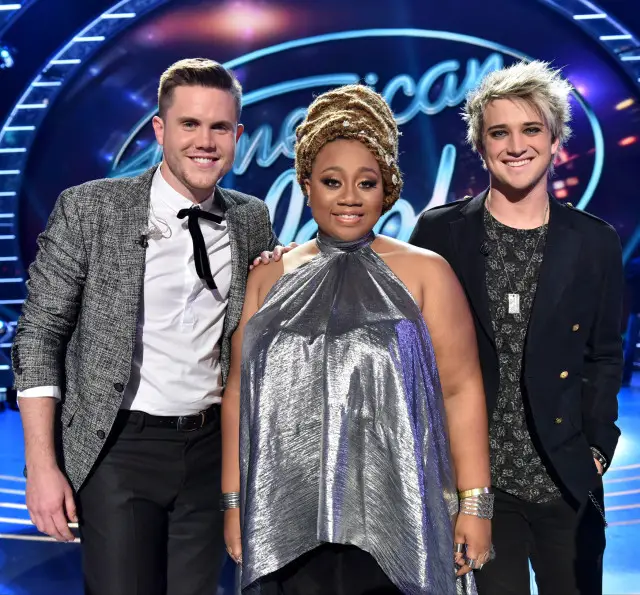 MJ: For the first time ever the top three contestants are judges wildcard picks. The only other time a judges wildcard made the Top 3 was Jena Irene in season 14. Season 11 runner-up Jessica Sanchez was a judges save, if you want to count that. More typical: The Top 4 all hailed from Southern states.
While I am disappointed the judges controlled which contestants advanced up through to the Top 10, the four contestants they chose (including Olivia Rox) were contestants America would have likely voted through anyway. I think we have a solid Top 3.
So let's get to it. The last American Idol power list ever.
MJ: 1. Trent Harmon– Trent has got this. Like I said, he peaked at the right time, the culmination of a steady growth arc the singer has been on all season. He had another impressive night of performances last week, closing out his set with the tender Waiting Game. In-house mentor Scott Borchetta is on the Trent train too It can only help to be the label head's favorite. Just ask Nick Fradiani.
MAC: 1. Trent Harmon– I'm actually inclined to agree. I think Trent worked really hard late in the game, and slayed a bunch of recent performances. His arc is strong enough to win him a slot in the finale, but it might also be strong enough for him to edge out La'Porscha. Trent Harmon: The Final American Idol? Yeah. I think so.
MJ: 2. La'Porsha Renae – There could be an issue after La"Porsha bluntly rejected Scott Borchetta's song choice for her last week, the soul classic, Stay With Me Baby.  The judges also noted she was't  as connected to the song as she could have been. Idol voters hate attitude. But the singer  was so magnificent on her other two songs and her body of work all season so undeniable, I think she's good for a second place finish.
MAC: 2. La'Porsha Renae –– Hey, I spelled her name right this time. #fail. Sorry, La'Porsha. I think there was a bit of an odd decision last week to give La'Porscha three stand and sing ballads where she barely moved or emoted. I felt like all three songs were good, but they all felt like one big performance. Diversity is what is going to save La'Porsha, while Trent is running circles slaying everything from country to Justin Timberlake.
MJ: 3. Dalton Rapattoni – Dalton has tons of charisma and likability and is arguably the best stage performer of the remaining trio, but he can't compete with the other two vocally. Tonight is where Dalton's journey will end, with a run of performances he can be proud of.
MAC: 3. Dalton Rapattoni- Look, he made it this far. That's a huge thing. He's third place, and I think that's where he stops. Yes, he's cute, and the girls just love cute guys. But, he's by far the weakest vocalist on stage, and when he is constantly sandwiched between La'Porsha and Trent singing their faces off, its even more evident. I also think Everybody Wants To Rule The World kinda sucked, to be honest. Hopefully, they learned from their mistake with Jax, and they don't eliminate Dalton in the same way. That was just too brutal, and too cold to say goodbye to someone who almost made the finale, and has a lot of fans.
I just want to say, since this is my final powerlist for American Idol ever, how extraordinary of a journey it has been for me. I have to admit and say that I didn't start watching Idol until the Season 1 finale, where Kelly beat Justin, but I was a devoted fan ever since. I remember going into my bookstore and they were selling Ruben and Clay buttons, like it was a Presidential election. I remember the drama when Jennifer Hudson went home so early. Or, in the same season, when they invited wildcards back, and didn't let them sing a song. (Lisa Leuschner, we hardly knew ye). I remember my first audition for American Idol for Season 4, and sleeping overnight in the venue, making a ton of friends along the way. I've been a fan of the show forever, and it's crazy to think that after 15 seasons, this ride is finally ending. American Idol has brought us so much, from copycat TV shows (notably X-Factor and The Voice), to mainstay pop icons (Kelly Clarkson, Carrie Underwood, Daughtry, Adam Lambert, Jennifer Hudson, to name a few). It's odd to think that this journey is over, but I feel blessed to have even gotten to take the journey in the first place. A huge thank you to MJ for allowing me to take this ride with her, and give you power rankings for at least the past five seasons. I hope to continue to bring new content to the site, as we look to fill the hole left by American Idol. It's a tough cookie to swallow, but we are at the end of our Idol journey, and it's time for us to be played off. I'll pick Daughtry's Home, because I'm old school like that.
MJ:  Thank you Sir Mac for a great run!  It's been fun.