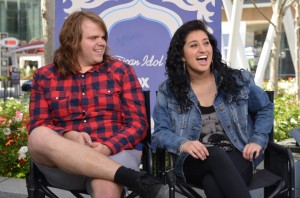 Click thumbs for larger images!
The American Idol 13 Top 2, Caleb Johnson and Jena Irene, sat for a press conference yesterday ahead on tonight's big final performance LIVE from the NOKIA Theater in LA!
Caleb and Jena discuss preparing for this week's shows.
Caleb and Jena insist that they don't care who wins
"We really don't care who wins," Caleb Johnson told a small cadre of press outside Los Angeles' Nokia Theatre in the Monday afternoon sunshine. " 'American Idol' is just a title. We want to give the best possible performances both nights and make it a memorable season. We've all won. Not just us, but everybody who's been on the show this season, with the experiences we've had and the knowledge we've gained about the industry and the friends that we've made."

Johnson's rival for the championship, 17-year-old Jena Irene, agreed. "No matter what place we get, whether it's first or second, I want to go out on a good note," she said. "I don't want to have a bad performance or have something I wish I would have done differently." That's why Tuesday's performance show is going to be more nerve-racking than appearing with major guest stars like Paramore on Wednesday night's season finale, the teenager explained.
About their winners singles. Also, Caleb says his vocal cord injury is healing:
"We were given songs by the label, which was good because during this whole process they have gotten to know what kind of artists we are and what kind of songs we would like to sing post-American Idol," says Irene. "They fit us pretty well, so I'm really happy, and it's really cool that they were released a week early so people could be familiar with the songs."

"We recorded the songs the previous week," Johnson revealed. "My voice went out, so I recorded that song with my voice blown out. So it was really a stressful week, but we got it done." Johnson was asked if his voice had healed for the final two nights. "It's not back 100 percent," he said. "It's slowly getting better. I think it will be there [tonight]. If not, the doctor has some great drugs."
It's going to take some re-arranging of schedules, but Caleb will likely be able to take Jena to her high school prom in Michigan!
"I think we're working on it," Irene tells Zap2it and a small group of reporters at a press conference with the Top 2 finalists. "Especially with me going to graduate — I think I do get to go walk with my class, which is really exciting for me, but then I think we also get to go to prom."
Via Zap2it
Pt. 1 Jena Irene and Caleb Johnson | Debut Single & Vocal Issues
Pt. 2 Caleb Johnson & Jena Irene | Wild Card Girl & 3-Time Auditioner
Jena on finding her confidence through the competition.
Pt. 3 Jena Irene & Caleb Johnson | Rock Prom & Badass Finale
They can't wait for Jena's prom. They expect it to be hilarious. Caleb claims the crew says they are the most down to earth and friendly cast. "At this point, everybody becomes arrogant…and really crazy."
Some Idol odds and ends:
Judges Jennifer Lopez, Keith Urban and Harry Connick Jr will be taping performances tonight to air during tomorrow's finale. It looks like they may be collaborating on a song! Keith says they've been "working on it."
MK Nobilette sends her regrets. She's sick and won't take part in the finale, but we will see her on tour. Get well soon, MK!
Hey everyone I won't be in the finale this year due to illness but don't worry! I will still be on tour!

— Mk nobilette (@Mknobilette) May 19, 2014
Lady Antebellum will perform their single, "Bartender" on the finale
Exciting things going on 2day, & SO pumped 2 perform Bartender on @AmericanIdol #Finale tomorrow! Get Bartender here: http://t.co/gwGPs2ECpn — Hillary Scott (@HillaryScottLA) May 20, 2014
Jennifer Nettles and Jessica Meuse rehearsing for their finale performance!
This girl can sang!! Rehearsing with sweet @jessmeuse for our #Idol surprise!! Watch tomorrow! pic.twitter.com/hzEASPFzbn

— Jennifer Nettles (@JenniferNettles) May 20, 2014
Alex Preston and Jason Mraz rehearsing for their Finale performance
.@RealAlexPreston and @jason_mraz are rehearsing for TOMORROW night's #IdolFinale! pic.twitter.com/5C4FEXVMvm — American Idol (@AmericanIdol) May 20, 2014