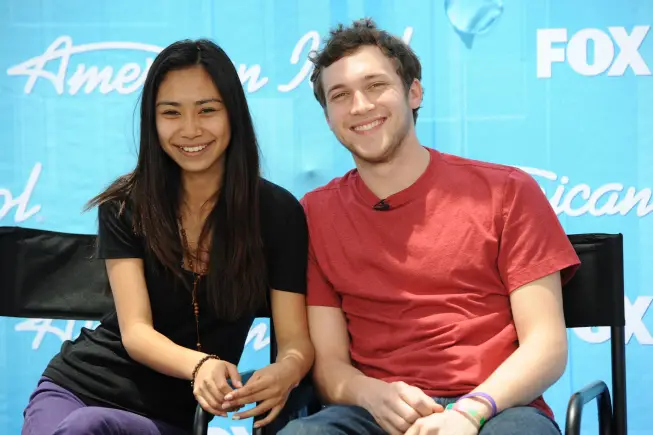 On tonight's BIG American Idol final performance show,  Jessica Sanchez and Phillip Phillips will be reprising a song.
I will speculate that Jessica will sing one of her huge show-stoppers–either "I Will Always Love You" or "And I Am Telling You". My personal favorites were "Sweet Dreams" by Beyonce and "Stuttering" by Jazmine Sullivan, but neither is BIG enough for the show that will decide who gets the crown. The latter got Jessica booted off the show. She'll probably never sing it for a live audience again.
Phillip will probably choose "Volcano" by Damien Rice. Or maybe "The Stone" by Dave Matthews. I hope he does the former.
Idol creator, Simon Fuller, will choose a song. Wouldn't it be cool if he could convince Mumford & Sons to clear a song for Phillip? A cover of the "The Cave" please. And I hope whatever Jessica sings, it's something contemporary. "Skyscraper" by Demi Lovato might provide a big moment for Jessica.
As far as the original singles the duo will debut tonight…my expectations are not very high, to be honest. But I hope to be pleasantly surprised.
What do you think? What would you like Phillip and Jessica to sing tonight?