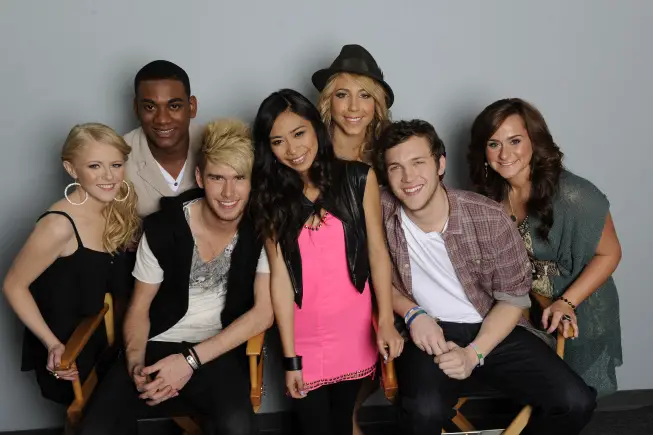 The American Idol 11 Top 7  redux sing 14 BIG SONGS TONIGHT.  Fourteen sets the record for the number of tunes sung in a single performance episode!
Each of the 7 will sing a current song from the Billboard charts, and a soul song from a previous decade.   Jimmy Iovine will be mentoring on his own toinght.  Check the song spoilers below.
At the end of the broadcast, download studio versions of the performances.
Download Studio Performances From Tonight's American Idol
I'll be live blogging all the action at Entertainment Weekly. Join me there, will you? After, I'll be back with a recap. Watch this space for photos and videos.
Entertainment Weekly Live Blog
Tonight was a decent night's entertainment. No trainwrecks, but nothing really buzzworthy either. Best of the night was Joshua, Jessica and Elise. Skylar and P2 get honorable mentions.
OMG. Are they seriously quoting TS Eliot in this week's Overly! Dramatic! Show opener?  Why Yes. Yes they are. Who comes up with this crap? Lulz to infinity.
We've got 14 big performances. Let's get right to it, shall we? But not before we mark the passing of television pioneer, Dick Clark, who died today at age 82.  Ryan says that without Dick, a show like American Idol would not exist. Damn straight. RIP Dick.
We move forward with the most music ever in an Idol show. It's going to be a bitch to recap. But you know what? I'm not going to complain. The more music, the happier I am. Tonight's themes are current Billboard hits and a tribute to Don Cornelius and Soul Train, which I did not know until Ryan announced it tonight. Cornelius, another famous dance host, recently died. Kind of eerie if you think about it.  Jimmy will be mentoring the finalists solo this week.
Hollie Cavanagh – "Rolling in the Deep" by Adele – Jimmy talks Hollie through some of her problems in order to get her to loosen up and lose the nerves. Oh noes, I thought, when I first heard Hollie would be performing Adele. But, flanked by two drummers, Hollie sings the snot out of the song, and finally brings some emotion to the table. The judges praise is effusive, but I suspect they would not have criticized her much in any case, due to last week's backlash and rush to pity vote. "You finally did what all America was waiting for you to do," says Steven.  – 1-866-436-5701
Colton Dixon – "Bad Romance" by Lady Gaga – Ryan brings Colton's sister Schyler on stage. Jimmy says Colton has to hit the high in the chorus for the song to succeed. In order to do that, Colton has to start way low in his register. But Jimmy isn't worried, "He'd got that female vote that backs him like a stone wall."  The all-female band is the coolest thing in this performance. Other than that, Colton comes off like a poser. I do not believe  "I want your ugly/I want your disease"  coming  from Mr. Tennessee choir boy. Sorry. The judges notice his shaky lower range in the chorus. "We were just at the Colton Dixon concert," says Randy. Steven offers this pearl, "If you want to get to the other shore, you've got to lose sight of this one." –  1-866-436-5702
Elise Testone – "No One" by Alicia Keys – "Elise has a vacation home in the bottom 3," says Jimmy. He notes that she survives week to week without a solid fan base to prop her up during the lean times. The wind machine starts up for Elise. Distracting!  Don't need no wind machine, because her performance is awesome. Her phrasing is exquisite—effortless.  And I'm saying that as someone who is not a big fan of the song. Jennifer got her first "goosies" of the night. Jlo wants her to smile more. Steven wanted a song with a better chorus, but loved her performance. Randy liked that she stuck with the melody. Elise gets a little teary talking about her sick dog who might not make it. Aw. 1-866-436-5703
Phil Phillips – "U Got it Bad by Usher – Jimmy wonders if Phil has a strategy, and the answer seems to be negatory. But he hasn't been in the B3 yet, might as well just keep doing what he's been doing!. Yep, Phil has been coasting along just fine doing his low key thing. Look—lady saxophone player is back. Tonight, he takes a song by Usher and retools it until it sounds like a slew of other songs he's performed on the Idol stage. This week, instead of calling him out on it, the judges are back to praising his individuality and "artistry." Feh. Why does P2 get to growl his way through a song without barely moving a muscle and not get criticized? In fact, he got a standing O for that. "You fool us all the way down the line," says Steven, "You got melody now, it's just beautiful." Jlo calls it sexy. "This year we have a true artist on the stage," says Randy –  1-866-436-5704
Jessica Sanchez – "Fallin' "by Alicia Keys – Jimmy tells Jessica she's got to figure out what went wrong last week. Ugh. Her performance was good. This is so ridiculous. He tells her to have fun with the song, spiritually.  I don't know. I liked last week's song choice better, but Jessica killed it again this week. I'm not getting Jessica as some sort of pageant bot, either. She's soulful and her interpretations of songs are colorful.  Her off-stage demeanor is shy, but once she opens her mouth, she's killer. The critiques must be frustrating for her.  "I hope America shows up and supports you this week," says Randy.  1-866-436-5705
Skylar Laine – "Born This Way" by Lady Gaga – Eh. Not really crazy about the country version of "Born This Way." But it's actually a smart move for Skylar to sing a countrified pop song. She's managed to put her own stamp on all of her performances, while showcasing her powerful vocals. Plus, she's got spunk and style. At this point, she's the only female with any chance at all to win this thing. Jlo has never heard that version. She thinks it's perfect for Skylar and calls her a fighter.- .  1-866-436-5706
Joshua Ledet – "I Believe" by Fantasia – Jimmy says Joshua's got a little bit of a "deer in the headlights" look right now. "He's got to sing his butt off," says Jimmy. Joshua takes on one of the Worst Coronation Songs Ever—Fantasia's "I Believe." I do not understand why ANYBODY would WILLINGLY sing lyrics like: . "Have you ever reached the rainbow's end/And did you find your pot of gold." Like Fantasia before him, Joshua takes the crowd to church and almost makes me forget what a piece of crap this song is. Joshua gets a standing 0 from the judges (AGAIN) "You are truly one of the most gifted singers we've ever met on this show," says Randy. HYPERBOLE ALERT!  1-866-436-5707
Hollie Cavanagh – "Son of a Preacher Man" by Dusty Springfield – Hollie is absolutely darling, wearing a little pink dress. A soccer (football) fan, she's thrilled when a good luck message from the Liverpool Football Club rolls on the screen. Hollie was back to being a little awkward here. At this point, she should not try to move and sing at the same time. It's too much for her to handle at once. The performance hit a stride by the end, and she hit a nice big note. "Dude you worked it out!" says Randy. "You're showing a new composure," says Jlo. Steven tells her to push it even more.
Colton Dixon – "September" by Earth Wind and Fire. –  Turning the joyful dance groove of "September" into an emo dirge? How about NO NO NO.  Not digging this reboot at all. Not the least little bit. Some songs should not be changed up so radically, especially if the change robs the song if its essence. I am not surprised that the judges didn't dig it, either. They all agree that it's not the right song. Randy thought he should have gone way out of his comfort zone to find a song to flip. Any song can be flipped if it's got good bones, and a smart arranger will keep that foundation intact.
Elise Testone – "Lets Get it On" by Marvin Gaye – Elise pushes the gowl a little hard in spots, but this performance is exquisitely phrased, as always. Elise really has command of her instrument. But the judges aren't bowled over. Jlo wants to see more emotion. America may not like Elise's off stage personality, but I do not see the problem with how she emotes in song It's like the girls in this competition are held to a higher standard than the boys. P2 pretty much just fricking stands there, and Jlo is drooling all over the place. Steven thinks she needs to take it up a notch. Randy thought she over sang it.  I worry that Elise doesn't have the fanbase to prop her up when the judges diss her like they're doing right now.
Phil Philips – "Midnight Hour" by Wilson Pickett – Maybe I'm weird, but I like Phil way more when he takes a song that's already in his wheelhouse and sings it straight. He took the stage without his guitar and seriously sang some straight up soul. I like it. He even hits a big gravelly glory note at the end. "Brilliantly awkward," says Steven, "I love your character."
KRIS ALLEN IN DA HOUSE. He'll be back tomorrow to sing his brand new single, "The Vision of Love"
Jessica Sanchez – "'Try a Little Tenderness" by Otis Redding – Whoa. That was kind of fierce! Maybe a tad too forced and growly in spots, but Jessica took that bitch to church. Holy hell.  I'm not sure how much more this girl is expected to do to earn her spot at the top of the heap. The judges liked this one better, but continue to harp on Jessica to connect to the "emotion."
Skylar Laine – "Heard it Through the Grapevine" by Marvin Gaye – Oh noes. Skyler is being stalked by a fiddle player. Ha ha. Now this song, I'm liking done country. Skylar pushes her vocals to perform a surprisingly soulful version of the song. I wish just once the judges would give Skyler props for her musicality, because she's got good instincts. Coupled with her charisma and performing ability, she's tough to beat. Randy says she and P2 have no trouble connecting to the audience. "You're like a wild horse that refuses to be tamed," says Steven.
Joshua Ledet – "A Change is Gonna Come" by Sam Cooke – This was a perfect song for Joshua, and a good candidate for the pimp spot. Joshua does his gospel thing here, and does not disappoint. Let's hope America isn't ready to send him home yet.  Oh look! Another standing ovation for Joshua. "Your voice just climbs inside of everybody and changes them inside for that moment," says Steven, "And that's what it's all about." Jlo begs, "Please America, don't send this boy home."  Joshua admits that the whole time he was singing, he was staring at Jlo's abs!
Randy reminds the audience that the talent on Idol is better than any show on TV. PREACH IT.