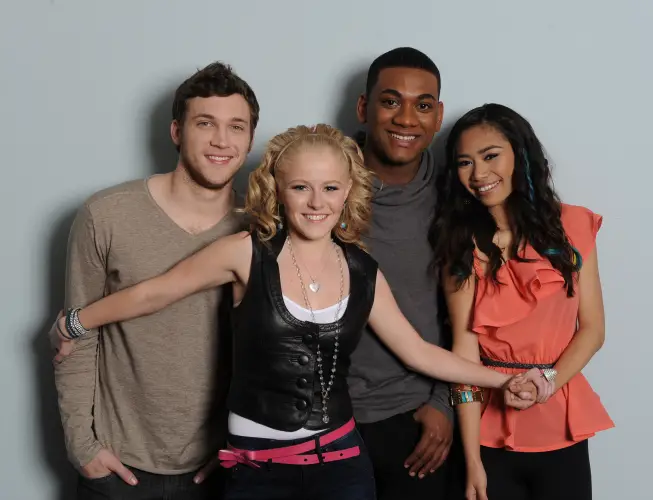 The American Idol 11 Top 4  sing songs by California artists and Songs I Wish I Wrote.
At the end of the broadcast, download studio versions of the performances.
Download Studio Performances From Tonight's American Idol
I'll be live blogging all the action at Entertainment Weekly. Join me   there, will you? After, I'll be back with a recap. Watch this space for photos and videos.
Entertainment Weekly Live Blog
The best of the night was, without a doubt, Joshua Ledet's transcendent performance of "It's a Man's Man's Man's World."  After he finished, Ryan asked Joshua where the transformation came from, and he said, "I don't know, man."  In his best performances, it's like something otherworldly takes over Joshua's body. Phil Phillips turned in a sturdy second performance with Damien Rice's "Volcano." If Phil can come up with some good songs, he's got a solid career ahead of him. It's just hard to imagine that happening within the Idol machine. Jessica gave her big ole vocals a workout. I preferred her Etta James number because the interpretation was the more original of the two. Hollie, unfortunately, fell short of the others tonight,
Jennifer glancing down at her monitor or her notes or whatever when she rattles off her critiques makes  her remakes seem scripted–which they probably are.  Randy Jackson looked comical in his big pink suit and his Yo pin tonight. The hyperbole runneth over this evening, with the judges, once again trying to outdo each other. They feel comfortable claiming that Phil, or Joshua or Jessica has outsung every contestant EVER on Idol, or even ANY SINGING COMPETITION EVER. As if they are students of television history. At this point, the compliments are meaningless, especially on a night when the panel didn't feel like handing out much criticism.  Except for poor Hollie, of course, but she deserved it, tonight.  But then, so did Phil and Josh for their sorry-not-so-perfect first songs—only they didn't get it.
I won't be surprised to see Hollie Cavanagh go home tomorrow. But at this point, as we've seen, things are unpredictable. Anything could happen. I won't declare anyone totally safe.
John Lennon's son, Julian Lennon is sitting in the audience. That's kind of odd, isn't it? Rock of Ages director and SYTYCD judge, Adam Shankman, sits in the audience next to Julianne Hough, who not only is Ryan's girlfriend, but is starring in the movie adaption of Rock of Ages.
There are two themes tonight. The first is California Dreaming–that means songs or artists from Cali or songs about the state.  The second is Songs the Finalists Wish they had Written. The video packages for the first set of songs, California Dreaming, will trace the journey each of the contestants had to make to get to this point. No Jimmy yet!
California Songs
Phil Phillips – "Have You Ever Seen the Rain" by Creedence Clearwater Revival – Ha. Phil's family is really honest with him. His brother-in-law told him that last week's "Time of the Season" was pretty rough.  My my, this arrangement is rather…jaunty! Phil turns it into a mid-tempo ditty that winds up not having much impact. The original version may seem pleasant on the surface, but John Fogerty's vocal lends it heft and pathos. Steven: You're living proof that the road to success is always under construction (WHAT?) Jlo: You had a Joe Cocker quality I've never heard before. The vocal quality you used was perfect for that song. Randy:  It started off a little rough. As soon as you started to smile…your whole vibe lightened up. You were sensational from there on out..  Phil had been nervous about remembering the lyrics.- 1-866-436-5701

Phillip Phillips, 1st song, Top 4 ~ American… by HumanSlinky
Hollie Cavanagh – Hollie Cavanagh – "Faithfully" by Journey – There were some nice moments in this song, but it ultimately didn't go anywhere. I kept waiting for Hollie kick it up a notch—vocally and emotionally—but she never did. I was surprised that the judges didn't ding her for lack of energy. Instead, all 3 liked it a lot.  I liked the beginning of the song a lot more than the end. She did manage to get in a few slightly shaky big notes at the finish. Randy: Wow. You're peaking at the right time in this competition. That song is near and dear to my heart. You did Steve Perry proud. You were right in the zone. Hollie wants to have the whole thing! Jlo: You were ready to share your gift with everybody. It was really very beautiful. Steven: I've watched you blossom. Your choice of song tonight was over the top.  Once she understood the song, with some help, she felt she could embody the character. I don't think she was completely successful in that regard. – 1-866-436-5702

Hollie Cavanagh, 1st song, Top 4 ~ American Idol… by HumanSlinky
Joshua Ledet – ""You Raise Me Up" by Josh Groban – Joshua dedicates the song to his father. Joshua's biggest drawback is his limited knowledge of pop music and his penchant for trite sentimentality. He picks bad songs because he just doesn't know any better. Last week it was the odious "I Believe" this week it's the Josh Groban snoozer, "You Raise Me Up". The performance is dull. When the obligatory gospel choir finds its way on stage, I just about roll my eyes to the back of my head. Plus, the melody and arrangement of this song aren't the best to highlight Josh's gifts.  Thank God the judges didn't stand up, or I would have started throwing stuff at my TV. Jlo: We do have such amazing singers.  It was another great performance for you. I loved the Draama.  Keep it consistent—you could end up right there. Steven: You sang your little tush off. Courage is fear that's said its prayers and the world is accepting you now like nobody's business. (WHAT?) Randy: You validate what we say. You are an amazing artist with a ginormous career ahead of you. – 1-866-436-5703

Joshua Ledet, 1st song, Top 4 ~ American Idol 2012 by HumanSlinky
Jessica Sanchez – "Steal Away" by Etta James – So what happened to Jimmy's edict to have Jessica sing age appropriate material? This song is essentially about having an affair with a married man. Having said that, Jessica growls her way through the performance convincingly. Jlo: Jennifer is fascinated by her growl. When I think about all the female singers out there who are your contemporaries, you are one of the best. Steven: You just nailed that. Randy: For you to be able to tap that…your vocals are ridiculous. That girl could sing the phone book.
– 1-866-436-5704

Jessica Sanchez, 1st song, Top 4 ~ American Idol… by HumanSlinky
Phil Phillips and Joshua Ledet – "This Love" by Maroon 5 – Oh noes. Phil and Joshua team up for another duet. Oh damn. This isn't a trainwreck like last week. I'm a little disappointed. Their voices don't blend together very well.  This song is much sexier than last week's duet. But I guess they can imagine singing the tune to someone else rather than each other, so no embarrassment. They manage to catch a groove by the end of the song. Steven: Best song, best vocal, best duet. Perfect. Jlo: That was perfect. It was like Adam Levine and Usher coming together. (Phil insists that he's Usher. Heh.) Randy: You guys brought a little something else to it. I thought it sounded amazing (Randy's weird impression of Phil's singing is not really illustrating his point) Ryan mocks Randy's pink and brown plaid suit jacket. He looks like a carnival barker.

Joshua & Phillip, Top 4 Compete ~ American Idol… by HumanSlinky
After the break, there's a video segment featuring Adam Shankman, who visits the kids at the mansion to show them an extended trailer for his movie, Rock of Ages. We get to see it too. It looks like fun. Ryan asks Adam and Julianne to stand up. He wants to ask Julianne something as he makes a move inside his jacket pocket…will you…give this note to Tom Curise?  Hardee har har. Nigel is really stretching for time here. This bit is totally the kind of thing that belongs on the results show.
And to make the pimping of Rock of Ages complete, the Top 4 sings a classic rock power ballad!
Hollie Cavanagh and Jessica Sanchez– "Eternal Flame" by The Bangles – What the hell? Hollie and Jessica are singing while swinging in giant swings. This is the kind of dopey staging they do on The Voice. It's distracting and adds nothing to the song. It falls apart at the end, with Jessica either missing the melody or singing some weird ass harmony. The harmonies were off pitch in spots. Very odd. Randy: That was a little strange for me. You guys are both power singers. (While Randy is speaking, Phil and Josh jump onto the swings, It's pretty funny.) I just didn't like that. I thought that was weird. I didn't get the best from either of you (I agree with Randy!) Jlo: It wasn't as bad as all that. You both have sweetness and power. It showed off both things in that song. Steven: Four months in LA and you've turned into our favorite swingers. What's with you people?  Randy dubs Josh and Phil "Jillup". NO.

Hollie & Jessica, Top 4 Compete ~ American Idol… by HumanSlinky
Hollie, Jessica, Phil and Joshua – "I've Been Waiting For a Girl Like You" by Foreigner – The four sing together. One of these things is not like the other. La la la. Actually, none of the voices blend together all that well, with the performance turning into a bit of a mess by the end.

Top 4 ~ American Idol 2012 by HumanSlinky
Songs I Wish I Wrote
Jimmy Iovine mentors the second set of songs.
Phil Phillips  -"Volcano" by Damien Rice – Phil addresses his health issues with Ryan. He's having fun and feeling pretty good tonight. Jimmy says Phil came in this week with his voice in a different place and that he sees artists Phil's age influenced by other artists, but then at some point, a butterfly comes out. "Jimmy compared me to a butterfly," says Phil, "I guess he thinks I'm beautiful!" Jimmy says Phil was sounding like another artist, until today. I don't know, he sounds exactly the same to me.  Although, this choice of song is right in Phil's wheelhouse and he sounds very good singing it. A background singer sings harmony with him, which enhances his vocal. Nobody seems to mind that he's picked a song most of the Idol audience has probably never heard. Steven: I heard the musician that time. I never heard you sing like that before. Beautiful. Jlo: Very few people could have pulled that off on a contestant show. It's a real testament to who you are and who you want to be. It was one of the most beautiful poignant moments a contestant has ever had (NO. I can point out many others that were deeper, bigger moments. Stop with the hyperbole). Randy: This is what it's all about. That right there, that's one of your best performances in the whole season.

Phillip Phillips 2nd song, Top 4 ~ American Idol… by HumanSlinky
Hollie Cavanagh – "I Can't Make You Love Me" by Bonnie Raitt – Jimmy warns Hollie that she has to really get into the words. Don't over sing, he tells her. Unfortunately this song goes nowhere for Hollie, s missing the ache that makes it so poignant when Bonnie sings it. Not a good song pick for Hollie. Her approach is tentative and she's unable to bring the soulfulness that the song requires. Steven: You have to go through a bunch of things to feel that. It fell a little short. Jlo: It felt that you knew that it had to be emotional and there was a little too much vibrato. Randy: You're a different kind of singer than Bonnie Raitt. You need things that are going to give you a moment (Randy basically contradicts Jimmy, who instructed Hollie to hold back).

Hollie Cavanagh 2nd song, Top 4 ~ American Idol… by HumanSlinky
Joshua Ledet – "It's a Man's Man's Man's World" by James Brown – Joshua Ledet – "It's a Man's Man's Man's World" by James Brown – Jimmy did a recording session with James Brown when he was 19.  Jimmy says he kills the James Brown song, and indeed he does. Now, instead of the inspirational gloop he sang at the top of the show, this is where Joshua needs to be.  He is totally fierce and does some amazing things with his voice here. When he hit that one big note I was like WHAAAA? Amazing. Yes he gets a standing ovation, and it's deserved. But, oh brother, here comes the hyperbole. Steven: Neither man nor woman has ever sang that good with that much compassion on this show EVER.  I never heard anything before like that in my life.  Jlo: She begins babbling in Spanish That was sickening! Randy: I think it's the greatest song for you. I think it's one of the best performances in the history of ANY singing show. ANY SHOW ANY SHOW. He's sending everyone to school.

Joshua Ledet 2nd song, Top 4 ~ American Idol 2012 by HumanSlinky
Jessica Sanchez – "And I Am Telling You I'm Not Going" by Jennifer Holiday – "I've been through so many great things in my life, I'll remember this one," says Jimmy. This is a song Jessica has been singing since she was 7. I have a feeling she had one in her back pocket, to pull out at the right time. My favorite version of this song is the Jhud version, but Jessica has found a perfect vehicle for her big voice, even if her interpretation isn't particularly original. The judges stand up for her. It's nice to see someone else get a standing ovation. Steven: Just over the top. Tell me how you really feel. Jessica says she felt amazing singing the song. Jlo: It's going to be a real race to the finish. You just let out so much. (Jessica begins to tear up) It was a real moment. Randy: You guys are really now in it to really win it. You got up there and slayed it. Randy points out Julian Lennon to ask him what he thinks. Thumbs up from Julian.

Jessica Sanchez 2nd song, Top 4 ~ American Idol… by HumanSlinky