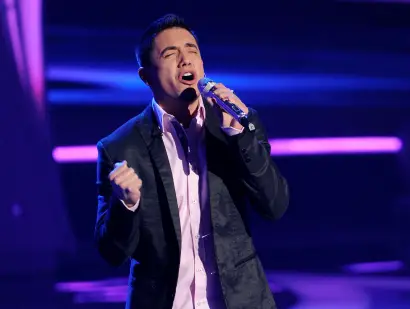 Tonight was…weird. The best performance tonight was Stefano Langone's soulful "If You Don't Know Me By Now". And while I agree with Jennifer Lopez that Stefano could sneak up and win the whole thing, SHE REALLY NEEDS TO STFU. Because, once the judges start with that, the backlash begins.
Disappointing tonight: Paul McDonald. Have no idea what the hell is going on with him. He seems to be deteriorating. Before he officially made the Top 24 he tweeted that he had nodes on his vocal cords that would need to be operated on. I think he's having some vocal issues. I still really like his recordings and the whole alt-country thing he's got going on, but his performances on Idol haven't been good in a while.
Casey Abrams gave "Smells Like Teen Spirit" the old college try. He gets points for going for the risk. But covering the song in a rock style was a mistake. The tune is just so iconic, comparisons to the original are inevitable, and of course Casey did not measure up. It would have been better if he'd re-imagined it in some way. It was nice to see an Idol bust out an instrument on the big stage finally. I wonder how that came about? I mean what are the rules about who can use instruments and when?
But for the most part, the song choices were ridiculous. TWO Whitney Houston songs? Really? and Taylor Freaking Dane? That POCAHONTAS crap? And, oh, Namai…trotting out that tired Tina Turner tune. Shame. You're supposed to be our quirky girl. I'm wondering if the pickings were slim on that Birth Year "song list."
And holy hell–the judges NOT calling out Jacob Lusk on that outta control trainwreck otherwise known as "Alone".  The panel was calling out people left and right for being sharp and flat, but Jacob was off pitch from start to finish, and they loved it. Ugh.
Having said that–Jennifer Lopez was doling out some great critiques tonight. Smart and constructive.  Steven is hilarious, but he's beyond useless. Randy is just…the dawg, Yo.
Live blog, Videos and Photos after the JUMP…
It smells like…American Idol 10 Top 12 performance show! Ha ha…I COULD NOT RESIST.
The kids will be singing songs from their birth year. Watch out for 1991 baby, Casey Abrams–feeling better after a stint in the hospital–performing Nivana's classic "Smells Like Teen Spirit" from the legendary band, Nirvana. Melissa Etheridge will be represented tonight. And, oh…Thia Megia sings some Pocohantas sh*t from 1995. Zz.
Also…Nigel hints on twitter that there will be an announcement tonight regarding Japan earthquake/tsunami relief. According to @americanidol, Season 7's Carly Smithson will be in the audience. Stay tuned!
The live blog begins after the jump. Live feed for non-eastcoasters and internationals HERE.
The judges & Ryan take the stage to explain that tonight, if you purchase downloads, part of the proceeds will go to the Red Cross for Japan relief. Tomorrow there will be instructions on how to donate.
Kate Hudson and baby daddy Matt Bellamy from Muse in the house!
Interviews with family members and kiddie photos make up the contestant's video packages.
Naima Adedapo – 1984 – "What's Love Got to Do With It" by Tina Turner – Producer: Rodney Jerkins. Really Naima? Seriously? Ugh. Naima is wearing one of her crazy outfits. She descends the stairs. I like that the vocals are mixed way up. Goodbye bandzilla. She's ok. But off-pitch and dull as dirt. Kids kids. SONG CHOICE SONG CHOICE SONG CHOICE. Steven "You got a sorcerers grasp of melody girl. I just loved it." Oh geez Steven. Jennifer: "You bring your specific flavor to everything I love that. I gave you a pass on your pitchiness last week. Now I'm seeing that you are consistently pitchy. You need to work on that." Randy "You're still always under the pitch. I rewatched last week, it wasn't good. [tonight] the vocals were all over the place." Naima says it felt good. "It's all about the feeling to me, but I understand." – 1-866-436-5701 – Video – Performance
Paul McDonald – 1984 – "I Guess That's Why They Call It The Blues" by Elton John – Jimmy Iovine told Paul to come with his full voice tonight, but he sounds hoarse. He's literally squeaking in parts. I like this song a lot, but he's breezing through it like it's boring him. Maybe if the tempo was slowed down? Yeah, I think this is way too fast. That was a hot mess. Jennifer: "I feel you. You were struggling up there. You have so much soul and star quality you overcame that." Randy: "I differ…some of the notes were very pitchy. The thing about you I really like…you're like Ray Montagne, you make the song your own. Get the notes right." Steven: "You define a cool dude in a loose mood. Your swagger is way cool. You're….very distinctive." – 1-866-436-5702 – VIDEO – PERFORMANCE
Thia Megia – 1995 – "Colors of the Wind" by Vanessa Williams – She named her first song, written at age 6, "I Will Always Love You". She didn't know "about the Whitney Houston song." Sigh. Smiling smiling Disney princess pageant bot! She's singing on key at least. But…ZZZZZZZ. Wake me up when it's over. "You can paint with all the colors of the wind…" GAG. Uh Thia. I can't take it. Randy: "I think the vocals were OK. this was very boring, I thought I was at some pageant somewhere. Dig a little deeper. Take some chances." Steven: "Is that song who you think you are?" She thought it was the best song out of all the choices she had. Jennifer: "When we first saw you, we loved the quality and tone of your voice. It's a little safe. I hear nervousness in your vibrato. Push out of the box." – 1-866-436-5703 – VIDEO – PERFORMANCE
James Durbin – "I'll Be There for You" by Bon Jovi – Producer: Tricky – He gets the stools of pimpage with Ryan. Kate Hudson in the house! James, Stefano Casey and Paul have formed a band. (coughing and blinking must be Tourettes symptoms) The tail is back. He's got a guitarist on stage with him. He's working the audience, waking them up. Again, he's not over singing. Lots of reverence for the song, without sounding karaoke. This is pretty rad. PYRO!!!! Steven: "What was up with the dolls? I got left over sandwiches older than that. Don't get too poppy than me." James kissing up to Steven-He doesn't want to sing Aerosmith until the finale. Oops Bleep. Jennifer: "Every time you get up there I love it." Randy: "Listen man, there were a couple of pitch spots, but what you do always, is find a way to make it your own. Very tastefully done." James shows off his custom made boots. – 1-866-436-5704 – VIDEO – PERFORMANCE
Haley Reinhart – 1990 – "I'm Your Baby Tonight" by Whitney Houston – Producer: Jimmy Iovine – Her parents are also performers. she's ramping up that sexy thing she does. It's distracting. Putting aside the fact that this song sucks–she's doing a solid job. The lyrics are fast and crazy and she's keeping up. She's got a nice growl in her voice. I'd love to hear her do some rock. She's got lipstick everywhere. lol. Jennifer: "When I see you performing up there, I see this amazing voice. I see that you're still tense in your body. Don't force anything. That's going to look better than trying to perform." Good advice! Ryan wipes off the lipstick. Randy: "I'm a little confused here. I'm not sure you're sure who you are. You've got to find that out. It wasn't a great performance." Steven: "That was sweet and tough. The first time I heard you I heard your Janis Joplin voice and I've been waiting for that. Dig into the blues a little more." – 1-866-436-5705 – VIDEO – PERFORMANCE
Stefano Langone – 1989 – If You Don't Know Me By Now" by Simply Red – I suggested this pick! Good song choice Stefano. You sound great. Soulful, passionate…am I smelling dark horse? I think I am. Best performance so far. Jennifer is really into it. Big glory note! That was so unnecessary.Not as good as the rest of the song. Randy: "The best performance of the night so far. He took a song with the highest degree of difficulty and slayed it." Steven: "great phrasing…over the top…Beautiful." Jennifer: "You could take this thing." Don't jinx him, Jennifer! – 1-866-436-5706 – VIDEO – PERFORMANCE
Pia Toscano – 1988 – "Where do Broken Hearts Go" by Whitney Houston – Oh..it's the dance remix version! At least it's not another ballad.  Well, actually it is, set to a disco beat. Bleah.  Pia, Pia, you've got a great voice, but YOU ARE BORING ME TO FREAKING DEATH WITH THESE PREDICTABLE SONG CHOICES. Seriously. Steven "You are why this show is called American Idol. You nailed it." Jennifer: "I was so glad to hear you go up-tempo. It was perfect for you." Randy: "Every week you bring amazing vocals. Pia is in it to win this competition." – 1-866-436-5707 – VIDEO – PERFORMANCE
Scotty McCreery – 1995 – "Can I Trust You With My Heart" by Travis Tritt – Elvis impersonator! Scotty gets the job done, but it's starting to sound to me like he's singing the same song every week. Another nice, solid performance from Scotty. He's gonna get signed when this is all over no matter what. Jennifer "You pushed it out a little more there at the end." Jennifer thinks he was better in dress, but still good. "Keep growing keep learning." Randy…name dropping: "I'm so glad you sang a song by one of my friends. You know who you are. Sing bigger, longer, higher notes." Steven: "Just keep doing what you're doing and you're going to go places." – 1-866-436-5708 – VIDEO – PERFORMANCE
Karen Rodriguez – 1989 – "Love Will Lead You Back" by Taylor Dayne – What's up with that outfit? And the hair? She looks like one of the B-52s. Oh, how I wish she was rockin a tune from the album they released that year. BECAUSE ONCE AGAIN I AM ABOUT TO NOD OFF. Oh dear God SPARE ME PLEEEAAASE. Karen can sing, but she's so karaoke…so dull. Here comes the Spanish. I wasn't expecting that. *cough*. If she doesn't go bye bye this week. I'll be shocked. Randy: Definitely better than last week. I'm not jumping up and down, but welcome back." Steven: "I like your ethnic…" Jennifer: "I could tell you were a little scared, but you attacked it. That's what you have to do. If you are nervous about certain notes, don't go there. Perform that song from your heart." – 1-866-436-5709 – VIDEO – PERFORMANCE
Tamyra and Mary Murphy in the audience!
Casey Abrams – 1991 – "Smells Like Teen Spirit" by Nirvana – Casey's parents are a hoot. Casey likes taking risks. He realizes he's taking on a big song. He's playing bass. This song is NOT about good vocals, so it's a tough one. Also don't like it edited down. He's a little screamy on the chorus, but he's got the vibe down. At least I'm not bored to death. Thank God for Casey Abrams. It was a little uneven, but I appreciate the effort. He's a keeper. Steven: "You're so crazy and you're so talented. That's the goop great stuff is made of." Jennifer: "That's some big shoes to fill with that song. There were parts that got a little screechy screamy. I wish it would have been more pleasant." Randy: "What I love about you…you love taking risks. You put art first ahead of commerce. Not your best performance, but I like that you're fearless." – 1-866-436-5710 – VIDEO – PERFORMANCE
Lauren Alaina – 1994 – "I'm the Only One" by Melissa Etheridge – Producer: Jim Jonsin – They want to keep her around. She gets a sit down with Ryan where he makes sure everyone knows she's sick. Lauren and Ryan are both wearing face masks. They're trying so hard to make us like her. Much better than last week, but you can tell she's lost a bit of her mojo. She's nervous. Some off-key parts, but a solid vocal. Jennifer: "Very nice. That's staying true to the framework of the song, but making it your own." Randy "That was very nice. Have a cold every week. I liked it." Steven: "You did it again. You're a shining star." – 1-866-436-5711 – VIDEO – PERFORMANCE
Jacob Lusk – 1987 – "Alone" by Heart – Lusky stank? Alrighty. This song has been done really really well already on Idol. I dunno. This is kind of all over the place. HOT MESS AHEAD. The key change was earsplitting. OMG the over singing. How the f*ck did he get the pimp spot? Stank is right. Randy: "Very very nice performance. Jacob is in it to win it." Randy says he lost his way at the modulation, but found his way back. I'm calling bullshit. He completely lost it and never came back. Steven: "Your momma gave you the moxie to be who your are." Jennifer: "You give yourself completely to every performance. It's so amazing." – 1-866-436-5712 – VIDEO – PERFORMANCE
TPBT Really really really want Jacob on tour. "Best show since the Beatles' show, " says Steven.