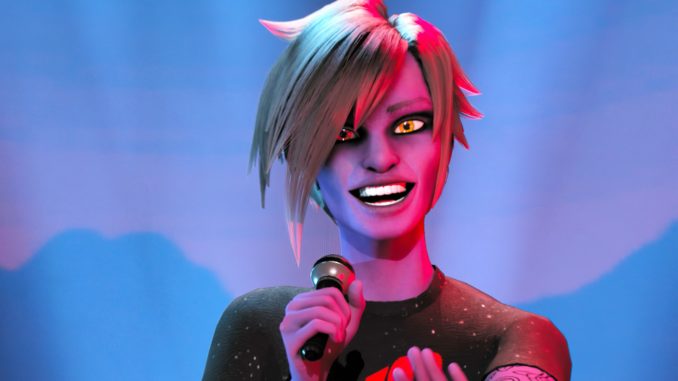 A new competitive singing show premiered on FOX Wednesday night. Alter Ego aired right after The Masked Singer (Read our Recap). First of all, I am somebody who is completely creeped out by snapchat/Instagram filters. Those big grinning lips folks think are HILARIOUS. Just no.
So I approached Alter Ego with doubts. The show features singers who create their own "avatars." The tech behind it seems pretty cool. Basically, they work with a tech designer to create a digital persona. They choose the hairstyle, costumes, gender, body type etc.
Ahead of their performance, technicians wire them up from head to toe. Their movements, vocalizations, facial expressions etc are filtered through a computer program. The singers perform backstage while their avatar represents them in front of the judges. 
Singer-songwriter Alanis Morrissette, producer and Black Eyed Pea will.i.am, host, The Masked Singer winner,  and former 98 degree singer Nick Lachey, and Canadian indie artist Grimes sit on the panel. Rosci Diaz serves as host. 
Twenty contestents will perform five at a time. For most of them, insecurity, shyness, not feeling comfortable in their own skin keeps them from being all they could be. Performing as an avatar helps them be their best selves. In the long run, they'd be better off in therapy than hiding behind a mask. The reasoning seems illogical. 
Indeed, I found myself having a hard time connecting. When a voice in my head is screaming "UNCANNY VALLEY! UNCANNY VALLEY! UNCANNY VALLEY!" It's hard to concentrate on the performances. The avatars are weird. 
The format goes like this: The judges don't know who the singers are until they leave the show. But viewers ARE introduced to the artists behind the avatars by way of backstage interviews.
After the "avatar" performs, the judges decide whether to send them to the "diamond" or not. The format is a little like The Four, the singing competition  which ran for two season on FOX. Each subsequent performer can unseat a previous performer. At the end of the show, the artist left standing on the diamond goes through to the next round automatically. The four remaining singers are subject to a studio audience vote. The two highest vote getters are also sent to the next round. The judges choose a singer from the bottom two to advance. The remaining singer leaves the competition.
The next round is "head to head" competition, which will whittle the contestants down further. The last avatar standing wins $100,000 and the opportunity to be mentored by the judges panel. 
Check out a recap of all five performances, and find out who left the competition. 
Queen Dynamite – Dasharra  Bridges – 31 – Rochester NY
Ain't Nobody by Chaka Khan – Queen is a mom of two who stopped persuing music after a teen pregnancy. The father of children was incarcerated. She had to raise them on her own. She's the first contestant of the series, so the judges use her to demonstrate what the avatars can do. When Dasharra moves her arm up, so does Queen, etc.
The avatar she creates has bright orange hair. She's a competent singer, but kind of generic. Will can't stop gushing about the tech. Alanis loves her "massive register," adding "You were born to be here." Queen says her alter ego gives her confidence. Grimes was enthralled by her performance. Nick thinks she looks like a "rock star." Typical judges comments are unfortunately typical.
The judges deem Queen worthy to step on the diamond. 
Dipper Scott – Jake Thomsen – 28 – Charlotte NC
Unsteady by X Ambassadors – He suffers from Crohn's disease, which is a very painful intestinal disease. An alter ego helps him in life. It can do things that he can't. His claim that his fantasy Avatar is free of Crohn's is dubious. If the singer, performing on stage as his avatar, has an attack on stage, guess what, Dipper is doubling over. Dipper has a solid pop voice. He's got a big voice. The arrangement is a little too ballady for me, however. Dipper's tattoos move  around. It's sort of creepy. Nick calls it "effortless." Alanis could listen to his voice all day long. Will Dipper kick Queen off the diamond?
Alanis, Nick, Grimes put Dipper on the diamond, placing Queen in danger.
Bernie Burns – Erny Nunez – 17 – New York City NY
Haven't Met You Yet by Michael Buble – Bernie's orange face and crazy pompadour are crazy to behold. He says that in real life he's a shy person. He's young with a baby face. He thinks his avatar will help him be taken more seriously. His dad played Frank Sinatra and Dean Martin records around the house. Bernie has a smooth voice and sings with some swing. Most young singers haven't mastered the form yet. He needs some work, but has potential. Nick calls the performance "inflago." Is it diamond worthy?
Will, Nick, and Alanis keep Dipper on the diamond Bernie is in danger
Misty Rose – Samaera Hirsch – 21 – Holbrook NY
Levitating by Dua Lipa – She loves singing AND technology. She wants to be the next generation digital star. This is the future! She says. Samaera insists that she came out of the womb singing. On stage, Misty tells the judges she's not ready to be a human pop star. It turns out that Misty is her cat's name. OK then. Sparks fly out of her shoes. Alanis asks her to sing acappela. When she does, Misty's soulfulness comes out. Grimes called the performance "modern." Will she knock Dipper Scott off the diamond?
Nick, Grimes stick with Dipper. Will is torn and picks Misty. Alanis breaks the tie. She sticks with dipper, putting Misty in danger. Alanis wanted her to own the stage more. She didn't feel an emotional connection.
Seven – Kyara Tetreault – 28 – Toronto CANADA
Take Me to Church by Hozier – Seven wants to show people that they can be who they are. Growing up, she didn't have confidence because of her deep, masculine sounding  voice. She was misgendered a lot. She was bullied a lot in school. "It really stung," she says. Her alter ego is confident, and not afraid to take chances. Interesting voice. Her tone is arresting. I like her. Grimes calls her voice "super original." Will asks if she's nervous. She begins to cry and even the avatar sheds tears. 'I am who I think I am and I don't have to be afraid." Rosci and Alanis are also crying. "We all deserve to be who we are," says Nick.
Grimes felt that Dipper's performance was stronger, but will replace him with Seven on the diamond. But Alanis, Will and Nick keep Dipper.
Results
Dipper automatically moves on to the head to head round. The studio audience votes Queen Dynamite and Seven into the next round
Bernie Berns and Misty Rose are in the bottom two. The judges will choose who goes home They eliminate Bernie Burns. Erny comes out on stage in a white tuxedo jacket to sing alongside his Avatar. He performs Frank Sinatra's "The Best is Yet to Come" as an exit song. Erny explains that his avatar was cool and handsome. The judges assure him that he is too. 
Alter Ego returns for the second night of his two night premiere on Thursday (Sept 23) on FOX at 9 pm ET/PT