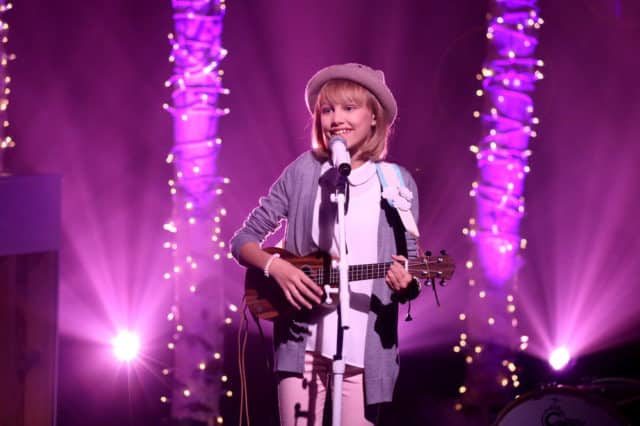 Remember sweet little Grace Vanderwaal, the winner of America's Got Talent 2016? She was only 12 years old, but already writing songs, which she performed for Simon Cowell and the judges while accompanying herself on a ukulele. The singer was considered wise beyond her years by Simon and the judges, and quickly amassed a fanbase. After winning the show, Grace signed a record contract and released a series of albums and EPs. Most recently, at 14, Grace starred in the Disney+ film Stargirl.
AGT 15th Anniversary: Grace Vanderwaal Charms, Plus 14 More Acts
However, at 16 years of age the time has come, as it did for former child stars like Miley Cyrus to REBEL against their heretofore innocent image. On her Instagram account, Grace posted videos of herself getting a buzz haircut. Yep. She's practically bald now. Take that people who might dare to put Grace in a box! Hmmmpfh.
Click to the third video. Pop punk plays as big sis Olivia takes to Grace's head with dog clippers. That's right…DOG CLIPPERS!
*
 

 

 

View this post on Instagram

 

 

*
And here's the complete look, including eyebrow piercing? And whatever that is on the bridge of her nose.
*
 

 

 

View this post on Instagram

 

 

*
Watch Grace Vanderwaal's Golden Buzzer performance from the summer of 2016