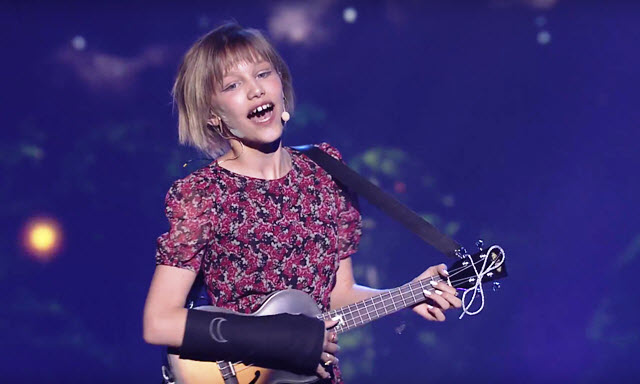 Thirteen year old singer/songwriter Grace Vanderwaal has released a new single, "Moonlight" and she debuted the tune live at Vidcon Wednesday night (June 21).
Watch the America's Got Talent winner's ebullient performance of the summery new song right here.
"'Moonlight' is about somebody you know very well changing unnaturally over time right in front of you and pushing you away, so you want to help bring them back to their original self," said the singer in a statement announcing the song.
Earlier this year, VanderWaal signed with Los Angeles management firm TH3RD BRAIN, whose artist roster includes Gallant, Krewella and ZHU. During her run on AGT, Simon Cowell dubbed the young artist the "next Taylor Swift."
"To be writing and performing music of this caliber at any age is remarkable," says TH3RD BRAIN founder Jake Udell. "Grace is a transcendent talent, and we are honored to have this opportunity at TH3RD BRAIN to share her powerful voice and vision with the world."
Download Moonlight at iTunes Download Moonlight at iTunes
Watch Grace Vanderwaal perform "Moonlight" at Vidcon
Listen at Spotify
Via Billboard.com