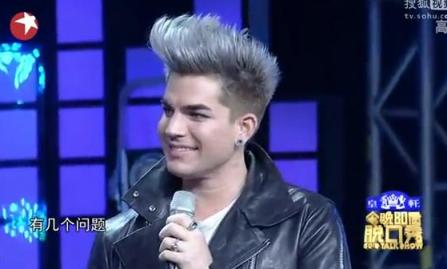 Adam Lambert's guest spot on the Chinese talk show 80's Show aired today in Asia. The episode was shot when Adam was in China last month to perform in a music festival.
Adam is introducef at around the 6:40 mark (unless you understand the language, you will want to skip ahead!) There's some banter, before the hosts present the singer with a Chinese-inspired leather jacket. Also, the audience sings the 2012 theme song "Iime For Miracles" back at him. Reportedly, the song and movie are popular there.
After, Adam performs his single "Trespassing".
Check it out.