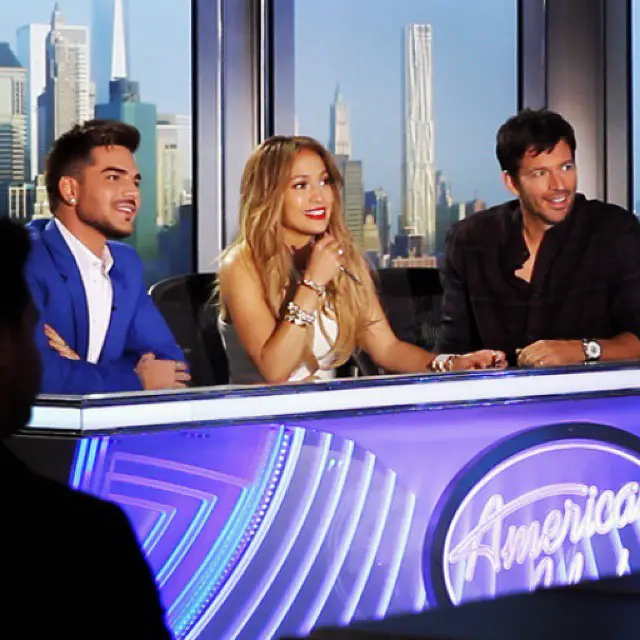 Adam Lambert has spent the last two days making some new friends!  The American Idol season 8 alum joined Jennifer Lopez and Harry Connick Jr. on the American Idol 14  judges panel at the New York Marriott at the Brooklyn Bridge. The Queen frontman was filling in last minute at the New York City judges round auditions for Keith Urban, who is in Australia attending his father-in-law's funeral.
It marked the first time an American Idol alum has sat on the judges panel.
By all accounts, the hopefuls could not have been more excited to have one of their favorite alums in the house! Check out a clip of the pep talk Adam gave the nervous auditioners:
"I'm really honored that they asked me to come back in fill in for Keith. The circumstances are sad, my condolences," Adam told Access Hollywood. "But, on a lighter note, I'm thrilled to be here. I'm thrilled to be able to help these contestants follow their dreams."
Adam's strategy for dealing with nervous hopefuls involves putting them at ease, "I'm trying to make them comfortable, break the ice a little bit, and chill them out a little bit," he said. "Hopefully we're guiding them towards doing their best."
"I was so excited to meet Jennifer and Harry yesterday – they're so down to earth and fun," Adam told access about meeting the panel "We were laughing all day and having these great philosophical conversations about being entertainers."
Adam revealed to TV Line, what he looks for in a pop star. It boils down to charisma and artistry, " "The name of the game is artistry. I know the show kept using that word a couple of seasons ago — although I don't know if they actually found that many of 'em — but it's more than just having a nice-sounding voice. It's about the complete package: It's the look, it's the vibe, it's the personality. Hello, hello, personality! The thing that sells stars to a mass audience is, 'Do you like them or not? Do you wanna be their friend? Do you wanna look at pictures of them all the time? Do they make you laugh, do they provoke you?' The standards have changed a little bit, but it's not up to the show to make that happen, it's the contestants that'll make that happen."
Adam concedes that he holds and is not afraid to express frank opinions. But with the hopefuls, the singer is "sensitive at the same time. It's hard: They've gone through two auditions already before they see us, and most of them have been waiting in a room to see us for hours and hours, and the nerves get crazy. It's hard to be your best self in that situation. I try to look for who they usually probably are — or who they might be after they get a little more comfortable. I try to get them grounded, breathing and making a good song choice."
The singer would love to come back and mentor the contestants, as he did last season with Chris Daughtry, but his jam packed schedule may not allow it. But nevertheless, " I feel like [mentoring and guest judging] is a way to give back, Adam told TV Line, "I know it sounds corny, but I want to help the contestants with the light bulb that could go off."
Adam spoke with Ryan Seacrest on his radio show yesterday morning.  "It's full circle, and it's kind of surreal!" he said about sitting on the other side of the desk, 6 years after his own audition.  On working with Harry Connick Jr and Jennifer Lopez, Adam says, "They are both a ton of fun, super down to earth. Harry is a full comedian…and Jennifer was so cool." Adam continued, "During one of the breaks we had this heart to heart about life in the business…she's wonderful."
Adam is keeping his 3rd album under wraps. He's signed to a new label, but keeping mum on the details.
Adam shared a selfie with the judges on his Instagram.
This one is from American Idol
Photo Gallery