Adam Lambert will perform with Queen in Moscow on June 30th, that's before a July 7th date at Sonisphere Festival in the UK on July 7.  Read the press release below.  (Via QueenOnline)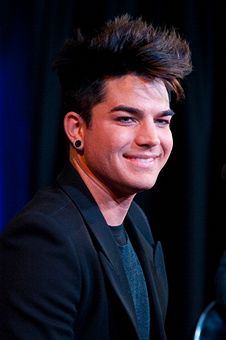 Having last week announced a special one-off UK concert performing with Adam Lambert at the Sonisphere Festival, Knebworth on July 7, legendary rock band Queen has announced it will play an additional earlier date with the singer when Queen and Lambert appear at Moscow's Olympic Arena on June 30th.
These two shows are the only concerts presently planned for Queen and Lambert in 2012.
Queen band members Brian May and Roger Taylor met Lambert during the finals of American Idol Season 8 in May 2009 where Lambert joined the band to perform We Are The Champions.
Since then the band and Lambert have repeatedly hinted at a future collaboration, most recently with Queen's Roger Taylor telling Billboard Magazine ""He (Adam)has grown into a really great performer with an astonishing voice with a range that's great. We would like to work with him again. There's nothing signed just yet but …it could be very exciting."
Lambert, who in the end placed second in AI,  has since established a fast-rising career as an emerging rock artist . His solo album "For Your Entertainment" released just after the end of the Idol season debuted at number three on the Billboard 200 in December 2009 and he went on to receive the Young Hollywood Award "Artist of the Year".
Recently, at the invitation of Brian May and Roger Taylor, Lambert made a second guest appearance with Queen, joining the band for the closing of the MTV Europe Awards where May and Taylor were present to collect the Global Icon Award for Queen.
Their eight minute MTVE set ignited an immediate reaction across the internet with social network sites buzzing with excitement and campaigning for more from Queen and Lambert.
The Moscow Olympic Arena show on June 30, coming a full week ahead of their UK show, will provide the very first opportunity to see what comes out of May, Taylor and Lambert finally getting to fully explore their very evident  artistic appreciation of one another.
Says Brian May :  "Judging by my incoming mail, this decision will make a lot of people very happy.  It's a worthy challenge for us, and I'm sure Adam would meet with Freddie's approval! "
Talking of his forthcoming summer concert appearances with Queen, Lambert says: "The intention is to pay tribute to Freddie and the band by singing some great songs. It's to keep the music alive for the fans and give it an energy that Freddie would have been proud of. There's no intention in my mind of replacing Freddie. That's impossible. The way I'm choosing to view it is that it's a great honour and one I'm in no way going to shirk … Being asked to appear with Queen is the best thing that can possibly happen".
Queen became popular in the mid-'70s and remain one of the most successful bands in the history of rock music. They released 15 studio and 5 live albums as well as numerous compilations. Among them 18 albums ranked #1 in music charts worldwide and the estimated total number or record sales around the world exceeds 300 million.
Since the death of  singer Freddie Mercury in 1991 Brian May and Roger Taylor have continued to honour the legacy of Queen by performing alone or with guest vocalists, allowing fans the possibility to hear live such rock classics as Bohemian Rhapsody, We Will Rock You, We Are the Champions, I Want To Break Free, Another One Bites The Dust, Radio Ga Ga and others.
Queen's music also continues to kept alive and reach new audiences through the world-wide success of the band's hit musical "We Will Rock You" which has been performed across the world and in May will celebrate an unbroken ten-year run on the same stage in London at the Dominion Theatre.
Queen + Adam Lambert European exclusive first concert appearance: Moscow Olympic Arena, June 30, 2012.
The official ticket agency website: www.19-00.ru +7 (495) 641-19-00. Tickets on sale soon.
The Olympic Arena address: 16, Olympiyski prospekt, Moscow, Russia
***
 SONISPHERE 2012 TICKETS
Tickets for Queen's Sonisphere headlining show on Saturday 7th July at Knebworth Park are now on sale now!
Online Sales: www.sonispherefestivals.com
Phone: 0844 871 8803