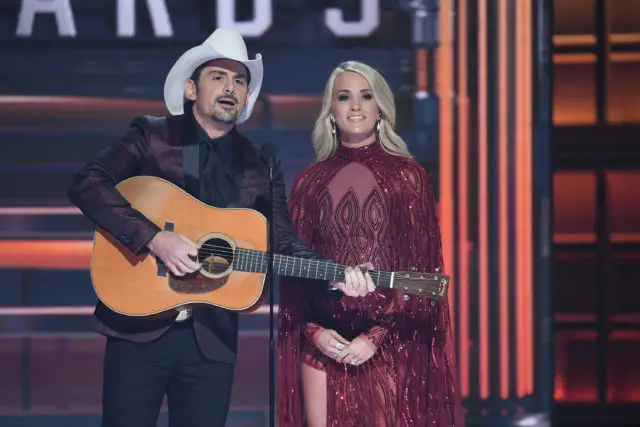 The 51st Annual CMA Awards are broadcasting on ABC tonight LIVE from Bridgestone Arena in Nashville. We'll be live blogging all of the performances and winners as the country music world celebrates their best and brightest.
American Idol season 4 winner Carrie Underwood and Brad Paisley will be hosting the ceremony for the 10th straight year.
Carrie Underwood, Niall Horan (duetting with Maren Morris) and Luke Bryan. Keith Urban will be debuting a new song "Female" he wrote in response to the Harvey Weinstein sex abuse scandal.
American Idol's Carrie Underwood was nominated for Female Vocalist of the Year, while Lauren Alaina nabbed a New Artist nomination. Earlier this year, Lauren was nominated for a New Artist ACM award earlier and WON Breakthrough Video of the Year CMT Award for her single "Road Less Traveled."
Two categories, Video of the Year and Music Event of the Year were announced on Good Morning America earlier today.
The show opens with an acappella rendition of Amazing Grace sung by Eric Church. Darius Rucker and Keith Urban are next performing Hootie's "Hold My Hand." Lady Antebellum joins the group. Eventually the stage is FULL of artists singing along. It's an upbeat, hopeful way to open the show.
Brad Paisley and Carrie Underwood take the stage. Carrie is dressed in the first of her bazillion outfits. This one has sheer red material over hot pants. Carrie does a rundown of 2017's tragedies. She promises the night will be a celebration of the best we can be. Brad promises the show will lift people up and honor the folks who have lost their lives and suffered.
Now it's time for the jokes. Ohhh. They do jokes about the CMA folks banning politics from the show. (Initially, CMA ruled journalists who asked political questions at the CMAs press junket would be "escorted out." Brad put an end to that with a tweet.) Brad launches into a litany of political puns aka joke song titles. All political. "Right now he's probably in his PJs reaching for his cell phone…how do you spell Pocahontas…" to the tune of "Before he Cheats" Erm "maybe next time he'll think before he…tweets." Cute.
Next Carrie delivers a bunch of positive news, mostly pointing out the country stars in the audience who are newly engaged or pregnant. Now, it's time to make fun of Pink. Carrie and Brad argue over how to pronounce her name. Next is a bit about EOTY nominees all sitting in the front row. They wear eclipse glasses while singing "Total Eclipse of the Heart." Because they're all so famous? They croon "Total eclipse of the Garth" while the singer sports his own specs.
Now, it's time to reminisce on CMA Awards gone past. As they make fun of Tim and Faith, the married duo take the stage and present the hosts with their own Barbie dolls, which they use to mock them. (There's a bit Carrie and Brad did with Tim and Faith dolls a few years ago.) "Brad…you might want to check that…it is to scale." Har har.
Time for the first award! Brittany Snow and Ruby Rose from the Pitch Perfect movie hand the Single of the Year Award to Keith Urban for "Blue Ain't Your Color." YAY. I LOVE ME SOME KEITH URBAN I DO. Oh. Nicole Kidman is in China?
After the break, it's Thomas Rhett singing his bittersweet hit "Unforgettable." With a bit of tweaking that could be a One Direction song.
Bobby Bones, Karlie Kloss and some other people (?) present Song of the Year to Taylor Swift for "Better Man." She's not there because, of course, she's moved on to "Better Things." The artist, Little Big Town accept the award on her behalf.
Next, Rascal Flatts and Dierks Bentley take the stage to sing Montgomery Gentry's "My Town." This is a tribute to Troy Gentry, who recently passed away. Eddie Montgomery joins them onstage. Shots of Troy's wife getting teary in the audience. That was very emotional.
Brad's back onstage to make fun of the CMA guidelines some more. He's not letting go. Keep it up Brad! He introduces Kelsea Ballerini and Reba McEntire who sing "Legends."
OH HIA KELLIE PICKLER. She's pimping the online portion of the CMAS All Access with her talk show partner, Ben Aaron.
Carrie Underwood introduces Luke Bryan as the new judge on American Idol "Hm. I always wanted to watch that show." HA. He performs "Light it Up." This song…well. Uhm. No Comment.
OH FUN AMERICAN IDOL PROMO FEATURING LUKE BRYAN YAY YAY YAY.
Carrie Underwood calls Miranda Lambert "The Thelma to My Louise." Here she is performing "To Learn Her." I Approve of this Song. Old school stuff.
Jason Ritter…and some other actress from an ABC show. Jason isn't some rando. He actually has legit connections to the community. His grandfather is famed country singer, Tex Ritter (His dad is the late John Ritter). They're handing out Best New Artist. And the winner is…Jon Pardi. Dang. I was rooting for Lauren Alaina.
Next, it's the king of country Garth Brooks performing "Ask Me How I Know." ETA: Backstage after the show, Brooks admitted to lipsyncing the song, saying something akin to his voice "just wasn't there." Well, then.
Next, Brad and Carrie answer a few joke questions. Featuring a lame bit about goat yoga. Of course, there are poop jokes. Then, Brothers Osborne perform "It Ain't My Fault." That dude with the low, low voice. Next, they pay tribute to the late Don Williams with a faithful version of his classic, "Tulsa Time."
Tyler Perry is here. He pays a little tribute to Charley Pride who broke country music racial barriers. Let's find common ground, Tyler says. "Let's spend time listening to each other." He presents Album of the Year to Chris Stapleton for From a Room: Vol. 1. It's his second Album of the Year win.
Next, it's Tim McGraw and Faith Hill who sing "The Rest of Our Life." We are passing through the romance portion of the show.
Randy Jackson starring in a Geico commercial. JUDGING A DOG SHOW. Uhm….
YAY HERE'S PINK. Her new album is ripping up the charts. She's here…not singing a country song. Nothing to do with country, whatsoever. What the heck, right? However, every show could use some Pink, no matter how random. She's performing "Barbies."
Back to country music. Old Dominion sings "No Such Thing as a Broken Heart." As the band plays, Broadcast Personalities of the Year are announced. These are a slew of local radio personalities. The national winner is The Bobby Bones Show.
We're back, and it's Little Big Town performing a lovely rendition of Glen Campbell's "Wichita Lineman." Harmonies to die for. Ah. The songwriter, Jimmy Webb, played piano.
Next, it's the brother sister duo, Sugarland. They present the duo award they won like, a bajillion times. Vocal Duo of the Year goes to…Brothers Osborne. Their older brother and sisters are in the audience. Nice.
Is it me, or are there fewer acts than usual thanking Jesus in their acceptance speeches?
The sublime Chris Stapleton is next performing "Broken Halos." What a talent that man is. Love this song.
Now, it's Maren Morris and Niall Horan performing her "I Could Use a Love Song." You remember Niall Horan. That guy from One Direction. They swiftly shift to their duet, "Seeing Blind." Niall has gone in a folky direction since leaving the group. This is not an odd match up at all. The two actually recorded the song for Niall's Flicker album.
OK. Forget thank you speeches. Here's all the Jesus you'll ever need. Carrie Underwood under a spotlight singing the hymn "Softly and Tenderly" during the In Memoriam segment. This beautiful memorial could really be a memorial for all the deep losses suffered in 2017. And indeed, the photos of the 58 victims of the Las Vegas massacre flash up on the screen. Carrie breaks down on the last verse. Me. Hard hearted me. I am also tearing up.
OH OH OH. It's Carrie's American Idol audition. "Who will we discover next…" EEEPPP.
Lea Michele (star of ABC's The Mayor. Yes, mentions being GLEEFUL) and two country dudes present Vocal Group of the Year to Little Big Town. In their thank you speech, they press for harmony and understanding between everyone. She quotes Maya Angelou. "Let's spread the love."
Next, it's Brad Paisley performing "Heaven South." He introduces Kane Brown who joins him on stage. He not only duetted with Lauren Alaina on a No 1 song, but they went to high school together!
Next, Best New Artist, Jon Pardi sings "Dirt on My Boots."
Cut to the Country Music Hall of Fame where Kellie Pickler and Ben Aaron introduce Lauren Alaina and Dan + Shay who cover the 60's classic "Get Together" by The Youngbloods. Brought to you by Walmart!
Now, Keith Urban performs his new song "Female" which speaks directly to the recent sexual harassment scandals. Keith is a national treasure.
Michelle Monahan and Jimmy Johnson Present Female Vocalist of the Year to Miranda Lambert. Expected. She shouts out to Carrie and calls the country music family a community. By the way, it's her SEVENTH win.
Next, it's Eric Church, on stage to perform "Chattanooga Lucy". Whoa. His female background singer is fierce. She'll show up on The Voice sooner or later.
Trisha Yearwood arrives to present Male Vocalist of the Year to Chris Stapleton. Also not surprising. It's his third win. He thanks his fellow nominees for helping his career. A couple took him out on the road when he was nobody.
Next, a word about Hall of Fame inductees. One of those, Alan Jackson takes the stage to perform "Chasin' That Neon Rainbow."
AHHHHH ANOTHER AMERICAN IDOL PROMO. "Coming to America"…
And…it's time for the BIG award. Reba McEntire presents Entertainer of the Year to…Garth Brooks. Again. He thanks his band and crew. And the country music fans. To his wife: "Miss Yearwood, I'm yours forever."
Alan Jackson takes out out with "Don't Rock the Jukebox." We got some time to kill.
2017 CMA Awards Winners List
Female Vocalist of the Year
Kelsea Ballerini
Miranda Lambert – Winner
Reba McEntire
Maren Morris
Carrie Underwood
Male Vocalist of the Year
Dierks Bentley
Eric Church
Thomas Rhett
Chris Stapleton – WINNER
Keith Urban
New Artist of the Year
Lauren Alaina
Luke Combs
Old Dominion
Jon Pardi – WINNER
Brett Young
Album of the Year
Little Big Town, The Breaker
Chris Stapleton, From A Room: Vol. 1 – WINNER
Lady Antebelleum, Heart Break
Jason Isbell and the 400 Unit, The Nashville Sound
Miranda Lambert, The Weight of These Wings
Music Video of the Year
Better Man by Little Big Town
Blue Ain't Your Color by Keith Urban
Craving You by Thomas Rhett ft Maren Morris
It Ain't My Fault by Brothers Osborne – WINNER
Vice by Miranda Lambert
Vocal Duo of the Year
Brothers Osborne – WINNER
Dan + Shay
Florida Georgia Line
Locash
Maddie & Tae
Entertainer of the Year
Garth Brooks – WINNER
Luke Bryan
Eric Church
Chris Stapleton
Keith Urban
Single of the Year
Better Man – Little Big Town
Blue Ain't Your Color – Keith Urban – WINNER
Body Like a Back Road – Sam Hunt
Dirt on My Boots – Jon Pardi
Tin Man – Miranda Lambert
Song of the Year
Better Man written by Taylor Swift – WINNER
Blue Ain't Your Color written by Clint Lagerberg, Hillary Lindsey and Steven Lee Olsen
Body Like a Back Road written by Zach Crowell, Sam Hunt, Shane McAnally and Josh Osborne
Dirt on My Boots Written by Rhett Akins, Jesse Frasure and Ashley Gorley
Tin Man written by Jack Ingram, Miranda Lambert and Jon Randall
Vocal Group of the Year
Lady Antebellum
Little Big Town – WINNER
Old Dominion
Rascal Flatts
Zac Brown Band
Musician of the Year
Jerry Douglas – Dobro
Paul Franklin – Steel Guitar
Dann Huff – Guitar
Mac McAnally – Guitar – WINNER
Derek Wells – Guitar
Musical Event of the Year
Craving You – Thomas Rhett ft Marren Morris
Funny How Time Slips Away – Glen Campbell with Willie Nelson – WINNER
Kill a Word – Eric Church ft Rhiannon Giddens
Setting the World on Fire – Kenny Chesney with Pink
Speak to a Girl – Tim McGraw & Faith Hill