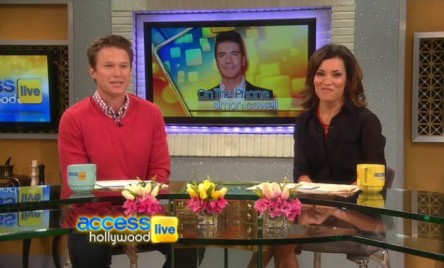 Simon Cowell called into the Billy Bush show to dish about X Factor replacements. Of course, he was really coy about whether Britney Spears or anybody is in talks to be on X Factor. He says there are lots of discussions going on, but like these things usually do–the decisions will probably be made at the last minute.
There's an exciting "new component" to the show, which he refuses to give up to his competition at the moment–but he can't wait to tell us about it.
On the host rumors that have been floating around lately–Glee's Darren Criss reportedly turned down an offer and George Clooney's girlfriend, Stacey Kiebler, is supposedly in talks for the job–Simon was flippant.
Simon dismisses Kiebler as "too tall" and swears he had no idea who Darren Criss is! He is familiar with  Kevin McHale, who plays wheelchair bound,  however.  "I like him," says Simon.
Simon insists he is concentrating on getting the judges in place first.  The hosts need to be hired later to make sure they have chemistry with the panel.  Simon is looking for 2 new female judges and a male and female host.
Do you plan to audition for X Factor? Simon is  suggesting that potential auditioners get their friends together and form a group! They don't have to be polished, stresses Simon. Snerk.